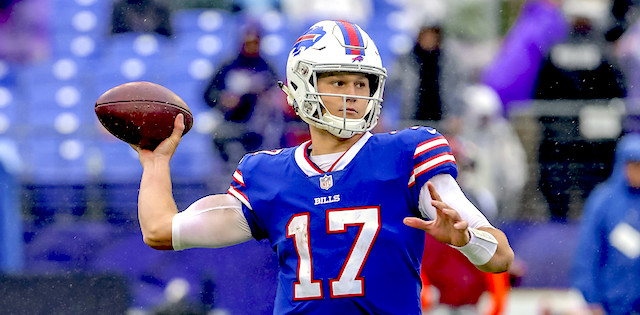 Congratulations on making it to the championship week of your fantasy league. Whether you are playing for pride or cash, it is always a great feeling to be among the last teams standing in your league.
There are many great matchups this week. The Broncos will have a field day against the hapless Lions. The Buccaneers and the Texans will have a fantasy bonanza on Saturday. As for us? We are going to take a look at the other end of the spectrum. The biggest game to stay away from. The Josh Allen-led Bills heading to Foxborough to take on the Tom Brady-led Patriots.
This will be a great game for real-life fans. As for fantasy fans? Not as much. In a championship matchup, where points are going to be measured down to the last decimal point, this is a game to stay as far away from as possible. So, let's take a look at the tale of the tape for this one and find out why exactly you should be staying away.
Editor's Note: Get any rest-of-season NFL Premium Pass for 50% off. Our exclusive DFS Tools, Lineup Optimizer and Premium DFS Research through the Super Bowl.
Sign Up Now!
Buffalo Bills vs New England Patriots: A matchup made of defense
Both of these teams are having good seasons. In the case of the Bills, you could even call it great. But in the case of both of these teams, this is due directly to the elite play of their defenses and not their offenses.
With both teams in the top three in overall defense and pass defense, there is not much chance either of the quarterbacks in this one will put up points conducive to you wanting to start them. Even in a seemingly great matchup against Cincinnati last week, Brady was able to put up less than 200 yards passing. On the other side of the ball, Josh Allen threw a winning touchdown for the Bills but did not do much else against the Steelers on Sunday night.
With both teams having elite corners in Stephon Gilmore and Tre'Davious White, it will also be hard to find a receiver on either side you want to start. John Brown had a good start to the season. In recent weeks though, he has fallen off as the run game with Devin Singletary taking over. With Cole Beasley being solid but not great and the Patriots linebacker group being great, he also will leave a bitter taste in your mouth if he is started.
For the Patriots, Julian Edelman has always been Mr. Reliable. But playing through a knee and rib injury has taken its toll on the No. 1 target for Brady. This culminated last week with his game of two receptions for nine yards. This is not the production you wanted to see in a plus matchup. Now facing the third-ranked pass defense in the NFL, it could be tough to get anything going. The Absence of Rob Gronkowski has made a huge impact on New England, maybe even more than anyone had anticipated. Not only was he the key to how the offense was run, but his incredible blocking ability led to what success they had in the run game. Success they have not been able to find yet in 2019. Ben Watson is not the answer nor is he reliable at this point in his career. With the tight end position being quite possibly the worst in the NFL, Tom Brady has truly looked like a 42-year old quarterback.
Can Anyone Run?
Finally, Sony Michel had a decent game last week but 89 yards on 19 rushes isn't great. When you compare that to his production season to date, it is a gold mine.
The Bills run defense is not the strength of the defense. That is clearly the pass defense. But they are still good at stopping the run. The fact that Tom Brady of 2019 is not Tom Brady of 2009 is also a key. No longer do teams need to fear the GOAT. Sure, he can still beat you, but not to the level he once could. With multiple weeks of disappointing play this season, including last week where he did not even rank as a top-20 quarterback, the passing game is not what it was. And neither is the run game. While never great, the run game was always a constant in New England. But no longer. With the entire offense taking a step back it has been difficult to find anything on the New England offense to be scared of. With the exception of James White and his PPR potential, this week will be no different in an ugly game.
For the Buffalo Bills, Frank Gore has shown us that longevity will lead you to the pinnacle of the record books. This should not be undermined, but he is not the same runner he once was. At his age, no one could be. Devin Singletary has done a lot to be excited about in his rookie year. His future with Josh Allen looks bright. But the pass rush of the Patriots will smother Allen and Singletary, making it hard to get anything going. Especially on the road in Foxborough, it does not look to be a great day for anyone on the Buffalo roster. The Patriots are coming off their first home loss in over two full seasons against the Chiefs. They are also taking on the first team to truly pose a challenge to them in the division in over a decade. They are not going to be taking this game lightly. Because of this and because both defenses are as good as advertised, this game should be a fantasy desert. Barren and dry.
With a defensive struggle ahead, a repeat of the 16-10 score from the first meeting this season is not only a possibility but also a likely outcome. So, don't get caught up in the dust storm. Find better players in far better matchups to fill your lineup this week. It may not win you the week, but it will certainly keep you from losing it.
More Fantasy Football Analysis