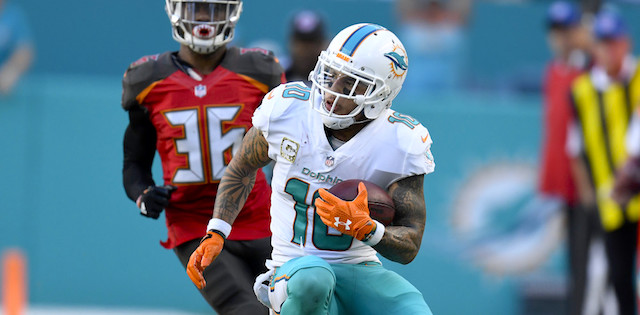 Every year, certain players are highly drafted in drafts by fantasy owners due to the belief that they will vastly outperform expectations throughout the season. Oftentimes, these players carry a significant amount of hype due to breakout potential, elite status, or lack of alternative options on their teams.
However, with every player that does meet the threshold for good performance, there seem to be several similar players that fail to live up to the lofty expectations placed on them by fantasy owners. Whether the players are drafted at the beginning, middle, or end of drafts, not living up to the draft capital spent on them is one of the weekly dilemmas for fantasy owners.
Because fantasy owners tend to hold on to players that they believe in for too long, it is important to recognize warning signals from players early on so that the players can be removed from lineups and the damage of their poor performances can be mitigated. Let's take a look at some players at each of the skill positions who have shown some worrying signs this week. Fantasy owners should proceed with caution with the following players.
Editor's Note: Get any full-season NFL Premium Pass for 50% off. Our exclusive In-Season Lineup Tools, Lineup Optimizer and over 150 days of Premium DFS Research.
Sign Up Now!
Warning Signals - RB/WR/TE
Dion Lewis (RB, TEN)
Following a remarkable 2017 season with the New England Patriots, Dion Lewis finally signed a solid free agent offer and was brought in to be the scat-back compliment to Derrick Henry. It was assumed that Lewis would act as the 1B to Henry's 1A, with the two each getting a fair share of the work throughout the year. Over the first few weeks, that seemed to be exactly the case, as Lewis had 39 carries and nine receptions following Week 3. However, since then Lewis has largely struggled, logging 21 carries and 14 receptions in the last three weeks and averaging a putrid 1.38 yards per carry. On the season, Lewis is averaging 3.1 yards per carry and seems to be struggling mightily, along with the rest of the Titans offense. At this point, Lewis should not be started and is borderline droppable unless the Titans are able to turn around their offensive output in the coming weeks.
Lamar Miller (RB, HOU)
Lamar Miller has been getting the work in 2018, just as he did in his previous two years with the Houston Texans. Despite missing Week 5, Miller has double-digit carries in all of his other games and is also averaging two receptions per game. However, the regression in the Texans offense and focus on the team's wide receivers (DeAndre Hopkins and Will Fuller) as the main offensive outlets have limited Miller in most weeks, where he is mostly called on as a short-yardage and chain-moving option. Miller is averaging 3.7 yards per carry on the year; however, he has failed to break above the 3.5 yards per carry barrier since Week 2. Miller is a good flex option, but his lack of touchdown upside and place on the Texans offense mitigates any chance for the veteran running back to be considered as an RB2 going forward.
Kenny Stills (WR, MIA)
Kenny Stills started the 2018 season with a bang, logging four receptions for 106 yards and two touchdowns in the team's victory over the Tennessee Titans. Stills has continued to act as the team's deep threat and enjoyed another successful performance in Week 3. However, the Dolphins offense has largely revolved around gadget players such as wide receiver Albert Wilson, mitigating Stills to an occasional deep play or possession catch. Although Stills has the upside to take the top off of any defense on his day, his lack of consistent receptions (he has 15 catches through the first six weeks) definitely mitigates his weekly value. It seems as if Stills is trending towards a boom-bust option rather than a consistent flex play, which is disappointing given how many big games he had in the 2017 season.
Pierre Garcon (WR, SF)
Pierre Garçon has yet to score a touchdown with the San Francisco 49ers, and has only logged 16 receptions through the first six games of the season. Losing quarterback Jimmy Garoppolo to a torn ACL has been difficult for the 49ers offense, and they have shifted to a run-heavy game-plan focused on running backs Matt Breida and Alfred Morris. Garçon, now aged 32, only has 188 yards on the season and has seen the weekly consistency that he displayed in the first half of the 2017 season disappear. At this point, Garçon should be left on waivers unless the 49ers experience a sudden change in their playing style under the guidance of head coach Kyle Shanahan.
Kyle Rudolph (TE, MIN)
For the last few seasons, Kyle Rudolph has been one of the most consistent tight end options in the league, with good touchdown and yardage numbers each season. In 2018, Rudolph has worked well with quarterback Kirk Cousins - apart from a Week 1 dud, Rudolph has registered at least five receptions in all but one of his performances this season. Additionally, with two touchdowns, the veteran tight end has shown that he still has a nose for the end-zone in the team's offense. However, surrounded by several elite receiving options in wide receivers Stefon Diggs and Adam Thielen as well as the impending return of dual-threat back Dalvin Cook, Rudolph may lose some looks each game. There are simply too many solid options on the Vikings offense to warrant considering Rudolph as the solid TE1 that he has been in recent years. Instead, Rudolph should be seen as a high-end TE2 with TE1 upside going forward.
More Fantasy Football Analysis