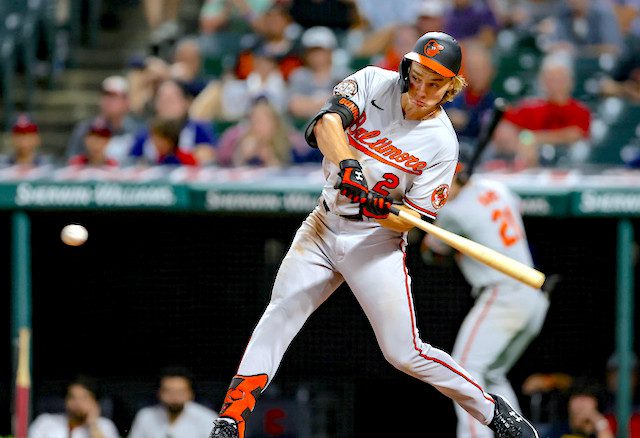 What Appears In This Article?
hide
The hot corner has long been looked at for power and offensive prowess in general. However, the position has become a bit shallower over the last few years than it used to be. That could all be coming to an end this season and beyond though.
Out of my below top 10 third base dynasty prospects, eight of them should debut before the middle of next season with five of them potentially providing solid fantasy impact this season. Included in that is a trio of bats that will be in their respective team's opening day lineups, led by consensus top-3 overall prospect, Gunnar Henderson.
So, while this position has fallen off a bit at the Major League level, I'm expecting many of these names to change the tune at the hot corner for the better. And who knows, we'll probably get a few more names shifting over to this position from shortstop. You can find other positional prospect rankings articles here.
Editor's Note: Our incredible team of writers received 13 award nominations by the Fantasy Sports Writers Association including Baseball Writer of the Year, Football Writers of the Year, Golf Writer of the Year and many more! Be sure to follow their analysis, rankings and advice all year long, and win big with RotoBaller!
Read More!
Top 10 Third Base Dynasty Prospects
10. Colt Keith, Detroit Tigers
Admittedly, I've been guilty of undervaluing Colt Keith since he was drafted. Granted, it was a solid profile that didn't stand out to me but every time I dig into Keith's profile or watch video on him, I usually wind up moving him a little bit further up my rankings. A former 5th-round selection, Keith hit for AVG in his 2021 pro debut but his power didn't begin showing up consistently in games until 2022 where he posted a .544 SLG and .243 ISO with 26 extra-base hits in 48 games. Keith then added a trio of doubles and home runs in 19 Arizona Fall League games while hitting .344 with as many walks as strikeouts (16).
The profile still doesn't dazzle here with Keith, but that's causing his dynasty price tag to remain reasonable. This is an above-average hitter with above-average power that should be able to add 5-10 steals early on in his career as well. He'll likely start in Double-A this season which means I'll be able to get more live looks at him in game action.
9. Coby Mayo, Baltimore Orioles
With Coby Mayo, elite raw power leads the profile. We're talking about 70-grade or better raw power that could lead to plenty of 30-homer seasons down the road. We've seen some of that raw power translate into game power throughout Mayo's career with 29 home runs, a .488 SLG, and a .218 ISO in 157 career minor league games.
I'm not faulting him too much for his struggles in Double-A down the stretch last season either where he struck out 34.5% of the time with a SLG under .400. Mayo was still only 20 years olf and the Eastern League is generally a pitcher-friendly league. As long as Mayo can keep the strikeout rate in check, he should develop into a middle-of-the-order masher capable of .250+/30+/5 annually in what could be a very potent Baltimore lineup.
8. Cam Collier, Cincinnati Reds
The top of the 2022 draft class was loaded with offensive talent, including Cam Collier who was taken out of JuCo ball after receiving his GED early. Without question, Collier is one of the best pure bats from the draft class and I'm a believer in the power upside as well. We saw a small taste of his upside in nine complex-level games following the draft where he hit .370/.514/.630 with a double, two home runs, and more walks (7) than strikeouts (6).
Collier's contact skills, feel for hitting, and advanced approach at the plate is noticeable already and could develop into a plus hit tool with above-average-to-plus power as well. I'm not anticipating Collier adding much speed to the profile, but this bat is legit and he'll have the opportunity to call Great American Ballpark home in a few years. There's big-time breakout appeal here.
*Jordan Westburg would rank here if included.  He was discussed in my Top 10 Second Base Prospect Rankings.
7. Junior Caminero, Tampa Bay Rays
One of my top picks to rise up rankings considerably this season is Junior Caminero. After coming over from Cleveland via trade during the 2021/2022 off-season, Caminero's stock continued to rise after another impressive showing in the low minors. After slashing .295/.380/.534 in rookie ball in 2021, Caminero followed that up with a .314/.384/.498 line in 2022 with 11 home runs and 12 steals across just 271 plate appearances. That wasn't all either as Caminero dominated in the Austrailian League this winter as well.
While I'm not a believer in that level of speed impact lasting as he'll probably wind up as a below-average runner when he's done developing, Caminero's bat has the chance to be truly impactful as an above-average hitter with plus power.
*Christian Encarnacion-Strand would rank here if included. He was discussed in my Top 10 First Base Prospect Rankings.
6. Brett Baty, New York Mets
Over the last 12-18 months, I've seen Brett Baty anywhere from 10-15 times. The one constant in all of those live looks has been Baty hitting the ball hard consistently to all fields. In 2021, Baty slashed .292/.382/.473 in 91 games with 12 home runs and followed that up with 19 more home runs and a .315/.410/.533 slash line in 95 games this past season.
The only time Baty has really struggled over the last two years was in his 11-game cup of coffee with the Mets down the stretch last season. Baty is an above-average hitter with plus power that has improved as a pure hitter over the last 12 months, trimming some of the swing-and-miss issues that slightly concerned me last year. He should be back up with the Mets soon after another impressive offensive display this spring.
5. Josh Jung, Texas Rangers
Since being drafted 8th overall by the Rangers back in 2019, all Josh Jung has done is impress offensively. Well, with a major shoulder injury and subsequent surgery right in the middle of that which cost him multiple months of the 2022 season. However, Jung picked up right where he left off once he returned at the end of July, combining to hit 11 doubles and 14 home runs in 57 games between Triple-A and the Majors. However, that power was accompanied by a 4.6% walk rate and 31.2% strikeout rate. Jung has never been one to post lofty walk rates, but the elevated strikeout rate was a bit concerning. However, returning from a major shoulder issue could have played into that to some degree.
Jung's continued to flex his power this spring as well, swatting a trio of home runs and five doubles in 18 games while only striking out 13.5% of the time through his first 18 games. The third base spot in Texas belongs to Jung now, and we could see a .270/25+ bat before too long.
4. Noelvi Marte, Cincinnati Reds
The Noelvi Marte we saw in 2022 was a different Marte than we had witnessed in previous seasons. Marte bulked up considerably and it took him a bit of time to adjust to the bigger frame. Here's that frame up close and personal from a few months ago...
Given the bigger frame, an adjustment period was needed, but Marte looked much better at the plate over the final 56 games of the season. From June 25th through the end of the season, Marte slashed .333/.425/.575 with 11 doubles, 13 home runs, and 18 steals in 245 plate appearances. He also posted a solid 12.7% walk rate and 16.7% strikeout rate over that span.
Right now is a perfect time to acquire Marte in dynasty leagues as I've seen him drop further than he should in prospect rankings. This is still a top 25 overall prospect for me thanks to an average hit tool, plus or better power, and still around average game speed as well. And don't forget that Marte will receive a nice BABIP and power boost from Great American Ballpark. This is a potential .260+/30+/10+ fantasy stud in the making.
3. Curtis Mead, Tampa Bay Rays
Without question, Curtis Mead is one of the best pure hitters in the minor leagues and also one of the most underrated as well. Part of that has to do with the fact that he doesn't have a profile that dazzles as a below-average runner, but Mead is a plus to double-plus hitter with plus power as well. He's also had little issue flexing both of those tools consistently in game action. For evidence of that, let's take a look at his two seasons since entering the Tampa Bay system via trade.
2021 (A/A+/AAA, 20 yo): 458 PA, .321/.378/.533, 38 2B, 15 HR, 11 SB, 7.4% BB, 15.5% K
2022 (AA/AAA, 21 yo): 331 PA, .298/.390/.522, 27 2B, 13 HR, 7 SB, 10.9% BB, 18.7% K
Mead is one of only six prospects to exceed a .290 AVG, .370 OBP, and .500 SLG in each of the last two seasons with a 300 PA minimum each season. This is certainly a bat-first profile that won't provide more than a handful of steals annually, but that's fine when the upside is a hitter that can flirt with or exceed .300 annually along with 25-30 home runs. The only real question right now is does he stick at the hot corner or move off?
2. Miguel Vargas, Los Angeles Dodgers 
For now, I'll include Miguel Vargas at this position, but there's a solid chance he moves over to first base, second base, or even to a corner outfield spot. Honestly, I'm not entirely sure where he'll wind up on the diamond long-term. What I am sure of is that Vargas is going to be an impact offensive player.
Vargas spent four seasons in the minor leagues and never hit below .300 in any season, but up until 2021, his above-average raw power wasn't translating into games much at all. That all changed over the last two seasons as Vargas added a bit of bulk and began driving the ball in the air more consistently, pushing his SLG over .500 and ISO over .200 each season. While he doesn't project as a major power bat, Vargas is a plus hitter with solid power and a bit of speed that could post .280/20/10 seasons. He's primarily played third base, but also has experience at first base, second base, and in the outfield.
*Jordan Walker and Elly De La Cruz would rank 2nd and 3rd respectively here if included. They will be discussed in my Top 10 Outfield Prospect Rankings (Walker) and Top 10 Shortstop Prospect Rankings (Elly) articles*
1. Gunnar Henderson, Baltimore Orioles
You could make a strong case for Gunnar Henderson as the #1 overall dynasty prospect. That title goes to Carroll for me personally, but Henderson and Jordan Walker are right behind him. Henderson has gone from a 2nd round selection in 2019 to one of the top three prospects in all of baseball thanks to back-to-back strong seasons in 2021 and 2022. The 2022 season was especially impressive as Henderson racked up 24 doubles, 19 home runs, and 22 steals with a .297/.416/.531 slash line in 503 plate appearances between Double-A and Triple-A.
When comparing Henderson to Walker and Carroll, that duo probably has the edge in pure fantasy ceiling. However, Henderson possesses the all-around offensive skillset to develop into a top-25 overall fantasy player thanks to his plus power, above-average speed, solid contact skills, and ability to get on base at a high clip. The upside is a .270+/.360+/.500+ bat with 25-30 home runs and double-digit steals annually. That upside was on display late last season with Baltimore when Henderson was one of only four hitters in baseball (min 50 BBE) to record a Hard-Hit rate above 50% while ranking in the 90th percentile or better for sprint speed. When you add in a 12% walk rate threshold, the list shrinks to only Henderson.
If you enjoyed these rankings and want to see additional rankings, analysis, and more, check out Eric's Toolshed Fantasy Patreon.
Download Our Free News & Alerts Mobile App
Like what you see? Download our updated fantasy baseball app for
iPhone
and
Android
with 24x7 player news, injury alerts, sleepers, prospects & more. All free!
More Fantasy Baseball Advice