What happens when a player gets injured in fantasy basketball? Or when a player doesn't perform up to expectations? Such is life in the NBA. What do you do? Find "The Teams."
Fantasy basketball drafts rarely surprise. Rankings and average draft positions coalesce and outside of the occasional rookie who goes too high or the injured player missing the first two months going too low, most players get slotted right around expectations. Nothing ever goes according to plan, though.
When Gordon Hayward and Jeremy Lin went down with season-ending injuries in their respective opening games, you were left having to go to the waivers much earlier than expected. You can't replace players with such high expectations. You can pick up their injury replacements, which in the case of Lin may have been Spencer Dinwiddie, or you can look to other sources.
Editor's Note: Get any full-season NBA and DFS Premium Pass for 50% off. Our exclusive DFS tools, Lineup Optimizer and daily Premium DFS Research.
Sign Up Now!
Injuries are commonplace, and this year is no different. Top-50 players like Blake Griffin, Hassan Whiteside and Paul Millsap have missed extended time. It's in times like these when simple solutions like NBA team strategy can lead to big fantasy outputs.  Instances when a team with a high offensive efficiency will net positive results every game no matter who is the high scorer can become extremely valuable when looking for people on the waiver, or when a star player goes down like James Harden just did.
Toronto Raptors
For several seasons now Toronto has been a model of offensive efficiency--in the regular season. This year stands apart from others due to Toronto's two stars--Kyle Lowry and Demar Derozan--decline in usage rage. The Raptors have changed their strategy.
Toronto has put a bigger emphasis on shooting the three, coming to grips with a changing game and a winning philosophy. DeRozan is averaging career highs in three-point makes, attempts, and percentage.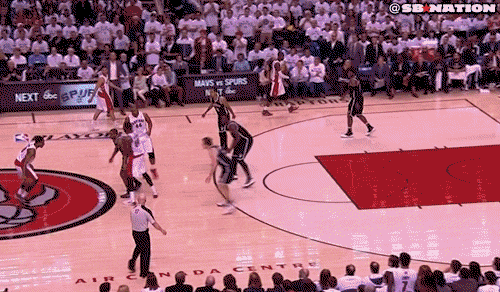 His running-mate, Lowry, had this to say recently about the new approach.
"They want me to just try to get everyone involved and for me, I've been used to having the ball in my hands," said Lowry.
While Toronto's two best players have had to share the ball, their fantasy numbers have not suffered. Lowry finished 13 in 9-cat leagues and is currently ranked 29. Derozan, thanks to a new adoration for the three ball is currently ranked 20 after finishing 41 last year.
It's not only them though.
Serge Ibaka, Delon Wright, Jonas Valanciunas and C.J. Miles all rank in the top-150 in 9-cat leagues. Over the last 30 days, Ibaka, Derozan and Lowry are in the top-50. Wright is currently ranked 52. The Raptors for the season are ninth in pace, 13 in assists and are ranked fourth in offensive efficiency. Raptors outside of their top two are thriving in the new "egalitarian" offense. If anyone were to go down or more playing time was offered to other players, even more Raptors could possibly find value on fantasy rosters.
Golden State Warriors
There's no surprise that the Warriors would be a team to earmark for possible waiver finds and mid-season relief. What's surprising is players outside of Kevin Durant, Steph Curry, Draymond Green and Klay Thompson are also fantasy relevant.
David West, Jordan Bell, Omri Casspi, Zaza Pachulia and Andre Iguodala have all flirted with top-150 value over the season.
When individual Warriors receive more playing time, it is almost automatic that their value skyrockets. When Bell's minutes increased to over 20 minutes a game in December, he became a top-50 player.
Golden State's efficiency is historic.
The Warriors are fifth in pace, second in offensive efficiency while leading the NBA in true shooting percentage and assists. They are also third in defensive efficiency. Golden State has three of the deadliest shooters in the NBA--which helps, too.
Stephen Curry FOR THE WIN! ??? #NBAVote pic.twitter.com/3VWDVGGosr

— Golden State Warriors (@warriors) January 4, 2018
Denver Nuggets
While Golden State and Toronto are easy to spot as teams that could provide fantasy assistance deep into the bench, Denver is a team that is surprising.
The Nuggets are currently ranked sixth in the Western Conference, but rank eighth in offensive efficiency.
Most know the name Nikola Jokic, but Gary Harris, Will Barton, Paul Millsap (when healthy), Jamal Murray, Trey Lyles and Wilson Chandler are all in the top-200 for 9-cat leagues. That's seven players for a team currently sixth in its conference.
Lyles is a perfect example of how keying on a team can lead to fantasy respite and the envy of your fellow owners. When Millsap went down, there was uncertainty on who could pick up the numbers left on the table. The truth is four players stepped up and offered top-200 fantasy value. Lyles has been a top-50 player the last few weeks, while Chandler, Kenneth Faried and Mason Plumlee have all contributed.
When you need to make changes to your roster, it can be agonizing trying to pick the right player. When you look at teams first, as is the case with Denver, it can make the process much easier.
"The Team" will provide.
wait, who's Lil B? https://t.co/QaAVxPl9Ey

— Denver Nuggets (@nuggets) December 31, 2017
Then again, nothing ever goes according to plan.