Kareem Hunt was one of the main causes for frustration in fantasy football's first week. Don't panic and Stop The Slander!
Despite running for less than 50 yards for the eighth time in an 18-game career, and no rush going for more than 15 yards, Hunt has all the characteristics of someone you can trust weekly. From the offensive line to the offensive-minded head coach, everything points to another stellar season from the second-year running back from Toledo.
Not only should you keep Kareem Hunt on your team, he is a must-start and a top-five play. Let me tell you why.
Editor's Note: Get our rest-of-season NFL and DFS Premium Pass for only $9.99, with coverage through the Super Bowl. If you prefer the DFS Lineup Optimizer, just click here! Take advantage of our lowest pricing all year, and get an edge on your competition.
Sign Up Now!
An Embarrassment of Riches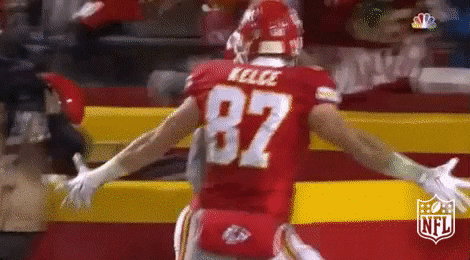 Kansas City proved in Week 1 its offense will rival the best in the league. Travis Kelce is the first or second best tight end in football. Tyreek Hill may be the most dangerous player in the NFL, and Hunt showed last season what he is capable of doing. On Sunday, only Hill showed up in the box score and Kansas City still dominated.
As Hill showed last week, even if the Chiefs offense sputters, there are opportunities to inflict damage.
Overall, this offensive unit has four Pro Bowl caliber players at its four most important skill positions. While this may be viewed as a deterrent for those wanting to trust Hunt with the keys to the fantasy football castle, there is no other player on the Chiefs who will have more opportunity to score than Hunt.
In Week 1, Hunt touched the ball 16 times (all rushes), more than Hill (8) and Kelce (6) were targeted combined.
A Gameplan Result
Chiefs got tricks

(via @NFL) pic.twitter.com/FJZSrBBblh

— Bleacher Report (@BleacherReport) September 9, 2018
Hunt rushed the ball 16 times for 49 yards. An absolutely paltry number for any running back, let alone one who was a top pick in fantasy football. When you look back at the gameplan, however, the two instances that stick out were two goal line plays where the Chiefs ran identical plays with Hunt as a decoy. Kansas City scored easily on both plays.
Those are two touchdowns that could have easily gone Hunt's way. Instead of 4.9 points in Week 1, you could have possibly been looking at 16.9 points and a happy fantasy football owner. Instead, there is worry. Lots of worry.
The gameplan shifted quite significantly once Hill scored two touchdowns on Kansas City's first two possessions. Playing with a big cushion gave Andy Reid the comfort to play a little bit. The shovel passes from the one-yard-line was indicative of that.
"[That play] allows you to get all your guys involved in the run game part of it," said Reid. "Whether it's your running back, receivers, tight ends, got a few different looks. The misdirection can be an issue there. That sometimes can get you."
There was no need to establish the run, like most teams prefer. In fact, we saw the same thing in Kansas City's blowout opening-week game last season. The bigger the margin, the more expansive the playbook gets. As the season progresses and games get tighter, Reid gets stricter with his options. This equates to more touches for Hunt on the goal line.
Hunt Stands Alone
Hunt was in on 71 percent of the Chiefs snaps in Week one. As mentioned above, he touched the ball more than double anyone else. Of course it is concerning that he only gained 49 yards, but that's not to say this was problematic. For those who mention the eighth game of less than 50 yards rushing, what is left out is Hunt is both a threat on the ground and through the air.
As much as Reid likes to give different looks in the run game, he takes that same mentality through the air. Hunt is a willing pass-catcher. In his 18-game career, only three times has he caught one or less ball. This past Sunday, was the first time he didn't total more than 75 yards in those three contests.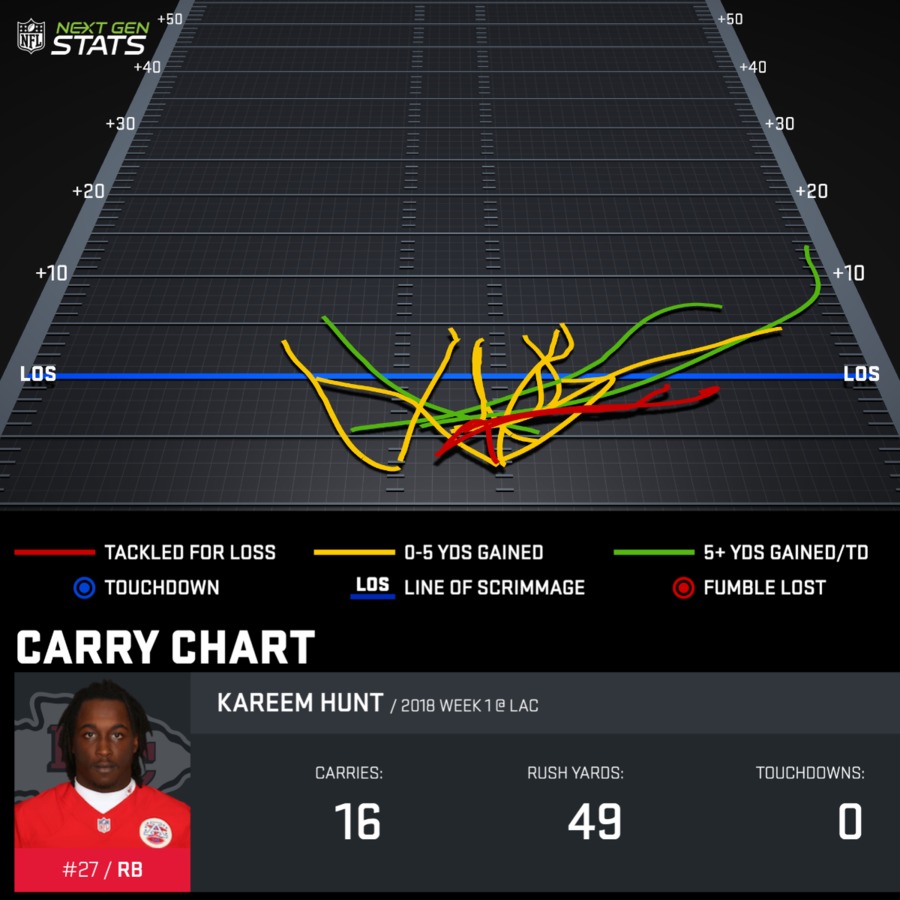 Hunt stands behind a solid offensive line that ranks right in the middle of the pack. A solid group that creates enough space for Hunt to run. On Sunday, only twice did Hunt have negative plays. Of the remaining 14 carries, only three went for more than five yards. Hunt's 2018 debut wasn't a sign of things to come, but rather just a result from no need to run the ball a lot and more to control the clock.
Hunt was one of only 15 running backs to be on the field for more than 70 percent of their team's snaps. His 40 snaps were the lowest of anyone in that group. Up a lot early, the Chiefs had no interest but to ride the game out to a victory, and Hunt's overall totals were the main victim in the Week One lopsided victory.
At the end of the day, it is rare to find a three-down back, in a high-powered offense, where he is not the focal point. While some may look at that as a deterrent, Hunt will find less people in the box than someone like Leonard Fournette, but more opportunity to rack up yards than Melvin Gordon. So Stop The Slander, Kareem Hunt is a must-start in fantasy football and that won't change any time soon.
More Risers and Fallers