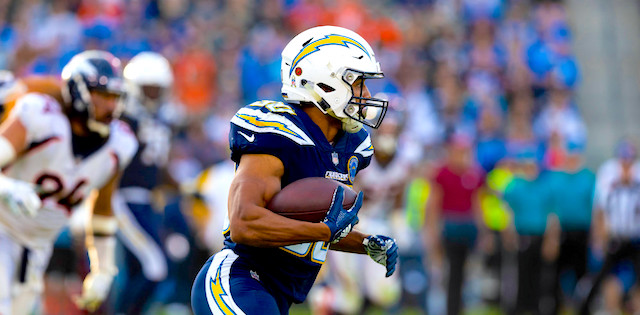 I've always believed that it is easier to lose a fantasy championship than to win it on draft day. It makes sense, a sure-fire player is expected to reward his owners with a lower risk-factor than the other way around and thus they're always drafter earlier. If they end up as a season-long dud, though, you'll be left in the dust. Drafting the unexpected league-winning player is always a hard task and something more random than not, so consider yourself lucky if you found yourself in that position.
No matter what, though, there are always players that fall into one of those two categories at the end of the year and provided much more -- or less -- ROI than they were expected to before the season kicked off. Using a combination of ADP values from MyFantasyLeague.com, which uses different leagues to factor their average positions, I will examine the biggest gainers and fallers of 2019 at each position during this series of articles.
It's time to assess how the season went at the running back position, where we had a little bit of everything with underwhelming comebacks, unexpected positive outcomes, a holdout helping to build a new star, and the biggest of duds coming from no less than the No. 1 preseason player. Here are your ADP winners and losers at RB in 2019.
Editor's Note: Get any rest-of-season NFL Premium Pass for 50% off. Our exclusive DFS Tools, Lineup Optimizer and Premium DFS Research through the Super Bowl.
Sign Up Now!
RB ADP Winners
Austin Ekeler - LAC (ADP RB30, finished RB4)
How can I start this column with anyone other than Austin Ekeler? In the year of Melvin Gordon's holdout, a bunch of people considered Ekeler a must-draft player during the preseason. I was one of those and on top of that, I was also of the opinion that even with Gordon back playing Ekeler would to enough to be a good weekly performer. Although Ekeler built a lot of his case during the first five weeks of the season, once he was forced to share the backfield with Gordon he still performed at around 15 FP/G in the remaining weeks and finished the year as the fourth-best RB in total fantasy points (309 in 16 games) to the tune of 1,550 yards from scrimmage to go with three rushing TDs and eight receiving.
Aaron Jones - GB (ADP RB15, finished RB2)
Somehow, the Packers made it to the postseason in 2019 (even avoiding the Wildcard round) with a more than thin offensive unit. A top-heavy offense by definition, the Pack relied on Aaron Rodgers, Aaron Jones, and Davante Adams all season to get results and the often-forgotten Jones (overall ADP of 33.9, which is to say a low-end third-rounder) turned into a beast even on a timeshare with Green Bay's RB2 Jamaal Williams. Same as Ekeler, Jones paired great rushing numbers (1,084 yards and 16 TDs) with receiving prowess (474 yards on 49 catches, three TDs) and was the fourth-best player overall in 2019 even while losing 146 touches to Williams.
Mark Ingram - BAL (ADP RB24, finished RB11)
Not to the extent of Lamar Jackson, of course, but Mark Ingram can be considered a league winner by himself in 2019. Drafted virtually as an RB3 and with an overall ADP of 50.9 (early fourth-rounder), not many trusted Ingram after a middling year playing second fiddle to Alvin Kamara in New Orleans. Getting the leading role in Baltimore and playing on an incredibly successful offense led by Jackson, Ingram put on a show all year long getting to 1,018 yards and scoring 10 TDs while adding 247 yards and five more touchdowns through the air. No more under-the-radar drafts for this guy, I'm afraid.
RB ADP Losers
Le'Veon Bell - NYJ (ADP RB7, finished RB16)
The most anticipated comeback of the year was undoubtedly that of Bell. It made sense in the preseason no matter his new team, considering Bell had finished as the RB6 in 2016 and the RB2 in 2017, his last two seasons after holding out. Well, I'm sorry for those of you drafting Bell as high as the RB7 this past summer with an ADP of 11.5. You read it right. Bell was drafted inside the first round of most drafts yet he finished the year as the 64th-best player in fantasy football with RB2 production. Bell failed to reach 1,000 yards on the ground and could only break that mark with his receiving and rushing yardage combined logging 1,250 yards from scrimmage and a very bland four TDs on the full season.
Todd Gurley - LAR (ADP RB8, finished RB14)
Gurley's health issues made him drop a bit in drafts to the early second round, but even with that, his ADP of RB8 made him a surefire No. 1 option at the position for most fantasy owners. Had it not been for his nonsensical 12 TDs on the ground (he added two more receiving), Gurley would have finished way below the previously mentioned Le'Veon Bell. The Ram could only reach 1,067 yards from scrimmage this past season after breaking the 1,800-mark in both of his previous two campaigns. Even if a positive regression comes Gurley's way in 2020 and his yardage rises, those touchdowns look a little unsustainable and Todd's golden fantasy days might be over already.
Saquon Barkley - NYG (ADP RB1, finished RB10)
I had my doubts including Saquon here, but the fact that he was the RB1 and the top overall player drafted all across the nation made it hard to not doing so. Barkley was drafted at the 1.6 draft slot on average and that has only happened two other times since 2000: Adrian Peterson in 2009 and LaDainian Tomlinson in 2008. Only those two averaged such a low average draft position and no player bested that number. Barkley owners expected a massive season and although the rusher still got them RB1 production (244.1 total points, 18.8 FP/G) the numbers were "low" in his 13 games (he missed a few and was banged-up during some parts of the season) with a final line of 1,441 yards from scrimmage and only six TDs rushing and two receiving.
More Fantasy Football Analysis