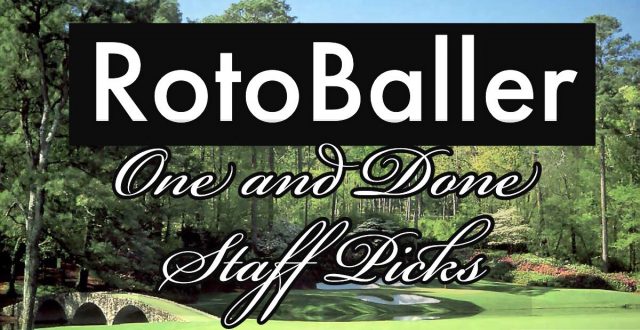 Here at RotoBaller, we are always searching for ways to give our readers the best fantasy sports content possible. With that goal in mind, we are very proud to announce the weekly PGA "One and Done" column will be back for a second season. In this feature, our golf staff of Joe Nicely, Spencer Aguiar and Josh Bennett will provide their weekly golf picks every Wednesday. The purpose of this article is to present you with alternative options to consider and hopefully make your selection a much easier process weekly. With that plan in mind, let's get started!
Hello RotoBallers! I'm really excited to be back for the second year of our RotoBaller One and Done Staff Picks article! Spencer Aguiar did a great job of getting us kicked off for the year last week at the Sony Open. While none of us had Cameron Smith as our selection, Josh and I did manage to get off to a very solid start with Webb Simpson, who scored a solo-third-place finish worth almost $500k. Spencer chose to take a more aggressive route with Abraham Ancer, who recorded a T38 to take home just over $27k. After getting off to an extremely sluggish start myself in 2019, I assure you that Spencer is still squarely in this competition and that this season will contain peaks and valleys for each of us. This week's American Express is a fairly unique format, as players will play three different courses over the first three rounds before a cut takes place. It's an interesting tournament and I'm sure the guys have some cool picks lined up!
For an in-depth breakdown of the top DraftKings and FanDuel plays, check out Joe Nicely's weekly Horse For The Course that highlights the best fits for the week's course. And you can also find out who the smart money is on by checking out Spencer Aguiar's PGA DFS: Vegas Report every week.
Editor's Note: Get our full-season PGA and DFS Premium Pass for 50% off. Our exclusive Lineup Optimizer, DFS Tools, and weekly Premium DFS Research.
Sign Up Now!
One and Done Selections
Alternate -  Charles Howell III
I knew Webb Simpson would be a popular OAD pick in last week's Sony, but this early in the season I'm more interested in banking bucks than being contrarian. I'm once again on a fairly vanilla path for this week's American Express, an event that throws three different courses and a pro-am at the players in the field. My initial lean was to the West Coast legend Charles Howell III, who is about as close as it gets to a sure thing in this tournament. CH3 is a rock-solid option and is also a player that I don't see myself using at any other time this year, which is nice in a OAD competition. However, despite all the positives that come with Howell, I do worry if a guy that only has three career wins despite being on the Tour for roughly 67 years, has the type of upside that I really want to try and gain exposure to every week.
Ultimately, I decided to go with a player that has zero career wins on the PGA Tour - though I expect that to change very soon. Sungjae Im dominated the Korn Ferry Tour in 2018 and captured PGA Tour Rookie of the Year honors last season. A win (or wins) seems to be the natural progression for the 21-year-old in 2020. Im has one start in this event under his belt - a T12 in his debut last year - and heads to the AmEx in hot form. This rotation of courses are some of the easiest on the PGA Tour and Im has demonstrated the ability to go low on multiple occasions, including in this tournament where he posted two rounds of 64 last year. He led the PGA Tour in Total Birdies last season with 480 and I expect him to post them in bunches in this glorified hit and giggle. -JN
Yearly Earnings - $455,400
Yearly Cuts Made - 1/1
Alternate - Jason Kokrak
There is a reasonable case that can be made that attempting to leverage ownership this early in the season can backfire, which was proven to be the case last weekend at the Sony Open. I can't say I was ultimately that far off from getting off to a quick start with my final three options for the event in Hawaii coming down to either Abraham Ancer, Marc Leishman or Cameron Smith, but as we all know by now, I did not choose the correct option.
I do feel as if my outside the box mentality that I have taken to begin the season is going to have to continue this weekend in California, but that isn't necessarily a negative with the board we have been given. Full disclosure, Sungjae Im did grade out number one on my spreadsheet when running it as a cash-game/head-to-head betting model, but I know he is going to be extremely popular in all OAD contests. That doesn't necessarily take him off the board if you chose Webb Simpson initially and want to continue playing it safe, but I can't think of a great argument to use him if you got off to a slower start. Projecting these figures out isn't an exact science, but I'd have to imagine we see close to 20% of participants in the Gup OAD contest take the South Korean prodigy. Collin Morikawa was selected by a little over 17% last week, and I do think Im is a much more consensus play.
I contemplated going entirely off the beaten path and choosing Jason Kokrak, who I believe quietly has a very good shot of competing here, but I've decided to play things a little safer and select Paul Casey. The Englishman doesn't have the best course history with no top-50 finishes here since 2015, but the 17th-ranked player in the world has been incredibly transparent about why he has struggled in the past. Casey stated in an interview on Monday that his "game feels good" and that the lack of offseason has allowed him the luxury of not having to pick up the pieces at an event like the American Express. I'm expecting a strong PGA Tour campaign for Casey, who has committed himself 100% to finding success in America, and I hope that string of good fortune starts at this week's rotational venue. - SA
Yearly Earnings - $27,390
Yearly Cuts Made - 1/1
Alternate - Charles Howell III
It's only week two and I'm already having a rough time with my one and done pick. This is just an all-around weird week of golf. Three courses that are all different in their own ways makes it hard to pinpoint the exact type of player to look for, plus the added extra day before the cut just makes it even more wide open. I feel like my process with Webb last week was sound, so I'm going to follow a similar pattern this week by picking Sungjae Im.
The field isn't very strong again, so I think it's a good idea to use someone like Sungjae who is going to play every event and will be stacked up against much more difficult opponents later down the road. He's extremely good and he will probably win a tournament sooner rather than later. His chances are obviously much higher in a field like this versus some of the fields he'll get when it gets to major season. I also like taking him early in the season because as we all know by now, he's going to play every tournament offered to him, and I want to make sure I use him while he's "fresh". He may be the Tour's iron man, but I don't think that he can avoid fatigue, especially mental fatigue when he's chasing the top of the leaderboards every week. On top of all that, he's a birdie machine and of all the things to look at for this tournament I think that's one of the more important ones. One bad round won't kill him and risk his chances at a missed cut, he can easily have two low rounds to make up for it and stay in the thick of things heading into Sunday. It will be his time to hold a trophy soon, hopefully it's this weekend! – Josh Bennett
Yearly Earnings - $455,400
Yearly Cuts Made - 1/1
Running Totals
| | | | |
| --- | --- | --- | --- |
| | Joe Nicely | Spencer Aguiar | Josh Bennett |
| Sony Open | Webb Simpson $455,400 | Abraham Ancer $27,390 | Webb Simpson $455,400 |
Golf DFS News and Player Outlooks