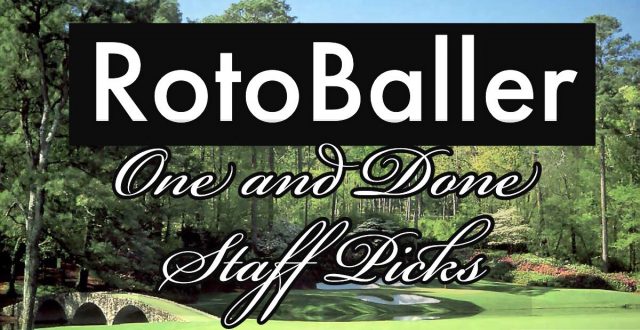 Here at RotoBaller, we are always searching for ways to give our readers the best fantasy sports content possible. With that goal in mind, we are very proud to announce the addition of a weekly PGA "One and Done" column. In this feature, our golf staff of Joe Nicely, Spencer Aguiar and Gianni Magliocco will provide their weekly golf picks every Wednesday. The purpose of this article is to present you with alternative options to consider and hopefully make your selection a much easier process weekly. With that plan in mind, let's get started!
Gianni Magliocco struck the first big blow during last week's Waste Management Open, earning $482,800 from Justin Thomas' third-place finish in Phoenix. The result skyrockets him into a nearly $400,000 lead and gives him a little breathing room. Joe has found himself trudging along in the opening four tournaments but is in a nice spot going forward since he has only used one golfer inside the top 15 entering this week. As for myself, it has been a rough start. Patrick Cantlay's missed cut at the Farmers Insurance Open has put me slightly behind the eight ball after opening with Justin Thomas and Jon Rahm as my first two selections, but we are still so early in the contest that it is not something that I can't overcome.
The AT&T Pebble Beach Pro-Am will provide us with our biggest purse so far this season, with the total prize pool coming in at 7.6 million. The winner will walk away with 1.368 million, so there will be an opportunity for all three of us to earn a massive payout in this event. Seven of the top 20 players will be teeing it up at Pebble Beach, including the likes of Dustin Johnson, Tony Finau, Jason Day and Tommy Fleetwood. With Gianni creating separation at the top of the standings, it will be interesting to see what strategy the crew will employ this week in California.
For an in-depth breakdown of the top DraftKings and Fanduel plays, check out Joe Nicely's weekly Horse For The Course that highlights the best fits for the week's course.
And you can also find out who the smart money is on by checking out Spencer Aguiar's PGA DFS: Vegas Report every week.
Editor's Note: Our friends at Fantasy National have built some incredible DFS Golf lineup tools including a Lineup Optimizer, Stat Engine, Ownership Projections and Course Breakdowns. They are by far the best daily fantasy Golf tools in the industry. Seriously. You can read all about them here and see screenshots. 
2019 AT&T Pebble Beach Pro-Am - Pebble Beach Golf Links
6,816 Yards - Par 72 - Greens Poa
After a week-long hiatus from having to deal with a split course event, the AT&T Pebble Beach Pro-Am will put us right back into another rotational week of golf. Pebble Beach Golf Links, Spyglass Golf Course and Monterey Peninsula Country Club will be our host venues, and the cut will take place after all players have played each track once. The top 60 and ties will make it to Sunday, and the field will play Pebble Beach Golf Links for the final round.
Pebble Beach is the only course that will feature Shot Link data and Shot Tracker, and we won't have much of an idea of what is going on at the other two properties. There are two huge negatives when it comes to this. For starters, we will only have an idea of what is happening for a third of the players each day. That in itself is terrible from a viewing perspective, but it also hurts us when it comes to breaking down the event properly. With half the rounds at Spyglass and Monterey, we won't have any strokes gained numbers for the week, and most importantly, we won't have any long-term data to incorporate into our research pre-tournament.
Pebble Beach Golf Links will have a slightly different feel than usual. The U.S. Open will be taking place there this year, and the course is already set up to play with U.S. Open width. That means the fairways will be more narrow, which will further emphasize the thicker rough that the USGA has been growing out for June. Not to mention that rain has been bombarding the course as of late, and the rough is even more penal than usual. Golfers that can gain strokes with their approach shots (especially from between 100-150 yards) will put themselves in a better position to score, but the greens are some of the smallest on tour, and players will also need to be able to save par around the putting surface.
One and Done Selections
Joe Nicely - Chez Reavie
I went extremely conservative in last week's Waste Management Phoenix Open by selecting Hideki Matsuyama. I feel safe in saying that my choice of Chez Reavie for the AT&T Pebble Beach Pro-Am is probably the opposite of extremely conservative. I'm not going out of my way to be contrarian, but the flashier names in the field just aren't working for me this week.
Dustin Johnson is probably the biggest no-brainer in this spot with his blend of talent and elite course history, but this year's U.S. Open will be held at this very Pebble Beach course and I'd rather save my DJ bullet for a major championship. Some of the other big names either aren't great fits, have little (or bad) course history, or are players I plan to use in other tournaments later in the season.
Which brings me to Chez Reavie, who doesn't carry much star power, but has been playing at an extremely high level this season. Reavie has been a ball striking machine and has recorded top-five finishes in two of his three 2019 starts. He had a nice runner-up finish in this tournament last year, so he should be comfortable with what can be a tricky event. I'm aware that this might be a decision that comes back to haunt me later in the OAD season, but as we head into this week I feel confident about Reavie's chances of performing well in the AT&T. -JN
Yearly Earnings - $358,678

Yearly Cuts Made - 4/4
Spencer Aguiar - Phil Mickelson
I am a little frustrated that I wasted Patrick Cantlay at the Farmers Insurance Open because I think this is a great spot to use him if you still have him available. However, as things stand, my new goal for Pebble Beach is to use a player that won't come back to haunt me again. The tournament is one of my least favorite on tour, mostly because of the eight-hour rounds and lack of Shot Tracker at two-thirds of the venues. But the rotational nature of the event mixed with the horrendous weather that California has been receiving has made this an uncertain handicap.
Not wanting to burn one of the big names in this field, I have decided to go with Phil Mickelson. Lefty has won this event four times in his career and finished runner-up an additional two times (making him the all-time leading money winner at Pebble Beach). His history at the course speaks for itself, and I believe it derives from taking the driver out of his hands. Mickelson has shown that he is still incredibly long off the tee, but he is also equally as inaccurate. I prefer the American at a venue that isn't so drive-heavy, and the event this week will allow the 48-year-old to show off the other facets of his game. I expect Mickelson to be extremely popular in OAD contests, and you can consider this selection as playing defense or trying to escape Pebble Beach unscathed.
Yearly Earnings - $388,517
Yearly Cuts Made - 3/4
Gianni Magliocco - Phil Mickelson
Perhaps my least favorite event of the year due to the pro-am aspect as well as the lack of shotlink provided. There weren't too many names that jumped out this week, and I certainly don't see the value in blowing an elite player in an event with such a laid back feel. Phil Mickelson has been very reliable at this event in the past, winning it four times and finishing runner-up twice. At 48, Mickelson is unlikely to win another major, and there aren't any events where I'd expect him to play better than this one. With the heavy rain in the area, Mickelson may be able to find more fairways than usual and if his deadly wedge game is anything like it was a couple of weeks ago then he should go well at an event where he is the all-time leading earner. It's an uncomfortable tournament to predict, and I think playing a boom or bust player such as Mickelson is the way to approach it this week.
Yearly Earnings - $734,768
Yearly Cuts Made - 4/4
Running Totals
Joe Nicely

Spencer Aguiar

Gianni Magliocco

Sony Open

Gary Woodland 

$11,520

Justin Thomas

$99,200

Kevin Kisner

$12,864

Desert Classic

Jon Rahm

$212,400

Jon Rahm

$212,400

Patrick Cantlay

$159,300

Farmers Insurance

Marc Leishman

$21,158

Patrick Cantlay

$0

Charles Howell III

$79,804

Waste Management

Hideki Matsuyama

$113,600

Webb Simpson

$76,917

Justin Thomas

$482,800
Golf DFS News and Player Outlooks
Premium DFS Golf Tools and Lineup Optimizer
Our friends at Fantasy National have created some game-changing DFS Golf tools, and you can read all about them here. They are hands-down the best daily fantasy Golf tools in the industry.