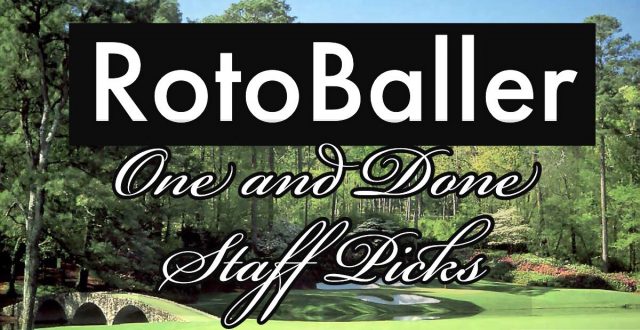 Here at RotoBaller, we are always searching for ways to give our readers the best fantasy sports content possible. With that goal in mind, we are very proud to announce the addition of a weekly PGA "One and Done" column.
In this feature, our golf staff of Joe Nicely, Spencer Aguiar and Gianni Magliocco will provide their weekly golf picks every Wednesday. The purpose of this article is to present you with alternative options to consider and hopefully make your selection a much easier process weekly.
With that plan in mind, let's get started!
Editor's Note: Our friends at Fantasy National have built some incredible DFS Golf lineup tools including a Lineup Optimizer, Stat Engine, Ownership Projections and Course Breakdowns. They are by far the best daily fantasy Golf tools in the industry. Seriously. You can read all about them here and see screenshots. 
Sign Up Now!
2019 Charles Schwab Challenge
The second major of the year has come and gone, and hey, it was an exciting affair - for 20 minutes. Brooks Koepka's excellence led to a wire-to-wire victory for the 29-year-old and a big payday for Joe and myself. Joe is now officially the only man capable of winning the Grand Slam in 2019, after picking Woods at Augusta and Koepka at Bethpage. Just like Koepka, he's a big game hunter. 
Both Joe and I took home just shy of $2 million in a very successful week, while Spencer despite never looking likely, took home a decent total of $264,382 after his selection of Rory McIlroy did what he does best these days at major championships - backdoor a top-10.
It's now onto the Charles Schwab Open, which is held at the familiar and tricky Colonial CC.
For an in-depth breakdown of the top DraftKings and FanDuel plays, check out Joe Nicely's weekly Horse For The Course that highlights the best fits for the week's course.
And you can also find out who the smart money is on by checking out Spencer Aguiar's PGA DFS: Vegas Report every week.
2019 Charles Schwab Challenge - Colonial CC
7,209 Yards - Par 70 - Greens Bentgrass
Colonial CC is a short, tight track that rewards ball striking, accuracy and good putting. For once, we have a course that requires a bit of thought as opposed to the grip it and rip it affairs we see weekly on tour. It makes it a very interesting prospect to see which way the guys go this week, but as always at this track, expect those who hit fairways and who are deadly with the long and short irons to feature at the top of Sunday's leaderboard.
One and Done Selections
Joe Nicely - Jordan Spieth
Alternate - Francesco Molinari
Well...big, bad Brooks came through for me last week at Bethpage. While it was a huge win for me, Koepka was also Gianni's pick, which prevented me from cutting into his huge lead. With where I stand in our little OAD contest, the best I can hope for is to continue picking winners. I'm taking a big leap of faith for this week's newly-titled Charles Schwab Challenge. A surprisingly strong field has turned up at Colonial Country Club, so there's no shortage of options.
I still have some very strong players at my disposal, and a guy like Justin Rose or Francesco Molinari would probably be the prudent way to go this week. Being prudent can be boring. Jordan Spieth has suffered through a bad season. His trials and tribulations have been well documented - missing two-footers, wobbly iron play, no control with the driver - you name it and Spieth has probably struggled with it over the past year. Finally, there appears to be a tiny speck of light at the end of the tunnel. He turned in a very 'Spieth-like' performance at Bethpage last week, riding a white-hot putter to a T3 finish in the PGA Championship. While we can't count on the Texan to gain over 10 strokes putting again this week, he has been downright dominant in his previous starts at Colonial, with a win sandwiched between T2's from 2015 to 2017. Spieth isn't the player now that he was then, but he's fighting to get back...kinda like me in this contest. - Joe Nicely
Yearly Earnings - $5,614,307

Yearly Cuts Made - 15/18
Spencer Aguiar - Francesco Molinari 
Alternate - Ian Poulter
Well... the PGA Championship couldn't have gone much worse for me. I was fortunate to have Rory McIlroy make a charge on the weekend to net me slightly over $264k, but my run at the inaugural RotoBaller OAD title came to a screeching halt with both Joe and Gianni connecting on Brooks Koepka for roughly two million dollars. I feel like a politician in an election that doesn't have a foreseeable path to victory, but I will wait to make my inevitable concession speech.
At this point, I need winners, and Francesco Molinari might be my best bet at finding the winner's circle. Bethpage Black's length was always going to be a daunting task for the 36-year-old last week, and it didn't help the situation that he lost 4.4 strokes on the greens. The result makes it the second consecutive tournament where Molinari has given up over four strokes on the greens, and while he isn't a world-class putter by any means, we should expect some positive regression to take place shortly.
The move away from Poa greens and onto the Bentgrass surface at Colonial Country Club might be exactly what Molinari needs to break out of his slump. In his past 50 rounds compared to the field on Bentgrass, the seventh-ranked player in the world grades out first in strokes gained approach, first in proximity from 150-175 yards, second in greens in regulation gained, second in par-four scoring, eighth in strokes gained off the tee and ninth in birdies or better gained. I need a Hail Mary at this point and will try to begin my grind back with the Italian Stallion. - Spencer Aguiar
Yearly Earnings - $4,110,517
Yearly Cuts Made - 17/18
Gianni Magliocco - Paul Casey
Alternate - Jordan Spieth
Back in the groove. Brooks Koepka made it the third winner of the year, and we can finally put Tony Romo nicely behind us now. I wasn't able to extend my lead though as Joe shrewdly got on board the Brooks train too.
For this week, my strategy is simple - play conservatively. It's not an event I need to play aggressively due to my lead, and therefore, the elite players in the field that I have left can be saved for later down the road.
Instead, I'm taking Paul Casey, despite knowing that he isn't going to win. That may sound harsh, but winning does not come naturally to Casey. But do you know what does? Top-20's and 10's, and that will do me this week. A T10 finish here at Colonial on his last appearance in 2017, and I'd happily take that again. Excellent ball striker, straight off the tee and he'll hit plenty of greens in regulation. This is a low-key week and taking a higher priced ball striker is the prudent play before we go on attack mode at some juicy upcoming events. - Gianni Magliocco
Yearly Earnings - $7,824,045
Yearly Cuts Made - 15/18
Running Totals
Joe Nicely

Spencer Aguiar

Gianni Magliocco

Sony Open

Gary Woodland 

$11,520

Justin Thomas

$99,200

Kevin Kisner

$12,864

Desert Classic

Jon Rahm

$212,400

Jon Rahm

$212,400

Patrick Cantlay

$159,300

Farmers Insurance

Marc Leishman

$21,158

Patrick Cantlay

$0

Charles Howell III

$79,804

Waste Management

Hideki Matsuyama

$113,600

Webb Simpson

$76,917

Justin Thomas

$482,800

Pebble Beach

Chez Reavie

$31,160

Phil Mickelson

$1,368,000

Phil Mickelson

$1,368,000

Genesis Open

Xander Schauffele

$100,788

Hideki Matsuyama

$177,600

Dustin Johnson

$177,600

WGC Mexico Championship

Justin Thomas

$201,000

Xander Schauffele

$128,000

Tommy Fleetwood

$103,750

Honda Classic

Adam Scott

$0

Gary Woodland

$25,346

Adam Scott

$0

Arnold Palmer

Rory McIlroy

$294,613

Justin Rose

$19,474

Jason Day

$0

Players Championship

Sergio Garcia

$125,000

Tiger Woods

$77,625

Rory McIlroy

$2,250,000

Valspar Championship

Patrick Reed

$0

Sergio Garcia

$15,209

Henrik Stenson

$54,270

WGC-Match Play

Ian Poulter  

$108,429

Haotong Li

$167,000

Francesco Molinari

$712,000

Valero Texas Open

Tony Finau

$16,275

Rickie Fowler

$112,500

Tony Finau

$16,275

Masters

Tiger Woods

$2,070,000

Bubba Watson

$225,400

Rickie Fowler

$310,500

RBC Heritage

Byeong Hun An

$0

Matt Kuchar

$745,200

Brandt Snedeker

$17,342

Wells Fargo Championship

Rickie Fowler

$311,063

Tony Finau 

$17,064

Webb Simpson

$99,540

Bryon Nelson

Keith Mitchell

$17,301

Brooks Koepka

$379,200

Tony Romo

$0

PGA Championship

Brooks Koepka

$1,980,000

Rory McIlroy

$264,395

Brooks Koepka

$1,980,000
More PGA Analysis and DFS Lineup Picks
Premium DFS Golf Tools and Lineup Optimizer
Our friends at Fantasy National have created some game-changing DFS Golf tools, and you can 
read all about them here
. They are hands-down the best daily fantasy Golf tools in the industry.
Sign Up Now!