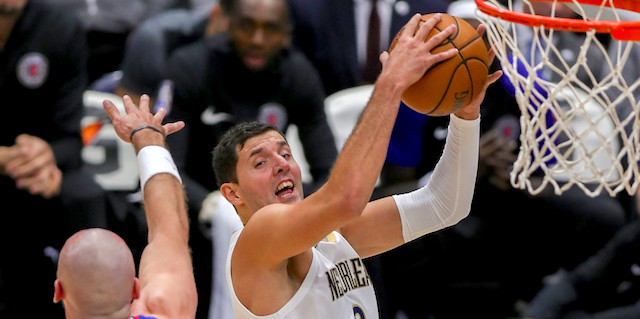 Welcome to the RotoBaller NBA Recap. In this feature, we highlight three fantasy basketball takeaways from last night's slate of NBA games. Friday featured a potential NBA Finals matchup, a game-winner out in Chicago and an overtime thriller in the boroughs of New York City. Since we are on the topic, let's start in Brooklyn. The Brooklyn Nets survived the Toronto Raptors in overtime by a score of 106-105. Kawhi Leonard was brilliant on the night, scoring 32 points to go along with three rebounds, four assists, four steals, one block and five three-pointers, but the Nets had the last laugh. All I can say to that is thank goodness! Nobody needs to hear a loop of Leonard laughing on repeat.
The Chicago Bulls handed the Oklahoma City Thunder their first loss in five games by a score of 114-112. Lauri Markkanen hit a tough game-winning layup and led the way with 22 points, six rebounds, one assist, three steals, one block and four three-pointers. Markkanen hurt his right elbow on Friday but was able to return shortly after the injury took place. It was a scary situation for the 21-year-old, who missed the first 23 games of the season with a right elbow issue. Fortunately, however, he appears to have avoided any significant setbacks. The Arizona Wildcat product is a top-50 player when healthy and should continue to shoulder the load for a struggling Bulls team.
And the Golden State Warriors traveled to Milwaukee on Friday, beating the Bucks 105-95. The Warriors have experienced a tough stretch of basketball in the last week, playing their past five games on the road but will return home on Monday to face the Minnesota Timberwolves. After losing to the Detroit Pistons last Saturday in Stephen Curry's return to the lineup, the Warriors have rattled off three straight wins, and are drifting closer to the level of dominance we have grown accustomed to seeing. Golden State is currently performing like a world-class boxer that doesn't want to exert a ton of energy early in a fight. The team will look completely different come playoff time, but the concern will be turning the switch back on in a flash. If they are able to do that, Golden State should be considered heavy favorites to capture a three-peat this season.
Editor's Note: Our friends at Monkey Knife Fight have the best, most fun, fastest growing DFS props game! It's super simple to play and to win real money. Just choose your NBA, NHL or PGA game, and make your picks! Get a 100% instant deposit bonus up to $50 using promo code: BALLER. That's $50 for free - don't miss out!
Play Now!
All of the Holiday brothers are finding success this season in the NBA, but our main focus in tonight's RotoBaller Recap will be Justin Holiday, who is the eldest of the three and quite possibly the most complicated to accurately assess from a fantasy perspective.
On Friday, Holiday scored 20 points to go along with six rebounds, three steals and four three-pointers on 8-for-12 shooting from the floor in Chicago's 114-112 victory over Oklahoma City. A lot has been made about how Lauri Markkanen's return to the lineup would hurt Holiday's value going forward, but it is difficult to detect any difference at all as of right now. Yes, Jabari Parker will get some extra minutes at small forward -- especially when Bobby Portis returns -- but the 29-year-old is the best wing defender for Chicago, and it appears head coach Jim Boylen is well aware of that fact.
It will be interesting to see if any of that changes once Portis does reemerge to the fray, but as of right now, Holiday hasn't deviated whatsoever from his usual production or playing time. The Washington product has been a solid points league contributor but is doing most of his fantasy damage in nine-category settings, hovering right around top-25 value. That level of return might not be sustainable for an entire year, but there is no reason that Holiday can't continue to produce as a top-50 player going forward. No wonder why we call this the holiday season.
A lot of owners in the fantasy community try to trade for players at the most inopportune times. It's the classic case of why sell-high windows are even made available. Everyone wants to acquire a player once they have broken out, but the savvy owner waits for a buy-low window to present itself. None of that is exactly rocket science, but it is shocking the number of poor decisions made on the trade front.
Nikola Mirotic is a prime example of waiting for a window to open up. Perhaps no player rocketed up in value as much as Mirotic did to begin the season, but after a two-game absence and a poor four-point showing on Friday, the door has cracked slightly open to receive the 27-year-old in a trade.
The one concern to Friday's performance was that Mirotic was moved to the bench for the game. Coach Alvin Gentry said he wanted to help the second unit with more scoring, but the Yugoslavian was horrible on the night. In a weird way, it might be a blessing to Mirotic's value that he did struggle as badly as he did. While a sixth man role isn't the end of the world, a move back to the first unit would without a doubt help his value. It is possible that Gentry only made the move on Friday to easy Mirotic back into action, but the poor performance and slight uncertainty to his role will raise some questions. Mirotic is too valuable to the Pelicans for this to be anything other than a flukish night. However, some owners might not think the same way. Your window of acquiring him won't last long so act fast.
Alec Burks: Has Entered Must-Own Territory
Alec Burks' trade from Utah to Cleveland has resurrected him back to fantasy relevance. On the Jazz, he was averaging 8.4 points, 1.6 rebounds, 1.2 assists and 0.9 threes. However, during his short five-game stint with the Cavaliers, he has raised those averages to 14.4 points, 5.6 rebounds, 3.0 assists and 1.2 threes made.
The 27-year-old may be a bit of a headache to category league owners due to his 42.4 career shooting percentage, but there is an ample opportunity for production on a struggling Cleveland squad. Burks was able to display some of his upside on Friday, scoring 22 points with seven rebounds and a season-high nine assists. He was also able to make eight of 14 shots with three three-pointers and one steal in 38 minutes.
It would be naive to expect his shooting percentage to be much higher than 40 percent, but with Rodney Hood (foot) exiting Friday's game early, it is possible Burks could find himself in the starting lineup as soon as Saturday versus the Washington Wizards. The University of Colorado product is owned in just 15 percent of Yahoo leagues and provides a high-ceiling on a lousy team. If he is available on your waiver wire, go out and grab him --especially if you can afford to take on his poor shooting.
More Fantasy Basketball Analysis