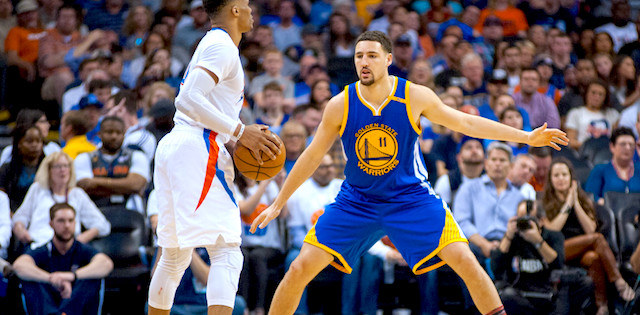 The Golden State Warriors have had an unprecedented number of issues this year in comparison to what the team normally deals with, yet they continue to show that when they are up against a wall, they are still the team to beat.
DeMarcus Cousins turned in his season-best performance as the Warriors defeated the Rockets 106-104 last night despite the team being without Kevin Durant, who is dealing with an ankle injury. Cousins scored 27 points and doled out seven assists -- both season highs -- to go along with eight rebounds as well as two steals. The 6-foot-11 center connected on a season-best 11 of 16 shots (68.8 percent) from the floor and sank all four of his free throws. He was the only Golden State starter to end the game with a positive plus/minus rating. It was Cousins' fifth 20-point game of the season and his 10th consecutive double-figure scoring effort. Klay Thompson tossed in 30 points while Stephen Curry added 24.
The win was the Warriors first victory over the Rockets this season in four games. The Dubs (46-21) are now one-and-a-half games clear of the Nuggets for the best record in the Western Conference.  Meanwhile, the loss snaps the Rockets (42-26) season-high nine-game winning streak. The rest of the article will look at my top three fantasy highlights from March 13th's six-game slate.
Editor's Note: Our friends at Monkey Knife Fight have the best, most fun, fastest growing DFS props game! It's super simple to play and to win real money. Just choose your NBA, NHL or PGA game, and make your picks! Get a 100% instant deposit bonus up to $50 using promo code: BALLER. That's $50 for free - don't miss out!
Play Now!
Thomas Bryant bounces back from one of his worst games of the season with a double-double
Bryant has been plagued by inconsistent play of late, but the 6-foot-11 big man and teammate Jabari Parker came up big in the fourth quarter as they combined to score 18 points in the period to help the Wizards down the Magic 100-90. The Wiz outscored Orlando 24-16 over the final 12 minutes of the game.
Bryant had 21 points, with 10 of those coming in the final stanza, to go along with 10 rebounds (four offensive) as well as one assist and two blocks in 25 minutes off the bench. He was 9-for-12 from the field, 1-for-2 from beyond the arc, and 2-for-2 from the free throw line. It was his ninth double-double of the season, although it was just his third such performance since Feb. 1.
The 21-year-old, who lost his starting spot towards the end of February, had posted just two points and one rebound in 14 minutes against the Kings in his last outing. Furthermore, he had failed to score in double-figures in five of the six contests as well as not having hauled in five caroms in five straight games.
Washington (29-39) has won five of eight games and is now three-and-a-half games out of the final playoff spot in the Eastern Conference.
Bryant is probably only worth a roster spot in deeper leagues as he is averaging 10.3 points, 5.5 rebounds, 1.6 rebounds and 1.3 blocks over his last 10 games. Bryant is also a cheap DFS play who can payoff big.
C.J. Miles gets hot, tosses in season-high 33 points
There are basically two key sayings that define shooting in basketball. One of the beliefs is "feed the hot hand" and the other is "if you are not hot, shoot until you get hot." The Grizzlies definitely did the best they could to follow the former advice and got Miles the ball often in their 132-111 blowout loss to the Hawks.
Miles poured in a season-high 33 points on 11-for-16 shooting from the field and was 8-for-12 from beyond the arc. It marks his first 30-point outing since November 24, 2015. He also added three rebounds in a season-best 33 minutes of action. The 31-year-old has now reached double-figures in four of six games and has sunk 17 trifectas during March. Miles is averaging 12.8 points along with 2.5 rebounds and 2.8 triples while shooting 48.1 percent from the field as well as 44.7 percent from long distance.
While Miles is known as a sharpshooter and had a little bit of a resurgence over the last six games, he has not been consistent enough to be on any fantasy roster other than in deep leagues. Plus, he doesn't contribute anything else on the court.
Utah only had 11 players available last night. Miles may be worth a punt play in DFS if he comtinues to see a decent amount of usage.
Alex Len continues solid play
Len is playing some of his best basketball of the season. The 7-foot-1 center scored 20 points, hauled in eight rebounds (three offensive), dished out four assists and blocked two shots in 23 minutes off the bench. He made eight of 13 shots from the field, including two of five from beyond the arc, although he was just two of four from the free throws line.
The 25-year-old has tallied double-figures in each of his last four games and six of seven, which includes three 20-point performances. He also has grabbed four or more rebounds in seven straight contests. Plus, Len has registered a game score of 10 or better on five occasions during this stretch.
The Maryland product has seen a spike in both his production and minutes. He is averaging 17 points along with 7.3 caroms, 2.1 treys and 1.1 blocks while shooting 51.7 percent from the floor and 39.5 percent from floor over 28 minutes this month. However, Len will likely see a decrease in his minutes now that Dewayne Dedmon and John Collins are once again healthy.
Despite the enevitable role reduction, Len is still worthy of a roster spot in 14 or 16 team leagues. He is definitely worth a daily cheap play in DFS.