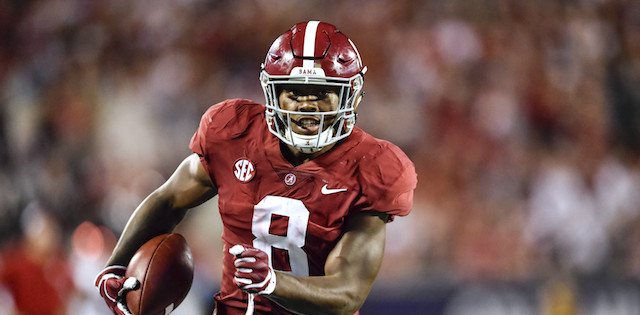 The NFL Draft has come and gone, and now it's time to take a look at the new landscape of the league.
Today, I want to talk about rookie running backs and which ones ended up in potentially good fantasy situations, specifically in re-draft leagues. Who'll be able to make an impact on the field this year? Will we see a 2019 version of Saquon Barkley? (Spoiler: Probably not!)
Let's take a look at the four rookie running backs in the best situations in re-draft leagues next season.
Editor's Note: Get any rest-of-season NFL Premium Pass for 50% off. Our exclusive DFS Tools, Lineup Optimizer and Premium DFS Research through the Super Bowl.
Sign Up Now!
Note: This was written before news of Isaiah Crowell tearing his Achilles came out.
I love the situation Jacobs finds himself in, because the Raiders just had their top running back, Marshawn Lynch, retire, and Doug Martin isn't coming back, so the team went into this year's draft with a pretty good receiving back, Jalen Richard, and Isaiah Crowell, who the Raiders brought in this offseason to compete for the starting job. As misfortune would have it, he tore his Achilles just days after the NFL Draft and will miss the entire 2019 season.
Enter Jacobs, who was mocked to the Raiders in pretty much every mock draft out there because Jon Gruden needed a running back. Jacobs didn't carry a huge load at Alabama, but when he was on the field, he was productive, averaging 5.3 yards per carry and scoring 14 total touchdowns, but he touched the ball just 140 times over the course of the season, receiving 32 fewer touches than Damien Harris.
But Jacobs, if he stays healthy, should see a sizable workload for the Raiders. He's a smart back who has the vision and patience to find holes, and while he's likely to cede some passing game work to Richard and he isn't a huge speedster who can break off huge plays, Jacobs should be able to hit his holes and gain a solid chunk of yardage on a per play basis. And with Antonio Brown in Oakland, defenses won't be able to stack the box against the Raiders, which should open up some good space for Jacobs. I don't think he makes it into the RB1 discussion this year, but he can be a solid fantasy RB2 based on red zone opportunities alone.
I don't know if the Eagles needed to pick a running back, but Sanders should be able to have a pretty good impact on this team. The Eagles brought in Jordan Howard earlier in the offseason, but we've seen over the last couple of years that Howard's a fairly limited back at this point, a guy who can pound the ball but is a nonentity in the passing game and doesn't have many chances to break off big plays. Despite going into the Draft with Howard essentially serving as the team's top back, there was always a chance that would change, even if the Eagles had depth at the position with Corey Clement, Josh Adams, and Wendell Smallwood still under contract.
Sanders is capable of making serious plays in the run game and showed a lot of aptitude in the passing game at Penn State, but he also had a tendency to get bottled up at times. But he'll be running behind an offensive line that PFF ranked as the fifth-best last season, so Sanders should be able to hit some holes and accelerate to the next level even if questions remain about his vision at times. Howard should still be the team's goal-line and short yardage back, but Sanders basically cannibalizes a lot of the value of all the other backs on this team, and I expect him to be a solid player this year. I wouldn't quite put him in the RB2 discussion at this point, but he can be a solid RB3 with upside.
To me, this deal signals one really important thing: that the Chicago Bears understand Tarik Cohen isn't an every-down back, and the trade of Jordan Howard was less about opening snaps up for Cohen and more about opening space up for a new lead back. I think Montgomery can be that lead back.
Montgomery isn't that much different than Jordan Howard in some ways. Both are slower backs and make sense as early down guys, but Montgomery should be more elusive in the open field. He's also a better receiver, though Cohen's presence means that Montgomery will likely not be asked to do much in the passing game, though he's a solid pass blocker, which can keep him on the field and allow him to be used on some delayed pass plays. Still, even without heavy involvement there, Montgomery feels like a more consistent version of Howard for this Bears team and he should be in line for a good amount of touches. He'll also be the team's primary red zone back, increasing his chances of finding the end zone and, thus, increasing his fantasy upside.
Justice Hill, Baltimore Ravens
Even though the Ravens brought Mark Ingram in during the offseason, I think Hill's got a great shot to lead this backfield, or to at least be a poor man's Alvin Kamara to Mark Ingram's...well to his Mark Ingram.
Hill was one of my favorite running back prospects this year. He's got good speed -- his 40-yard dash ranks in the 93rd percentile of running backs -- and good athletic traits, with a 96th-percentile broad jump and a 93rd-percentile long jump. He's been used as a receiver out of the backfield with good results. He'll be able to change direction, and I expect he's capable of breaking off big plays.
And, maybe more important than any of these things, he's playing with Lamar Jackson. Having a quarterback who can run also opens up running lanes for the running back playing beside him, and with both of these guys in the backfield, Hill should find himself with plenty of openings. Gus Edwards found success last year with this team. Kenneth Dixon had some good moments near the end of the year. Neither of those guys have the kind of breakaway speed that Hill has. Neither does Mark Ingram; this Ravens offense really lacked having a fast guy beside Lamar Jackson, and with that speed guy here, I'm really excited to see how this offense looks.
More NFL Draft Coverage