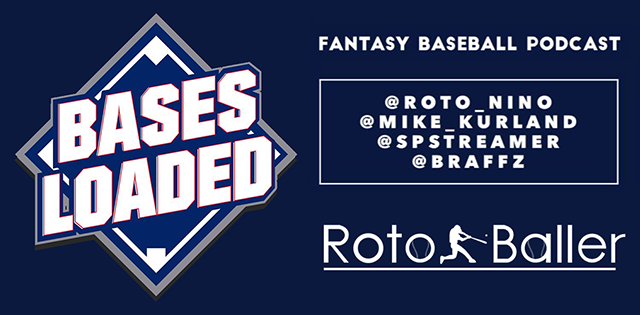 What Appears In This Article?
hide
Mike Kurland and Jorge Montanez are back with part two of the player value change review and now we move over to cover every team in the National League and discuss what this break in action means for the fantasy value of various players. In case you missed part one, you can hear the American League breakdown.
Subscribe to the Bases Loaded podcast, part of RotoBaller Radio's Podcast Network. Like and Subscribe to the RotoBaller channel on Youtube to get all our latest podcasts and catch us on iTunes and BlogTalkRadio as well!
Be sure to also tune into RotoBaller Radio on SiriusXM (channel Sirius 210, XM 87) - every weekday morning between 6-7 AM ET, Saturday nights from 9-11 PM ET and Sunday nights from 7-9 PM ET. You can also find new weekly shows on the site under RotoBaller Radio podcasts.
Featured Promo: Get your 2023 MLB Premium Pass for 50% off. Exclusive access to our preseason Draft Kit, #1 accuracy rankings, #1 ATC projections, Team Sync platform, Live Draft Assistant, 15 in-season lineup tools, customized rankings and much more!
Sign Up Now!
Change In Player Values - Part 2: Covering The NL
Check out our thoughts and join us as we dive into some great and overall thought provoking conversation. You can listen here directly through RotoBaller or subscribe today on your preferred podcast platform.
We are available on iTunes, Stitcher, Megaphone, PodBean, TuneIn Sound Cloud, iHeart Radio, Google Podcasts, Pod Bean, Tune In, Overcast and Breaker!
Our hosts are Mike Kurland (@Mike_Kurland), Mike Simione (@SPStreamer), Jorge Montanez (@Roto_Nino) and Zach Braff (@braffz). These guys are always available to answer your fantasy baseball questions on Twitter. Also, don't forget to follow them, subscribe to the show, and review and comment on the show please!
Thanks for listening to today's episode! Be sure to tune in to all Bases Loaded Podcast episodes throughout the week, and to also follow Bases Loaded Pod on Twitter, and RotoBaller on Twitter, YouTube and iTunes for the latest fantasy news and analysis.
Win Big with RotoBaller in 2020!
More RotoBaller Radio Videos and Podcasts