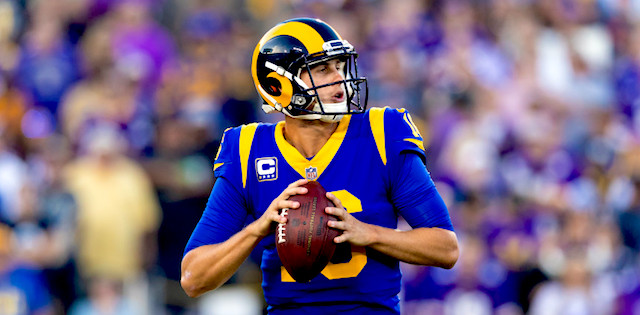 Week 8 is inbound, and we're getting more and more information every week about offensive line and defensive line play. Stat lines are less skewed by one great or one bad week. If an offensive line is good, you're going to know about it.
To try and keep these quarterbacks healthy, it's up to the offensive linemen down in the trenches to get their jobs done, and we've seen some units massively outperform others. This week, we're getting some tantalizing matchups against opposing defensive lines for quarterbacks which could see them explode.
We only have two teams on byes this week, but, at the quarterback position, it's a pair of great fantasy guys. Dallas Cowboys quarterback Dak Prescott and Baltimore Ravens Lamar Jackson will be on the shelf this week, and you'll be needing someone to fit in their place.
Editor's Note: Get any rest-of-season NFL Premium Pass for 50% off. Our exclusive DFS Tools, Lineup Optimizer and Premium DFS Research through the Super Bowl.
Sign Up Now!
Look Away Before It Gets Ugly
Baker Mayfield @ New England Patriots
Cleveland Browns quarterback Baker Mayfield has fallen hard to Earth after a record-breaking rookie season. He's thrown just five touchdowns compared to 11 interceptions, and he's added three fumbles as well. In Week 8, it's not likely that it gets better for him because his offensive line is still allowing him to get pummeled all game long. In just 14 games last season, Mayfield was sacked 25 times. Through six games this year, he's already at 16. He plays the New England Patriots this week, and it's on the road.
The Patriots Defense has been one of the best the NFL has seen in recent memory, and they're the absolute best in the league this season. They're second in the NFL with 26 sacks, and they have 18 interceptions which is far and away the best mark in the league. This Patriots group has the skills up front to take advantage of a soft Cleveland offensive line and make life difficult on Baker.
Sam Darnold @ Jacksonville Jaguars
New York Jets quarterback Sam Darnold was "Seeing ghosts out there." last week, and it's unlikely that he exercises those demons before Sunday. This Jacksonville Jaguars Defense lost cornerback Jalen Ramsey, but their pass rush is still one of the league's best. They have 21 on the year which is the fourth-best mark in the league, and they figure likely to add to that total this week.
The Jets offensive line has been beaten up, and it's showing in the stats column. They have the second-worst mark in the NFL with 26 sacks allowed thus far, and they've played one less game than about half of the teams in the league. Darnold struggles under pressure, as evidenced by how rattled he became by the Patriots in Week 7. The Jaguars pass rush can help mask their cornerback deficiency, and they'll be getting after Darnold often this week.
Ryan Fitzpatrick @ Pittsburgh Steelers
It's unlikely that you're starting Miami Dolphins quarterback Ryan Fitzpatrick this week, but, if you are, you shouldn't get your hopes up about a great performance. This offensive line, without left tackle Laremy Tunsil and any other significant talent, has turned into a turnstile that has had Fitzpatrick and quarterback Josh Rosen running for their lives. They haven't run fast enough though with their 24 sacks allowed with a sack rate of 10.1 percent, which is the third-worst mark in the NFL.
The Pittsburgh Steelers are lacking talent in certain areas, but the defensive line is not one of them. It's a veteran group that gets after the quarterback with a lot of gap integrity to reduce quarterback scrambles. They have 20 sacks on the season, and they'll be playing at home as they look to keep their slim playoff chances on the rise. For Miami, whichever result happens, one of their first-round picks will be improving while the other falls.
That's More Like It
Mason Rudolph vs Miami Dolphins
On the flip side from Fitzpatrick, we have Pittsburgh Steelers signal-caller Mason Rudolph. Rudolph gets rid of the ball quickly which reduces the effectiveness of the pass rush, and the Dolphins don't have a ton of head hunters that can get after him. Miami has just seven sacks on the season, and they've gotten at least one in five out of their six games played. Rudolph could get taken down, but he won't be under a lot of heat.
For Miami, their defensive line has been a beacon of boring with no premier pass-rusher to speak of. As previously mentioned, they have just seven sacks on the year, and they don't get after the passer fast enough to harass Rudolph, who has a time-to-throw of just 2.68 seconds. Rudolph still doesn't inspire a ton of confidence for fantasy football, but this is his best matchup for the entire year.
Carson Wentz @ Buffalo Bills
Philadelphia Eagles quarterback Carson Wentz doesn't have an outstanding matchup on the back end, but, in the trenches, it's a juicy matchup. His offensive line has only allowed 13 sacks on the year, and, despite being without starting left tackle Jason Peters, first-round pick Andre Dillard has been holding it down on the blindside. On his front side, right tackle Lane Johnson is grading out as the 12th-best tackle in the NFL right now. The edges won't cause a lot of issues for Wentz.
In Week 4, the Eagles took down the Green Bay Packers, who had been suffocating opponents with their pass rush, by running the ball which slowed down the pass rush. That's likely what they're going to do this week, as they're getting desperate for a win. Wentz will have to rely on tight ends Zach Ertz and Dallas Goedert, but he has some sneaky upside this week in a game he could very possibly have to throw a fair amount.
Jared Goff vs Cincinnati Bengals
For the second straight week, Los Angeles Rams quarterback Jared Goff has a great matchup. After playing the Atlanta Falcons, who failed to sack him, he now gets the Cincinnati Bengals who have sacked opponents just nine times this year. His offensive line is still a work in progress, but it has made some progress. Starting guard Joseph Noteboom is on Injured Reserve, which could pose some issues, but this is a matchup they can keep Goff clean in.
The Bengals' defensive front has struggled to generate pressure this year, and this group is on the verge of being broken up for assets at the trade deadline. Their adjusted sack rate of 5.1 percent is a bottom-10 mark in the NFL, and they're not going to massively improve on that this week. Unless the Bengals' defensive backs can lock up the Rams' receivers, which is highly unlikely, Goff is going to dice up this defense.
More Weekly Lineup Prep