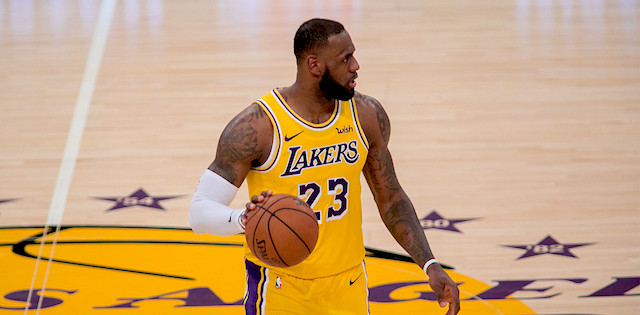 All other Premium Tools can be accessed on the premium dashboard, including our brand new DFS Matchup Ratings with daily player projections.
Premium Research & DFS Lineup Picks
DFS Cheat Sheet

Game of the Day
New Orleans Pelicans vs Toronto Raptors
The New Orleans Pelicans are a team that is going to be pushing the pace in games, and the Toronto Raptors likely won't have a choice but trying to keep up with them tonight. It's no surprise that this game is set at 231 points, which is the highest on the slate.
They have five players that are likely to be be locked into big minutes with Zion Williamson injured. Jrue Holiday will lead the offense, although he may play off the Ball a bit more this season with Lonzo Ball handling the point guard duties. JJ Redick is expected to draw the start at small forward, and he'll continue to make a solid option for a low price tag. The Pelicans will be going with a "small ball" lineup, starting Brandon Ingram at power forward, adding to the value of Derrick Favors, who will play the majority of his minutes at center. Each of these players make great options, as all are outlined in the Cheat Sheet aside from Ball, who quietly comes with triple double potential for a reasonable price tag.
The remaining players for New Orleans are all expected to play less than 20 minutes tonight, but some come with upside, especially on a two game slate on Opening Night. Josh Hart and Nickiel Alexander-Walker have flashed at times, and can score fantasy points in a hurry. Jahlil Okafor will play backup center minutes, and could find success if Favors get into foul trouble. He is also likely to find minutes when Favors slides to power forward. E'Twaun Moore, Kenrich Williams, and Nicolo Melli are also expected to see minutes in the teens, but none make great options.
Current rotation projections have Toronto using a short rotation with seven players locked into big minutes. They have quite a bit of production to replace with Kawhi Leonard and Danny Green each leaving for a Los Angeles team. Kyle Lowry, Fred Vanvleet, Pascal Siakam, and Marc Gasol are all expected to pick up the offensive workload. They each make solid options, although Toronto likely won't have one major focal point of their offense this season.
Serge Ibaka always comes with tremendous upside, and he is ridiculously priced on this slate. He may be a bit better for tournaments, though. OG Anunoby and Norman Powell are also expected to see bigger minutes. Powell likely has more upside, while Anunoby is the safer option, as he's the starter and will be locked into big minutes. Stanley Johnson and Terence Davis are expected to find minutes, although there are more than enough salary relief options on this slate that they don't truly need to be considered.
Fade of the Day
None for tonight with only two games.
Sample Lineups
FanDuel Lineup
DraftKings Lineup
Please note that these are sample lineups we provide as a tool for you to use. They are designed to give you building-block options as you go about choosing your own lineups, but in no way can we guarantee success. Be sure to examine the latest injury updates, Las Vegas projected game totals and late scratches before finalizing your lineups to ensure the players you are choosing are active on game day.