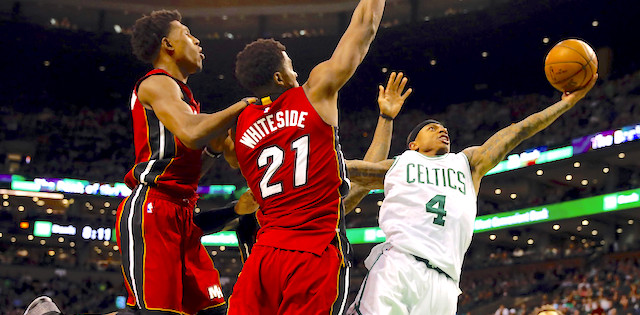 All other Premium Tools can be accessed on the premium dashboard, including our brand new DFS Matchup Ratings with daily player projections.
Premium Research & DFS Lineup Picks
DFS Cheat Sheet
Game of the Day
Golden State at New Orleans
It is always dangerous to read into numbers this early in the year, but the match-up between the Warriors and Pelicans looks to be pitting two of the four worst defensive teams in the early portion of the NBA.  In a combined five games this year, the Warriors and Pelicans have failed to hold one opponent to under 120 points. Along with an up-tempo style, there should be a plethora of fantasy value here.
On the Golden State side, Stephen Curry is obviously the top play, but he faces off against Lonzo Ball who was top five among point guards in DRPM last year. Despite that, Curry should have a nice game against a New Orleans team giving up an NBA high 41.7 three-point attempts per game this year. D'Angelo Russell could go overlooked here from people who look at last nights box score, but it is key to note that Russell was ejected in the third quarter.  With Jrue Holiday out, Russell should have an easier time scoring on Josh Hart and J.J. Redick.
Draymond Green will always have a nice fantasy floor due to his all-around game, and without Zion Williamson down low, Green should be able to push around the much smaller Brandon Ingram. The remaining bigs are all extremely cheap, but also very volatile.  Marquese Chriss started last night with Kevon Looney out, but only played 23 minutes.  Meanwhile, Omari Spellman and Eric Paschall fit the Warriors mold of shooters at all five spots.  Spellman is an excellent GPP play as he can get to value in so many ways, as he did last night with 9 points, 8 rebounds, 3 blocks, 2 steals and a three-pointer.  He should be able to take the likes of Derrick Favors and Jahlil Okafor outside.
On the Pelicans side, the loss of Holiday and Williamson has opened up a ton of usage for the likes of Lonzo Ball, Brandon Ingram and Josh Hart. All three are excellent plays tonight, with the only issue being their spike in price from even just a few days ago.  Ingram leads the team with a 28.2% usage rate, which was bumped up to 30.2% last game without Holiday. Josh Hart has shown his all-around game this year as well with a double-double opening night off the bench, and then a big game on Saturday.
The rotation up front for the Pelicans is a bit risky as Favors starts, but has yet to really produce big fantasy lines. Favors plays about 20 minutes a game, while Kenrich Williams gets 24, Nicola Melli 15 and Jahlil Okafor around 10.  With Looney and Willie Cauley-Stein out, the Warriors will not be playing a true center, which should fave minutes for Williams and Melli. Both are cheap and viable in game stacks, but beware, at 11.6% and 19% usage rates respectively, they duo would really need to be hitting their outside shots to produce a good GPP stat line.
Fade of the Day
There is no doubt that Paul has been a Hall of Fame player throughout his career, however at age 34 he is just simply not the fantasy force he once was. He has averaged right around 20 fantasy points per game to start this season, due in large part to the emergence of Shai Gilgeous-Alexander at the off guard position.
The other issue is that the Thunder have already started talking about load management with the veteran, and with a game last night, Paul may be limited in his minutes. Further clouding his value tonight, Russell Westbrook and James Harden are two of the best players in the league in drawing fouls, which could be another way in which Paul does not his minutes allotment.
Until his price drops to a more manageable number, it is simply best to avoid Paul and his limited upside.
Sample Lineups
FanDuel Lineup
DraftKings Lineup
Please note that these are sample lineups we provide as a tool for you to use. They are designed to give you building-block options as you go about choosing your own lineups, but in no way can we guarantee success. Be sure to examine the latest injury updates, Las Vegas projected game totals and late scratches before finalizing your lineups to ensure the players you are choosing are active on game day.