All other Premium Tools can be accessed on the premium dashboard, including our brand new DFS Matchup Ratings with daily player projections.
Premium Research & DFS Lineup Picks
DFS Cheat Sheet
Game of the Day
Sacramento Kings vs Phoenix Suns
The Sacramento Kings and Phoenix Suns are expected to be two of the fastest paced teams in the NBA this season. This comes as no surprise, though. This is the top game to attack tonight, as it features the highest Vegas total at 234 points.
Marvin Bagley makes the top option for Sacramento, and he has been outlined in the Cheat Sheet. De'Aaron Fox, Buddy Hield, and Harrison Barnes are the other three players on the Kings team that are expected to play 30+ minutes tonight. Fox and Hield should play large roles in the offense, while Barnes is a cheap option, who isn't quite as large of a focal points. Dewayne Dedmon has been announced as the starting center, but he's only expected to see minutes in the mid-20s. Still, Dedmon comes with quite a bit of upside even in limited playing time for his current price tag.
Bogdan Bogdanovic is the only player off of the bench that is truly guaranteed minutes early this season. He'll play the sixth man role, and makes a high upside tournament option for a surprisingly low price tag. Cory Joseph, Trevor Ariza, Nemanja Bjelica, and Richaun Holmes are all expected to see minutes off the bench, but none make great options. Holmes could see backup center minutes, but their starting five and Bogdanovic make the top options on this slate.
The Suns are in an interesting spot, as their offense is likely to be relatively condensed. Ricky Rubio will run point guard duties, while Devin Booker and Deandre Ayton will be the top offensive options. Both of these players make elite options in this matchup. These players are far and away the top options for Phoenix tonight.
Kelly Oubre, Mikal Bridges, and Dario Saric are three more players that are expected to see solid minutes. Oubre comes with the most upside of the trio, and it would be far from surprising to see him continue to progress after getting another offseason under his belt. Saric also comes with some upside, while Bridges' comes with an extremely low usage rating, and is a better real life player than fantasy option.
Tyler Johnson, Jevon Carter, Frank Kaminsky, and Aron Baynes are all projected to find small minutes into this game, but none should truly be considered tonight.
Fade of the Day
Simmons always comes with tremendous upside because of his versatility, but he needs quite a bit to go right for him to exceed value at his current price tag. His usage rating sits only slightly above 20%, which is the lowest of anyone at $8.5K or higher (DraftKings) by a wide margin.
The entire Philadelphia 76ers team sets up the same way. They have multiple slashers, who can all attack the rim. Joel Embiid will likely be playing with the ball in his hands, as well, limiting Simmons offensive potential.
Simmons is far too expensive for his potential role in the offense in terms of fantasy. He's a player that it's better to take a wait and see approach. He also gets a matchup against the Boston Celtics, who ranked fourth in the NBA against point guards last season.
Sample Lineups
FanDuel Lineup
DraftKings Lineup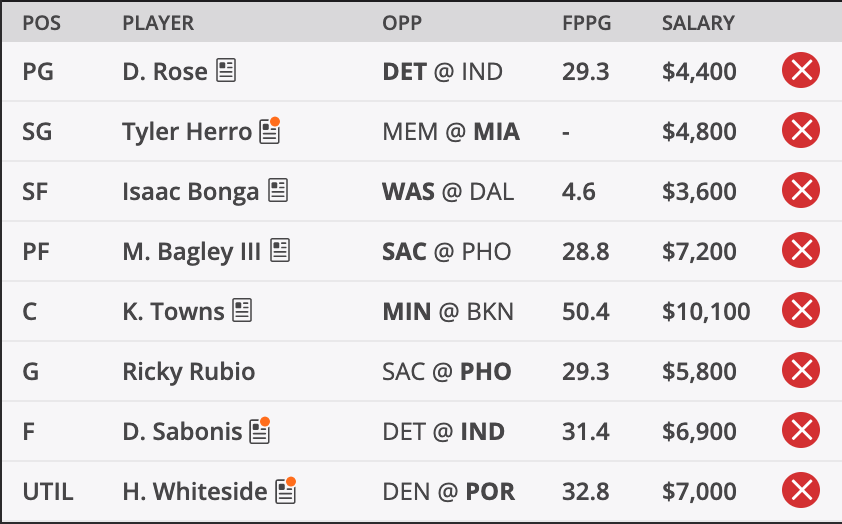 Please note that these are sample lineups we provide as a tool for you to use. They are designed to give you building-block options as you go about choosing your own lineups, but in no way can we guarantee success. Be sure to examine the latest injury updates, Las Vegas projected game totals and late scratches before finalizing your lineups to ensure the players you are choosing are active on game day.