All other Premium Tools can be accessed on the premium dashboard, including our brand new DFS Matchup Ratings with daily player projections.
Premium Research & DFS Lineup Picks
DFS Cheat Sheet

Game of the Day
Portland Blazers vs Sacramento Kings
The Portland Blazers have been pushing the pace this season, ranking eighth in the NBA in pace thus far. The Sacramento Kings only rank 28th in the league in pace this season. With that being said, both teams possess below average defenses. This game also features the highest Vegas total on the slate at 224 points.
Damian Lillard boasts a team-high 30.2% usage rating. He has been as consistent as a fantasy option as there has been in the NBA, and he recently scored 70+ DK points two games ago. He's an elite option tonight. C.J. McCollum is also locked into big minutes, while boasting the second highest usage rating (26.1%) on the team. He's an extremely inconsistent option, though, and should strictly be used in tournaments. Hassan Whiteside continues to be mispriced, as he's playing bigger minutes now. He has scored 40+ DK points in 4 consecutive contests, and he can be used in all leagues.
Rodney Hood is probable tonight, and he's expected to see 30+ minutes. He makes a solid salary relief option on this slate. Mario Hezonja, Anthony Tolliver, and Skal Labissiere are splitting minutes but Hezonja is the only one of the trio that can be considered on this slate. Anfernee Simons has been playing bigger minutes recently, but he's priced up now. He can be considered, but he's no longer a must start. Kent Bazemore is expected to lose minutes to Hood, and he doesn't make a great option tonight.
Cory Joseph, Harrison Barnes, and Richaun Holmes have all been outlined in the Cheat Sheet. De'Aaron Fox has been ruled out for the new few weeks, and Yogi Ferrell is another player that will benefit from his absence. He isn't an elite option, but can be considered for the minimum price. Buddy Hield and Bogdan Bogdanovic are two more players that are expected to see minutes in the 30s tonight. Both can be considered on this slate.
Dewayne Dedmon is probable tonight, but he hasn't been playing enough minutes to truly be considered. Trevor Ariza makes a decent option in tournaments because of his low price tag, but he generally doesn't contribute enough while on the court to be used. Nemanja Bjelica has been seeing solid minutes, and he can be used tonight. He should strictly be used in tournaments, though.
Fade of the Day
Gallinari has been heating up recently. He's averaging 18.8 points, 5.0 rebounds, 1.8 assists, and 1.2 steals (31.6 DK points) in 29.4 minutes per game over the last 10 days. He has scored 32+ DK points in each of his last 3 games, as well.
Gallinari has seen a lack of minutes this season, though, as he has failed to play more than 32 minutes in any game thus far. His usage rating also sits below 25%. Gallinari is a player that relies heavily on scoring, but isn't a focal point of the offense.
He gets a tough matchup against the Indiana Pacers, who rank fourth in the NBA against small forwards. These two teams also focus heavily on defense, while slowing down the pace. Gallinari's limited opportunities could be hard to come by tonight, making him far too risky of an option to consider.
Sample Lineups
FanDuel Lineup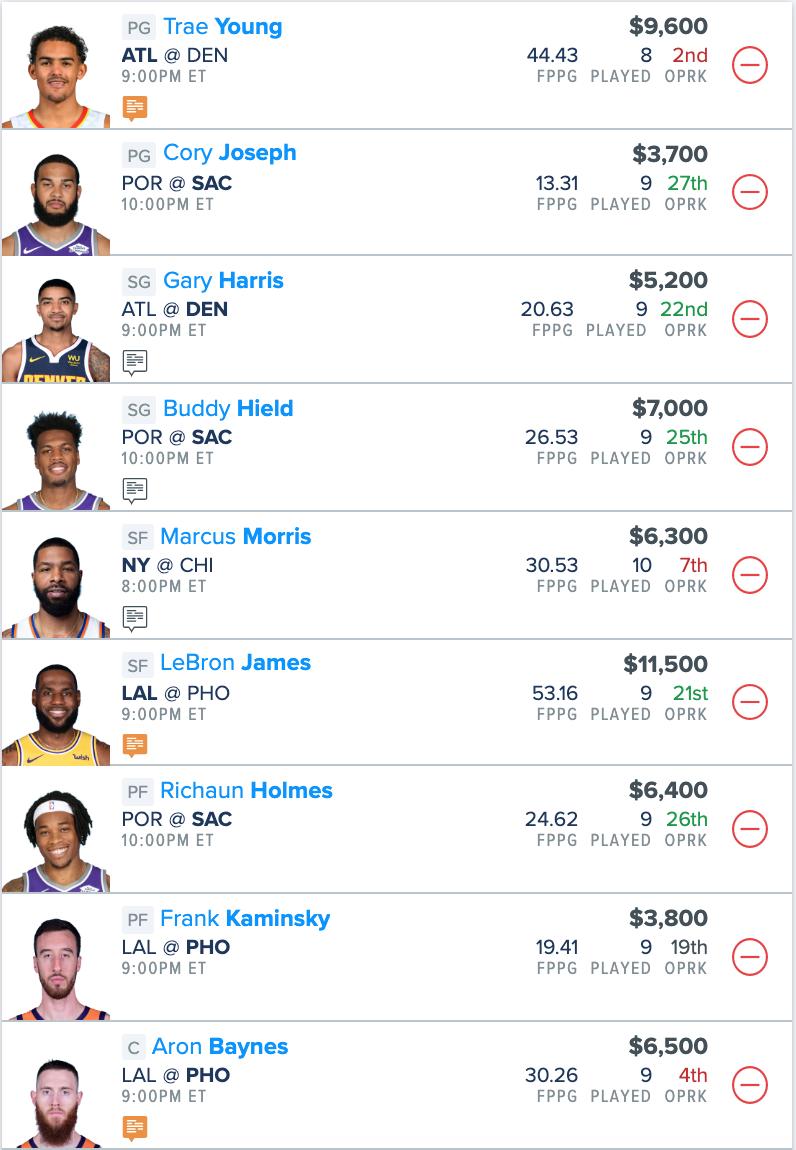 DraftKings Lineup
Please note that these are sample lineups we provide as a tool for you to use. They are designed to give you building-block options as you go about choosing your own lineups, but in no way can we guarantee success. Be sure to examine the latest injury updates, Las Vegas projected game totals and late scratches before finalizing your lineups to ensure the players you are choosing are active on game day.