Jon Rahm is nine strokes shy of the lead after round one. He played the tougher South Course, but would be seven strokes behind the best score on that course too. Tony Finau shot the same as Rahm and lost FIVE strokes putting. This is the first time he has done so since 2017 which is horrible timing to have pivoted to him over Rahm for weeklong DFS. Yet, here we are trying to make our money back in showdown.
This article is going to take a look at showdown slates after each completed round. You can find me on Twitter an unhealthy amount of the time @TheModelManiac, if you have any questions, compliments, or insults for me. My DFS style is very ownership-centric, and more often than not this can make you feel like an unsuccessful DFS player, but every now and then when a sneaky, low owned golfer comes through for you, it is all worth it. In this article we are going to break down the previous round's top performers and duds and use that information to derive a player pool full of upside and leverage.
The general logic to showdown has been to target golfers who played well the day before and particularly those who hit their irons well. This makes sense as you want to roster players who are playing good golf right now. These players will be higher owned and chalkier than golfers in the same price range, who had an off day, particularly with their irons. These are the golfers I am gravitated towards, as they could very easily bounce the following day at half the ownership.
Featured Promo: Want a free RotoBaller Premium Pass? Check out these sports betting promo offers from the top sportsbooks! All new sign-ups get a free bonus offer on their first deposit, and a free year of RotoBaller's Premium Pass for all sports ($450 value)!
Sign Up Now!
Ownership Analysis
Going into Round 2, these are the color codes we will be using to identify who we want to target. Think of it as a traffic light with four colors. Stop at mega chalk and go when we see leverage that makes sense.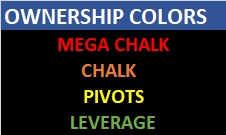 By taking a look at yesterday's ownership, we can get an idea of where people will be willing to go in R2 (DK points include finishing position).
Mega chalk: A popular player who played well yesterday.
Chalk: a) A popular player who played okay yesterday b) A less popular player who played well yesterday.
Pivots: a) A popular player who played poorly yesterday b) A less popular player who played okay yesterday.
Leverage: A less popular player who played poorly yesterday.
Top Points Scorers
We have completely eliminated those who played the North Course from our article as we want nothing to do with the wicked wind tunnel that is the South Course. Sam Stevens was the leading points scorer on the SC today but was not owned by a single person in my $5 single entry (1425 lineups).
Highest Owned Golfers
If the public was willing to play these golfers on a tough SC, ownership is going to be through the roof in R2.
Did you know RotoBaller has a Premium DFS PGA subscription?
Like what you read today? You can show your support for Byron by using the discount code MANIAC when purchasing a PGA Premium Pass. You get 10% off and full access to all of our Premium PGA articles, DFS tools, and Lineup Optimizer! You also get access to weekly betting picks from Spencer Aguiar, one of the top betting minds in the industry. Spencer absolutely crushed it in 2022!
Round 2 North Course Strategy
Round one saw a stark difference between the two courses, with the North Course playing 2.5 shots easier than the South. We are expecting incredible winds tomorrow and will not be playing a single golfer teeing it up on the South. We are going to do a little bit of a double stack on the north course and try to lean on golfers who start on the first tee. Holes 9, 10, and 11 were the only trio of consecutive holes that combined to score one under par, making them the best chance to get a 3-birdie streak. If you go off 10 tee you will miss this opportunity tomorrow, in weather that will make points scarce.
Round 2 Power Rankings
These golfers can all be considered for cash games or double-ups.
PLEASE NOTE: If you want the entire showdown cheat sheet, it's free to download here.
The Chalk Squad
These golfers should be the most owned tomorrow based on their round 1 performance.
$10,000: Nobody.
$9,000: Nobody. JT is going to be ridiculously owned tomorrow and Taylor Montgomery won't be far behind.
$8,000: Nobody. The public's first click will be JT and their next click will be Sungjae as both their salaries are very affordable for a top-quality golfer who played well on SC. We have lower-owned golfers who are as capable as them in the pivot section.
$7,000: Nobody.
$6,000: Nobody.
The Pivot People
These guys find themselves in the middle of the leaderboard. Their round did not go entirely according to plan, and we are banking on them to bounce back today.
$10,000: Nobody.
$9,000: Nobody.
$8,000: Adam Hadwin will be our pivot off of Sungjae Im. His power ranking is about a point less than Sungjae but will be considerably less owned.
$7,000: Give me a Keegan Bradley in treacherous conditions, going off the 1st tee. Robby Shelton and Patton Kizzire also both go off the 1st tee which we like.
$6,000: Callum Tarren goes off the first tee and has the best power ranks of the $6K range. I don't necessarily like Cameron Champ on this track as I think his power is better suited for the beast that is SC. Danny Lee is starting to play some really nice golf since the RSM Classic.
The Leverage Lads
The lowest-owned golfers who should give us the most leverage in a DFS Showdown slate.
$10,000: Jon Rahm is really expensive and played rather poorly. He will be popular but not nearly as chalky as JT, Sungjae and Monty.
$9,000: Tony, what are you doing on the greens, my man???? Get it together for us tomorrow, please.
$8,000: Cameron Davis is broken (stay clear). Not a lot of $8k golfers make it through our filtering process so we will load up in the $7k range.
$7,000: Justin Rose, Martin Laird, Harris English, Kevin Yu, Scott Stallings. (If you have a decision to make between these guys, lean towards the ones going off the first tee).
$6,000: Justin Lower, Camillo Villegas. 
Round 2 Matchups
I am betting each matchup to return half a unit.
Justin Thomas over Si Woo Kim -150 (DraftKings)
Thomas Detry over Wyndham Clark -103 (BetRivers)
Harris English over Cameron Champ -143 (BetRivers)
Good luck this week and as always, may the odds be ever in your favor!!!
Win Big With RotoBaller
Golf is back, and it's time for you to win big with RotoBaller!
Our PGA DFS Premium Package
 features several savvy analysts and proven DFS winners.
Our very own Joe Nicely recently took down a big DraftKings DFS tournament for the Travelers Championship. And as an encore, RotoBaller subscriber @tenndolly2 won $100K on FanDuel with the help of Joe and the rest of our Premium PGA team:
If you read my articles @RotoBaller or listen to @TheTurnGolfPod I've been telling y'all it was #WinningSeason when golf came back! Shoutout to the entire @RotoBallerPGA squad and all you guys that support my work for all the ❤️ pic.twitter.com/07a4ynvbSU

— Joe Nicely (@JoeNicely) June 28, 2020
Congrats @tenndolly2 ???

Thanks for being a @RotoBaller PGA DFS Premium subscriber & checking out all the amazing golf content that @JoeNicely produces every week! https://t.co/tHKZVsPbbt

— RotoBaller PGA (@RotoBallerPGA) August 10, 2020
Between all the incredible
Premium PGA DFS
content and tools we put out each week, and our Premium Slack Community where we chat with our subscribers before lineups lock, RotoBaller PGA subscribers are armed with the tools, analysis, and advice to win big.
Golf DFS News and Player Outlooks
More PGA Analysis and DFS Lineup Picks