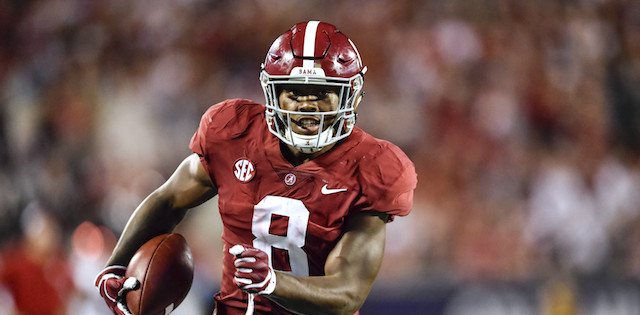 Did you just see what Saquon Barkley did against Washington!? Did you read Phillip Lindsay's last game stat line for the Broncos!? Did you know Nick Chubb racked up 176 yards in just his third game as a starting tailback!? Hold your horses with all this rookie-running back hype, please, and respect your elders. They deserve it, and I'm here to prove it.
The running game has been on a downtrend during the past few seasons. You just have to crack Twitter open and even if you just follow a couple of analytics-inclined users you'll see them mention how "every running back is replaceable" or how "the running game is totally overvalued". I'm not here to argue that. Numbers say it is, and I believe in numbers. What I'm here for today is to study how newcomers and veteran running backs perform in the NFL.
If there is an important position in fantasy football that is the RB one. Guys at the position not only run for yards, but they are also more and more capable of catching the ball each passing year. All-in-one tailbacks are the rave. But do they come prepared enough from the NCAA? Can you expect good outcomes drafting a rookie RB straight out of college instead of a proven veteran (for this article I'll consider a veteran any player on his second year or more)? Let's take a look at what data tells us and, well, (spoiler coming) give veterans the edge over the rookies as we should expect.
Editor's Note: Get any rest-of-season NFL Premium Pass for 50% off. Our exclusive DFS Tools, Lineup Optimizer and Premium DFS Research through the Super Bowl.
Sign Up Now!
A Quick Look At Age And Rushing
Just before I delve deeper into this study I'd like to present the data I will be working with. Using Pro-Football-Reference.com I downloaded every RB-season from 2014 to 2018. The only filter, was for the player to have at least 10 rush attempts in the season, to avoid extreme outliers. That fetched 582 player-seasons. Of those, 119 belong to rookies.
This is how the seasons are spread in terms of age. The first chart depicts the average rushing attempts at each age, and the second the total attempts per each age-group:
Obviously, young rushers are prominent in the league and as they age they slowly start to leave the field. The kind of out-of-place peaks at age 30 and 33 in the top chart are mostly due to monster seasons by Adrian Peterson, LeGarrette Blount, Frank Gore and Matt Forte (all 200+ attempts efforts, raising the average for those ages a lot).
With this brief summary out of our way, we can start looking at some more interesting insights in the data.
There Aren't Many Elite-Production Rookie RBs
I'm not going to waste your time, and I'll jump straight into what should be the final point to tackle in the whole article. This is where the meat and potatoes of all of the dataset are: PPR points of rookie running backs (green circles) compared to PPR points of veteran RBs (yellow crosses), each of the five past years: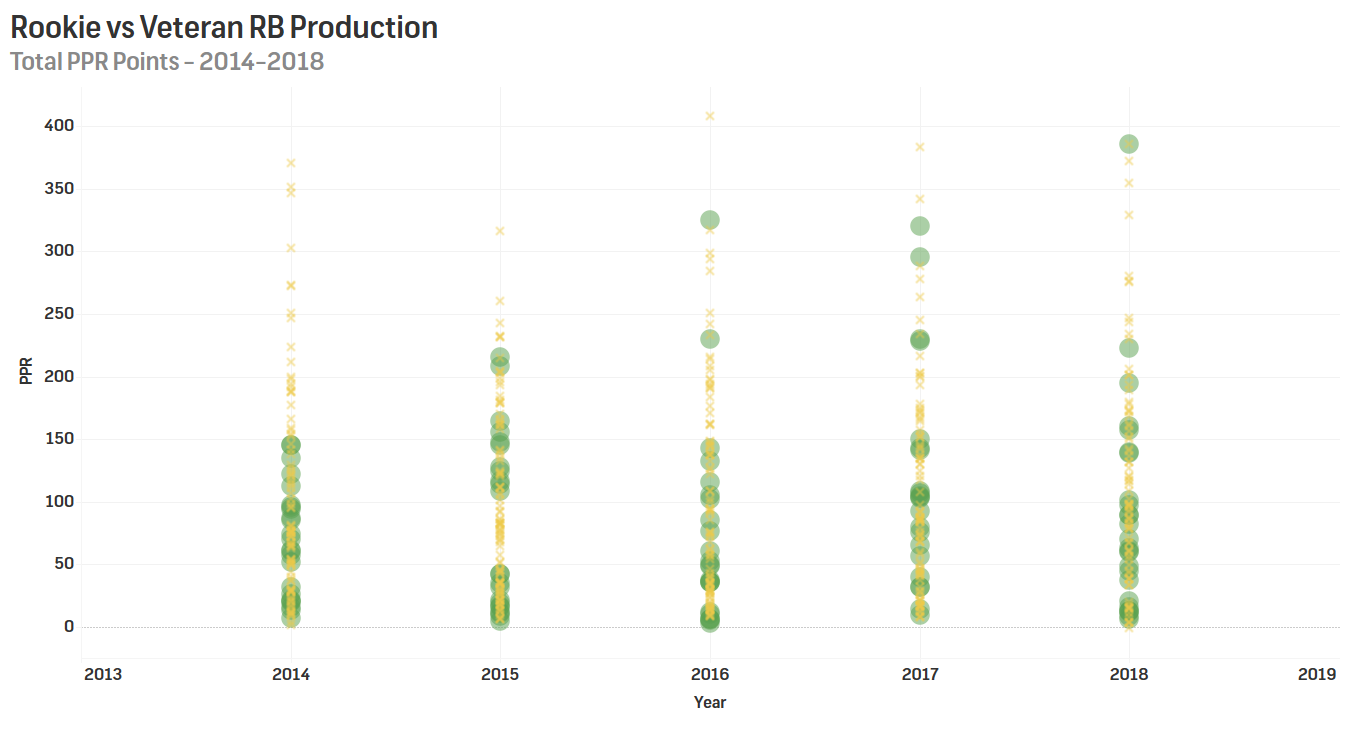 You shouldn't be surprised at the outcome. Yes, there have been tremendous rookie running backs here and there (we've welcomed no less than Ezekiel Elliott, Kareem Hunt, Alvin Kamara and Saquon Barkley in just the past three seasons), but on average, the best rushers tend to be veterans.
Barring the four aforementioned rookies, no other newcomer has gotten to 230 points (always on PPR leagues) other than Leonard Fournette (230.2 in 2017) and Jordan Howard (230.1 in 2016). On the other hand, 40 veterans have reached that mark in the past five seasons.
1-0 veterans when it comes to high-end production.
Teams Rely On Veterans, Veterans Give Back
If there is one thing of massive importance in fantasy football, that is opportunity. The more a player tries/is able to do something, the more chances he ends with points: the more a receiver gets targeted, the more chances he has to catch a ball and get yardage; the more a rusher attempts runs, the more chances he gets to pile up yards and score touchdowns. It is simple math. If a player doesn't get touches, he's not worth rostering.
Here is how veterans and rookies have fared in terms of touches from 2014 to 2018:
The rookies come in at lower values than veterans. It is normal and again expected. The highest-touch rookie in the dataset is Elliott with 354 in 2016. Nine veteran player-seasons surpassed that mark, with DeMarco Murray at the top (449 touches in 2014). The size of the dots represents the number of players to get X number of touches. As can be seen, not a lot of players get to a huge amount of touches (neither veterans nor rookies), but for rookies the numbers tend to be lower and stay more packed, telling us that they both get fewer touches than veterans and also that that is the case for most of the players.
Looking at how veterans and rookies produce, we get a similar output:
The veterans come out winners again. They have a higher median, their production is more spread and reaches higher levels, and the truly elite player-seasons from second-year players on are much better than those of rookies.
2-0 veterans when adding average production
Old But Gold
If you're still thinking about drafting a rookie running back, consider what I mentioned in the last section: opportunity. So far, I have not filtered the data in terms of minimum attempts or touches more than when I fetched it after setting a minimum of 10 rush attempts over the full season. Let's just focus on heavy-lifters now. I'm going to use data only from player-seasons of at least 200 touches.
Since 2014, only 16 rookies have logged more than 200 touches in a season (just a hair over 3 per season, 13% of the rookies' population from 2014-2018). That pales in comparison to the number of veterans to do so, a total of 105 (21 per season, 5% of the veterans population in the same span). In terms of percentages, of those supposed top-24 RBs per season, only 12% of them would have been/be rookies. The chances of drafting a rookie for your team and have him produce at a veteran level are minimal.
So, speaking of elite-level running backs, veterans edge rookies again by a wide margin. 3-0 oldies.
The Final Blow: A Quick And Dirty Statistical Rundown
At this point, I don't have much left to say and show you. I just thought it'd be interesting to throw out some raw stats out there split in rookie/veteran player-seasons. These are the numbers that matter for us fantasy owners at the end of the day: yards, receptions, touchdowns, and basically PPR points. Let's take a brief look at them (I've only considered player-seasons with at least 10 games to keep outliers at bay).
This table shows the production in each category for the average veteran/rookie in the dataset.
| | | | | | | | | | |
| --- | --- | --- | --- | --- | --- | --- | --- | --- | --- |
| | PPR | PPR/G | Att | Yds/Att | Rush TD | Rec | Yds/Rec | Rec TD | Yds Scm |
| Veterans | 125.2 | 8.8 | 119.5 | 4.1 | 3.5 | 27.0 | 8.0 | 1.1 | 719.6 |
| Rookies | 108.4 | 7.5 | 109.3 | 4.4 | 3.0 | 21.4 | 7.8 | 0.8 | 648.5 |
After this, I guess we can close this case.
Of the nine considered categories, the veterans produce more in eight of them and the difference in the one they don't (Yds/Att) is not significant at all. It is not hard to think of reasons for this to be the case.
Veterans are proved players, and the fact that they've reached the "veteran" status means that they were once rookies and didn't fail to perform. Not many rookies can say that, and fewer of them can be considered elite talents from day one.
NFL teams, as they operate, are always going to be more comfortable giving touchdown-scoring chances to veterans than rookies (even some of those players are probably even "demanding" such opportunities as part of their deals; the so-called "touchdown vultures"). Quarterbacks are going to rely more on veterans than newcomers when it comes to throwing them the ball (the six-reception difference on average is actually staggering).
No matter what, even if the rookies had won this final round, they'd still trail the group of veteran RBs. They didn't, though, so the veterans win the RB competition by a massive 4-0.
Cold world, rookies.
At the end of the day, only the sure-thing rookies are worth a high draft pick. There are a lot of spots in fantasy rosters to fill when it comes to running backs. We're talking about two starters, another potential one in a flex position, and between three and six slots in the bench. If you want to bank on a rookie RB, do it only knowing he is a lock to turn into an elite tailback. If not, just wait to pick someone as a flier on the very late rounds of your draft, and bet on veterans instead during the earlier rounds.
They might not be so sexy, nor appealing to you, nor bring as much hype as the young bloods in the league, but if they are something, that is productive. And that is what you should be mainly focused on.
More Fantasy Football Analysis