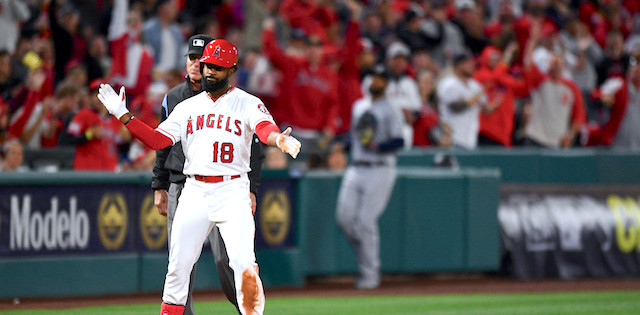 Managers can easily make decisions to affect their team positively, but often they're too hesitant, cautious, or even scared. Sometimes you have to make the hard choice to choose a player in the right circumstance to produce. These are the best players when we start streaming. We look at the matchups and other variables to put our team in the best position to succeed. That is the best we can do. There is no need to be scared about making these types of choices. No Fear, Just Fantasy.
Some outfielders would be better suited to stream for a hot bat. Others need to be replaced just because they are no longer on the field (IL). That is a situation that is affecting many owners, and there is nothing you can do except find a suitable replacement as quickly as possible or risk losing valuable counting stats. In this article, I'll discuss waiver wire targets for the outfield in week 6. This week we cover a few guys that are on a little hot streak while a couple of other players have enticing matchups.
Even in the first few weeks, ownership can change quickly. Be quick to check your leagues for their availability. Key points - this list will focus on players who are owned in less than 50% of Yahoo leagues. When you want to chat it up regarding outfielders, prospects, or dynasty leagues, message me directly on Twitter @EllisCan2.
Editor's Note: Get any full-season MLB Premium Pass for 50% off, with exclusive access to our season-long articles, 15 in-season lineup tools and over 200 days of expert DFS research/tools.
Sign Up Now!
Outfield (OF) Waiver Wire Options
Ender Inciarte (OF, ATL) — 49% Owned
People seem to have forgotten what type of player Ender Inciarte is for their fantasy team. He has produced at least 10 homers and 20 steals in each of the last two seasons. There are things in his performance that are abnormal and give rise to positivity of future progression. First off, his swinging strike rate (10%) and overall strikeout rate (21%) is not near their normal level. Also, his ground ball percentage is a ridiculous 59% and he has a contact rate (79%) that is well off the norm. Once he corrects these things, he'll return to the player that has a career .287 batting average and scored 83 times while stealing 28 bases in 2018.
Inciarte faces a week on the road against the Dodgers and Diamondbacks, who send three left-handed pitchers to the mound and four righties. The handedness of the pitcher doesn't matter to him as he has hit .278 against lefties and .290 against right-handers in his career. He's found his groove the last couple of weeks with a homer, a stolen base, and a .289 average. Although he is facing some quality pitching this week, he should still be able to continue his positive trend.
Brian Goodwin (OF, LAA) — 15% Owned
Goodwin was a first-round pick in the 2011 draft, selected by the Nationals. He hasn't done much since and therefore has flown under the radar until now. With an injury to Justin Upton, Goodwin has received the bulk of the playing time and he hasn't squandered it. He's got a .341/.427/.557 slash line to go with four bombs and a stolen base. Goodwin's plate discipline has been impressive with a 13% walk rate and a decent 23% strikeout rate. He's even become more of a line-drive hitter (32%), which is a level he's not reached in his career. His success has led him to a spot towards the top of the lineup which will help your fantasy roster even more.
The upcoming schedule is perfect; everyone loves a good road trip. The Angels will be traveling across the country to Detroit and then to Baltimore. Although he will face Matthew Boyd, the rest of the starters aren't to be feared. The Orioles pitching combined with Camden Yards makes this week even more exciting. Get him on your roster.
*Kole Calhoun could also benefit in these games, particularly the three games against right-handed pitchers.
Harrison Bader (OF, STL) — 31% Owned
Bader had a rough start to the season as he was hamstrung by injury. When he has been on the field, he performed poorly particularly in the form of an increased strikeout rate (31%) and a reduced contact rate (70%). However, in the last week, he's resembled a player the Cardinals hoped would man the center field position permanently. Also, the Cardinals cleared the path by sending Tyler O'Neill to Triple-A.
Bader has hit .350 with a homer in 19 at-bats. He will have a full schedule at home this week hosting the Phillies and Pirates as he looks to expand those numbers. During those games, he's expected to face all right-handed starting pitchers. Unfortunately, he is a career .235 hitter against righties. While this week isn't as optimal as most, Bader is an add in deep leagues as he still possesses power and speed. He also benefits from having reliable playing time in a lineup that will generate plenty of runs.
Brandon Belt (1B/OF, SF) — 17% Owned
Belt has spent his entire career at a disadvantage, playing in a pitcher-friendly park. He's still the same hitter he's been his entire career. He takes on walks (13%), has a decent strikeout rate (25%), and somehow finds a way to hit a homer or two. This year he's hit five but he has a batting average that is lacking (.229). Thankfully, right-handed pitching, Great American Ball Park, and Coors Field are a wonderful sight for his grizzled old eyes. Belt is batting .259 against righties this year (.270 career). He also gets one game in Cincinnati before traveling to Colorado. Afterward, he heads back home to face the Reds again. If you're capable of streaming, the earlier part of the week is the most desired time to have him in your lineups.
Treat Lightly
Raimel Tapia (OF, COL)  — 5% Owned
Raimel Tapia is one of the best platoon players out there right now. He's hit better than most guys with consistent playing time. Case in point, he's hit four homers, stole a base, and has a .314 batting average in the last two weeks. This is the type of player you'd want to start as much as possible. Well, that is unless you're the Rockies. They seem to enjoy musical chairs with their lineup card bouncing from rookie to veteran. The one constant in that rotation seems to always be Ian Desmond; the guy hitting .188. Yes, I know he has 20/20 capabilities but he is well past his "best by" date.
Now with all that said, be careful with randomly throwing him in the lineup this week. His schedule is loaded with left-handed starting pitchers this week (5) and he's only batting .222 against them. So, don't blindly follow the recent stats and assume it will continue. He should be owned and used more, but this might not be the week he validates your allegiance.
More Waiver Wire Pickups and Streamers
Check out RotoBaller's entire fantasy baseball waiver wire pickups and sleepers list, updated daily!