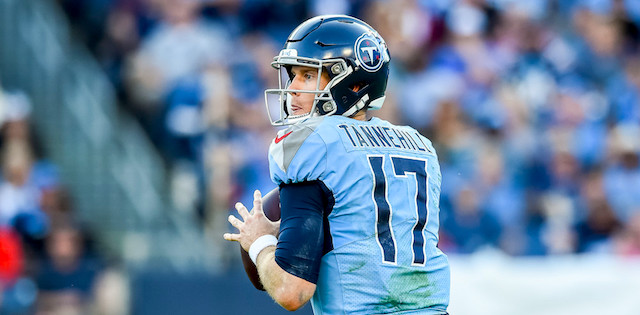 Week 15 saw the game of the season in New Orleans, another statement win from the Baltimore Ravens, and rare back-to-back losses for the New England Patriots. It was quite a week, and generally a very high scoring and fun week for fantasy football as well. If you survived the first week of the fantasy playoffs then you likely already know the value of this article. However, if you are out of your playoffs, then this article could help you with some DFS selections this week.
Many fantasy owners completely overlook the importance of identifying the reasons behind a player's struggles. Is he being handicapped by the protection ahead of him and actually performing as well as possible given the situation, or is he struggling despite effective play from his offensive line? Using PFF's player grading tool, each week I will identify an offensive line that has been trending up and one trending down. More importantly, I will analyze how those trends might be affecting, or might be about to affect your fantasy roster over the next few weeks.
Please Note: When determining individual player ranks I will only be looking at players that have played over 400 snaps, as well as those on IR. If you want to look at the raw data and my applied method, feel free to message me on Twitter @RichKingFF. I'm happy to share!
Editor's Note: Get any rest-of-season NFL Premium Pass for 50% off. Our exclusive DFS Tools, Lineup Optimizer and Premium DFS Research through the Super Bowl.
Sign Up Now!
Offensive Line to Watch - Tennessee Titans
Pass Blocking
Passing isn't something that the Titans have been that great at historically, but that has changed this season with Ryan Tannehill.
Tannehill was (at best) an inconsistent quarterback when he was with the Miami Dolphins, as he was forced to avoid rushers and look downfield to make a pass. That isn't the case since he was thrust into the starting role in Tennessee, with Marcus Mariota heading to the bench.
The normal situation of having an effective offensive line requires the foundations of having solid contributors at the tackle and center positions. Taylor Lewan (10) and Jack Conklin (22) are both ranked in the top 25 at the position, with center Ben Jones ranked fourth in the league. Combining that solid foundation with Rodger Saffold, who was brought in from the Los Angeles Rams, allows the team to protect their quarterback even with Jamil Douglas who would rank 62nd in the league if he had met the snap count requirement.
That level of protection has enabled Tannehill just under three seconds to work through his progressions before passing the ball, which puts him 11th best in the league at the metric. That protection allows their receiving corps, led by the dynamic A.J. Brown, to get downfield, as demonstrated by the Intended Air Yards from their quarterback who ranks fifth in the league with 9.2 yards.
Run Blocking
The importance of the running game cannot be understated for the Titans. In fact, it is the foundation of their success
That reliance on their running game can clearly be seen in the effectiveness of their offensive line. The Titans don't have a single-player that is ranked outside of the top 20 at their position.
Going across the line, Taylor Lewan (16), Rodger Saffold (9), Ben Jones (4), Jamil Douglas (18, if he met the snap count requirement) and Jack Conklin (8), there is not a weak link to be seen. That has enabled Derrick Henry to be a more than effective running back this season, despite facing stacked boxes on 33.2% of his 250 carries this season. Furthermore, it has enabled Henry to be able to find a crease anywhere he wants, with a balanced running pattern when looking at his entire season. Effective is not the right word for this running game, because at times it has been devastating for opponents.
Fantasy Impact
Trust: Derrick Henry & Ryan Tannehill
It's obvious to say, but you can't overlook the ability of Henry in fantasy football. There is the rhetoric that he isn't a pass-catching back, but he really doesn't need to be. Once Henry gets going he is difficult to bring down and has great protection behind his offensive line. If he can stay healthy he should continue to give his fantasy owners a great shot at the title.
That same offensive line dominance allows Tannehill the ability to throw the ball downfield, or run it himself. Interestingly, Tannehill has out rushed Dion Lewis this season, with a big reason being the headstart that he gets from his offensive line. Those rushing yards are a nice bonus for a quarterback who is salvaging his career and providing a gold mine for fantasy owners.
Cause for Concern: Wide Receivers
While the receivers are able to get downfield, which makes great highlights, the number of downfield threats brings a risk around reliability. The leading receiver on the team is A.J. Brown who has only had 39 receptions on the season, which can't truly be relied upon for fantasy, especially at playoff time. Making decisions around these receivers depends on your situation. If you feel you need to go big then Brown is a nice option, but if safety is what you are after then maybe he is better on your bench.
Offensive Line to Avoid - Arizona Cardinals
Pass Blocking
Given that rookie quarterback Kyler Murray has been sacked 46 times this season, I found it surprising to see the numbers of this`` offensive line when it came to pass blocking.
The tackles aren't great- but certainly, aren't awful. D.J Humphries (28) and Justin Murray (44) are in the lower range of starting tackles, but they still have the ability to set the edge of the pocket for Murray. Equally, center A.Q. Shipley ranks 13th in the league. With their guards ranking among the strongest pair in the league, Pugh (9) and Sweezy (20), there is no obvious reason why Murray would end up being sacked so many times this season.
Murray also has one of the shortest average intended air yards in the league, which is another indication that he shouldn't get sacked as much as he does. However, while this suggests he does not have to wait long for his routes to develop, it could also be a product of Murray feeling under pressure and getting rid of the ball early. When this team has had success this season, it has been when Murray has been willing to let the ball fly deep. Unfortunately, it does not seem to be happening enough.
The problem, as we will find out, is that it seems as though teams just aren't respecting the Cardinals' ability on the ground, and therefore are able to constantly bring pressure each play to the rookie. Per Pro-Football-Reference, Murray has been blitzed 128 times on his 457 passing attempts, which has forced him into either making bad throws or to scramble.
Run Blocking
The struggle for the Cardinals is that the team is really one-dimensional on offense.
The team's guards are their brightest talent in run blocking, but Pugh (36) and Sweezy (38) are still in the lower half of starting options in the league. However, even having effective guards in place would not help when the pocket is under pressure from the snap. D.J Humphries (54) and Justin Murray (53) are comfortably in the lower portion of starting options in the league, while center A.Q. Shipley is ranked 31st in the league, which is effectively last, as other centers didn't meet the snap count requirement.
In fact, the inability of the Cardinals to run block has led to David Johnson, one of the league's best running backs just two years ago, to look worse than average. Combining that inability with the fact the team is highly ineffective on defense, means that the team often has to give up the run before the game has really gotten going. Until the team corrects the struggles, the team will continue to struggle to do anything on offense consistently on the ground.
Fantasy Impact
Trust: Christian Kirk
Kirk has been a favorite option of Murray this season, and with the quarterback feeling under pressure he will continue to look to his favored weapon to bail him out of trouble. Kirk has the ability to punish teams once he gets the ball in his hands with his dynamism, leading to receptions and yards fantasy owners can rely upon. Just ask the Tampa Bay Buccaneers what Kirk can do when this offense gets it right.
Cause for Concern: Anyone attempting to run the ball
Yes, there are going to be games that break right and you are able to see big totals on the ground (Kenyan Drake against the 49ers) but that can't be relied upon behind a line that is ineffective at protection for their running backs.
Top Five Offensive Lines
1) Philadelphia Eagles
2) Indianapolis Colts
3) Dallas Cowboys
4) Baltimore Ravens
5) New Orleans Saints
Bottom Five Offensive Lines
32) Los Angeles Rams
31) Miami Dolphins
30) Cincinnati Bengals
29) Los Angeles Chargers
28) Atlanta Falcons
More Fantasy Football Analysis