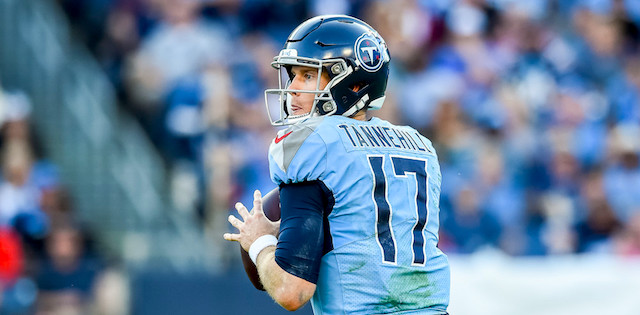 We have just two weeks of NFL football left in the 2019-20 season, but what a pair of games we have this week! In Kansas City, we have a clash of styles as the Titans and Chiefs go head to head in the AFC. Meanwhile, it will be the battle in the trenches in San Francisco, as the Packers try to reverse the humiliation they suffered at the hands of the 49ers earlier this season.
Considering we have seen six of the eight playoff games so far go under it is strange to see the two game totals being moved in an upwards direction this week. The Titans and Chiefs game is all the way up at 53 and should be our main source of offense this week. However, the Packers and 49ers both have offenses that can pile on the points as well, with their game total set at 46.5 heading into Friday.
Let's take a look at the DFS cash game value plays for the Conference Championships of the 2019 NFL season. This article will take a look at some of the value plays for each week of the NFL. However, usually when you look at value plays for GPP you are swinging for the fences somewhat. Here I will be focusing on cash games and the necessity for slightly more safety as you are just looking to finish in the top half or so of the competition. Therefore, we are looking for cheaper players who should see a decent workload, be that pass attempts, targets or carries.
Editor's Note: Get any rest-of-season NFL Premium Pass for 50% off. Our exclusive DFS Tools, Lineup Optimizer and Premium DFS Research through the Super Bowl.
Sign Up Now!
Quarterback DFS Cash Game Value Picks
Ryan Tannehill, TEN @ KC | DK: $5,500, FD: $7,700
Let's be completely honest here, you are playing Patrick Mahomes this week if you can. However, if you feel the need to pivot then Tannehill presents some value simply because many people will expect him to do nothing again this week. While I do expect Derrick Henry to dominate this game on the ground, I also believe that the Chiefs will be a juggernaut on offense and the Titans will need to open up the offense at some point. Even if Tannehill just throws a couple of touchdowns and for 200 yards he could return value on this price. If he sneaks in for a touchdown as well, then this could end up being the ultimate value play.
Jimmy Garoppolo, SF vs. GB | DK: $5,200, FD: $7,600
Garoppolo falls under the "let's get funky" angle when it comes to DFS this week. The matchup with Green Bay is middle of the road in terms of one to take advantage of, and the 49ers should try to dominate this on the ground. However, we know if he needs to that Garoppolo can stand up and be counted. If I am ranking QBs in order of preference this week, it goes: Mahomes, Tannehill, Garoppolo, Aaron Rodgers.
Running Back DFS Cash Game Value Picks
Raheem Mostert, SF vs. GB | DK: $4,300, FD: $5,800
The running back position is scary outside of Henry this week, and even then is Henry really a lock to have another incredible game? As the fifth most expensive back, with a nice matchup against the Packers, Mostert is the value option on DraftKings. Last week was not great, but this season we have seen the 49ers turn to Mostert when they need him most. I expect this game to be closer than last week, and Mostert will be the man for the job.
Jamaal Williams, GB @ SF | DK: $3,800, FD: $4,800
Williams had 15 points on DraftKings the last time Green Bay went to San Francisco, making him one of the few Packers players not to be horrific. Most of his damage was done through the receiving game in that one, but he may just offer enough change of pace and style from Aaron Jones that we see him have success this week.
Wide Receiver DFS Cash Game Value Picks
Sammy Watkins, KC vs. TEN | DK: $4,600, FD: $5,200
Go and read any breakdown of this week's game and you will see two Chiefs pass catchers names in every single article, Tyreek Hill and Travis Kelce. Do you know who only gets a brief mention in a very few of these articles? Sammy Watkins. Watkins had two catches for 70 yards and a carry for 14 last week. The Titans Defense is going to make plans all week for Hill and Kelce, which should leave Watkins, who is very talented in his own right, the opportunity to go big.
Adam Humphries, TEN @ KC | DK: $3,000, FD: $5,000
Humphries could suit up for the first time since Week 13 in this game. The Titans paid a lot of money for him this past offseason and with the Chiefs focus on Henry and A.J. Brown, the slot receiver could be the target for a big game if he is active. This is really a shot in the dark type play that is only really viable on DraftKings where he is the base price. It is time for Humphries to come good on that contract, and what better time than now?
Tight End DFS Cash Game Value Picks
Jonnu Smith, TEN @ KC | DK: $3,400, FD: $5,600
Make no mistake about it, Smith is a very talented football player, as that catch last week demonstrated. The Chiefs ranked 26th in the league against the tight end this season and Smith has the speed and athleticism to have a big game.
More Fantasy Football Analysis