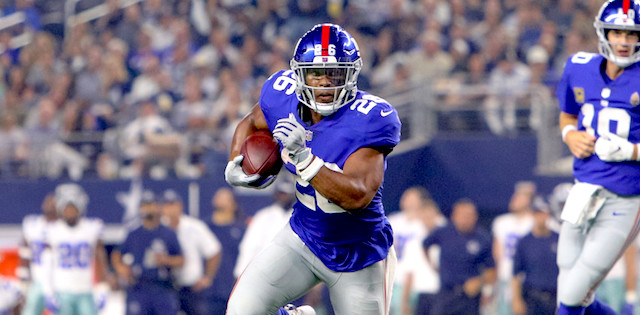 2019 was just another year filled with struggles for those New York Football Giants. The G-Men quickly benched longtime QB starter Eli Manning after just two starts (both losses) and tossed rookie Daniel Jones (the much-maligned sixth pick in the 2019 draft) into the fire in just Week 3. Though the rookie QB played an epic game in his first NFL performance, the season ended up much of the same for the Giants in recent memory: awful.
New York once again limped to the finish line in 2019 with a 4-12 record, only to downgrade from their 5-11 record in 2018. The Giants have only made the playoffs once since their 2011 Super Bowl run/championship and that appearance featured them getting annihilated by Green Bay at Lambeau in the 2016 playoffs.
With Eli Manning now retired, New York enters a season with a new QB for the first time in over a decade. Youngster Daniel Jones is now in his second year and tasked with making the progress to finally get this storied franchise back to relevancy again. It certainly won't be easy with a young offense and still improving defense, but hey, it's the NFC East. Last year, the Cowboys and Eagles took turns losing and trying to hand over the division title. If the Giants can get rolling, could they technically compete in this rather weak division? Sorry Giants fans, but I'm not sure. However, I am sure that New York has some talented players on offense, so let's examine their fantasy value:
Featured Promo: Get any full-season NFL Premium Pass for 50% off and win big in 2023. Exclusive access to our Premium articles, 15 lineup tools, new Team Sync platform, Lineup Optimizer, Premium DFS tools and cheat sheets, and much more!
Sign Up Now!
Quarterback
Daniel Jones played much of last season and it may not have been expected. Now, expect the Duke product to hopefully take a step forward in his growth in Year 2. During his rookie year, the QB offered flashes of potential, but a lot of growing pains overall too.
In 13 games played, the 23-year-old managed to rack up 3,027 pass yards, 24 pass touchdowns, 12 picks, 6.6 pass yards per attempt, 232.8 pass yards per game, an 87.7 quarterback rating, 279 rush yards, and two rush touchdowns. He had 80 bad throws and a 17.9 percent poor throws per pass attempt rate. One of the positives was he ranked seventh in rush yards among NFL QBs.
Overall, the rookie finished 23rd among fantasy QBs in 2019. Coming into 2020, there are a few things to note for Jones as a fantasy prospect though. In terms of picks, the QB finished tied for the 11th highest. The signal-caller took the dubious honor of "fumbles leader" with 18 last season, which was higher than any other QB and NFL PLAYER. In fact, the last single-season fumble leader with more than 18 in one season was Daunte Culpepper all the way back in 2002.
With a young QB, there are naturally growing pains. For this Giants signal-caller, ball security has been a huge issue. The pros of Jones are his rushing abilities and potential to have big games, such as throwing 352 yards and five touchdowns against the Redskins and 322 yards and four touchdowns against the Lions last season. If it's the right matchup, the youngster can shine from a fantasy perspective.
However, it's important to note that he still doesn't have a ton of NFL experience and his fumbles and picks can be maddening. When balancing the pros and cons, you could take a chance on Jones and draft him as a QB1 in larger redraft leagues (think 16-teams). Nevertheless, there is some risk in trusting a very young QB who is rather prone to turnovers. Jones is best viewed as a backup QB in redraft leagues who can be streamed during favorable matchups.
Running Back
Saquon Barkley is the only fantasy-relevant Giants back, but boy does he bring that value. Due to a high ankle sprain, the talented RB was limited to 13 games in 2019 but was still valuable for owners. The Penn State product finished 10th among fantasy RBs despite this setback. Naturally, the New York native did regress in his stats from his 2018 rookie season to the last one, but that was simply because an injury hindered him from playing all 16 games as he did in his first year.
Still, the 23-year-old managed to get 217 rush attempts, 1,003 rush yards, six rush touchdowns, 4.6 rush yards per attempt, 77.2 rush yards per game, 52 receptions, 438 receiving yards, 8.4 yards per reception, and two receiving touchdowns. Barkley had 1,441 total yards of scrimmage. The RB had 2.8 rush yards after contact per rush, 8.4 yards after the catch per reception, and 16 broken tackles. He finished 10th in rush yards per game among NFL rushers.
When completely healthy, there is no doubt Barkley can be a huge factor for the Giants and in fantasy matchups. After all, he finished second overall among fantasy RBs in 2018 as a rookie. In addition, his 2018 stats were incredible.
That season, the back finished second in rush attempts, eighth in rush attempts per game (16.3), second in yards, fifth in yards per game (81.7), and fifth in touchdowns. As he is such a focal point on this offense, Barkley is undoubtedly a solid RB1 in redraft and a top-three fantasy RB in 2020 who you should not hesitate to take with your first pick.
Wide Receiver
Without Odell Beckham Jr. in the mix anymore, the Giants field an interesting receiving corp comprised of Sterling Shepard, veteran Golden Tate, and youngster Darius Slayton. Those receivers round out the top three spots on the depth chart, but none really stands out over the others in terms of fantasy value.
All in all, the Giants' receivers should not be considered elite fantasy options. Shepard was supposed to fill OBJ's void last season but ended up playing only 10 games after sustaining two different concussions. He finished with 57 receptions, 83/607 targets (13.7%), 576 yards, 10.1 yards per catch, and three touchdowns.
Golden Tate played 11 games and sealed similar stats to like Shepard to the tune of 49 receptions, 85/607 targets (14.0%), 676 yards, 13.8 yards per catch, and six touchdowns in 11 games played. In his first season with the G-Men, the Notre Dame product recorded numbers that were not as impressive as other campaigns during his 11-year NFL career.
Rookie Darius Slayton, who was drafted in the fifth round of the 2019 draft out of Auburn, led the receiving corp in yards, yards per catch, and touchdowns last year. Nevertheless, his overall finish was somewhat like that of Tate and Shepard. In 14 games, the 23-year-old grabbed 48 receptions, 84/607 targets (13.8%), 740 yards, 15.4 yards per catch, and eight touchdowns.
The target share between all three receivers was nearly identical, which shows their value is about the same. Overall, Slayton finished 33rd in fantasy among receivers, Tate came in 41st, while Shepard was 54th.
Based on their stats from last season, none of these receivers are a WR1 in redraft. The best option to draft overall is Slayton, and that's considering his 2019 breakout. He can be considered a WR3 in deeper leagues (think 12-14+ teams). Shepard and Tate could also provide some modest fantasy value, but they are best considered as flex pieces in redraft.
Tight End
When he is on the field, Giants tight end Evan Engram can be a huge asset. The Ole Miss product had a terrific 2017 rookie season. Last year, however, he only played eight games due to knee and foot injuries.
The 25-year-old accumulated 44 receptions, 68/607 targets (11.2%), 467 yards, 10.6 yards per catch, and three touchdowns. Naturally, there were career lows in receptions and yards for the TE during his third year. When he played 15 games in 2017, Engram finished fifth among tight ends in fantasy, so he does offer that robust potential.
The 6'3" tight end has been hard at work training this offseason and is eager to get back on the field, especially after New York picked up his fifth-year option.
For fantasy, there is some risk with Engram considering his injury history in the NFL (rib injury in 2017 and MCL and foot injury in 2018 too). Nevertheless, there is no denying the value he brings for fantasy owners when he is healthy. Considering TE is a position thin of elite talent, Engram should be considered a TE1 heading into redraft league drafts with the hope that he can stay healthy in 2020 and play like his 2017 form.
More Fantasy Football Analysis