The Toronto Raptors find themselves in the NBA Finals for the first time in franchise history, taking on a Golden State Warriors team looking for its fourth title in the past five seasons.
One advantage working in the Raptors' favor, at least theoretically, is that Warriors superstar Kevin Durant remains out of the lineup with a calf injury. Taking one of the game's elite scorers out of the Golden State would seem to be a problem, but it didn't bother the Warriors much against Portland as they steam-rolled the Trail Blazers in vintage, ball-moving Warriors fashion. But, given the choice, the Raptors would likely prefer to face the Warriors minus KD and that is how the series will start.
From the Raptors perspective, they have leaned heavily on Kawhi Leonard and Leonard has been up to the challenge, but he will need help to keep pace with the Warriors.
During the regular season, the Warriors averaged a league-best 115.9 points per 100 possessions while the Raptors ranked fifth at 113.1. The Raptors allowed an average of 107.1 points per 100 possessions compared to the Warriors giving up 109.5 per game.
That leaves the Warriors with a +6.4 net per 100 possessions, a slight advantage over the Raptors' average of +6.0. But, once the KD injury is factored in, this becomes a very competitive series, with the Raptors needing to maintain their level of defense that they have displayed in the playoffs – allowing just 99.6 points per game in the postseason – if they are going to stop the juggernaut Warriors.
Here are some angles to consider before making your prop picks for Game One of the NBA Finals.
Editor's Note: Our friends at Monkey Knife Fight have released the best, most fun, fastest growing DFS props game! It's super simple to play and win real money. Just choose your NBA, NHL, MLB or PGA game, and make your picks! Get a 100% instant deposit bonus up to $50 using promo code: BALLER. That's $50 for free - don't miss out!
GOLDEN STATE-TORONTO
OVER/UNDERS
Steph Curry UNDER 32.5 POINTS – The Warriors superstar, and son of a former Raptor, has scored at least 33 points in five straight games, picking up the slack created by Kevin Durant's injury, but the Raptors have depended on strong defense to get them to this point. It doesn't mean that they will shut down Steph but holding him to 32 is a reasonable possibility.
Kawhi Leonard UNDER 31.5 POINTS – As great as Kawhi has been, leading the Raptors to the Final, his contributions aren't limited to scoring. In his past nine games, he has averaged 30.0 points per game, finishing with 31 points or fewer in six of those games.
Draymond Green OVER 7.5 ASSISTS – With Golden State playing more of its classic Warriors style in the absence of Kevin Durant, Green has resumed his role as a distributor. In the past six games, he's averaging 8.8 assists per game, lifting his average to 8.2 per game in the playoffs.
Draymond Green OVER 2.5 STEALS + BLOCKS – Draymond activated Beast Mode against Portland, producing five combined steals plus blocks in each of Golden State's four victories in the series. Even if the Raptors contain him a little, it's reasonable to expect Draymond to get his mitts on the ball.
Serge Ibaka UNDER 6.5 REBOUNDS – The Raptors veteran has made some vital contributions in the postseason but he's not a consistent threat, and that goes to his time on the floor, too. In the past nine games, Ibaka has put up at least seven rebounds in just three and has played 22 or fewer minutes in five of those nine games.
Klay Thompson UNDER 3.5 THREE-POINTERS – While Kevin Durant is out of the Golden State lineup, they have needed more from Thompson, and he's averaging 23.3 points per game in the past six, but he's not letting loose from three, making 2.9 per game in the playoffs, including just under 2.8 per game last round against Portland.
Kyle Lowry UNDER 6.5 ASSISTS – It's been a long wait for Lowry to reach the NBA Final and he was crucial to the Raptors' win over Milwaukee. However, Lowry's eight assists in Game Six against the Bucks ended a streak of eight games in which he recorded six assists or fewer.
RAPID FIRE
Pascal Siakam +3.5 rebounds vs. Draymond Green – In the playoffs, Draymond is averaging 9.9 rebounds per game, compared to 7.0 per game for Siakam. The difference would appear to be that Siakam runs to bigger extremes. In his past nine games, here are Siakam's rebound totals: 8, 6, 11, 6, 1, 11, 4, 13, 4. In the good games it's going to be tough for Green to cover the spread, but it will be relatively easy for him in Siakam's bad games. So, here's to Spicy P crashing the boards in Game One!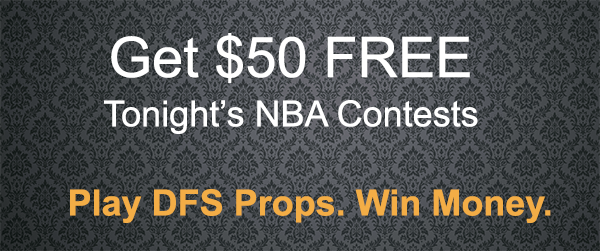 More Fantasy Basketball Analysis