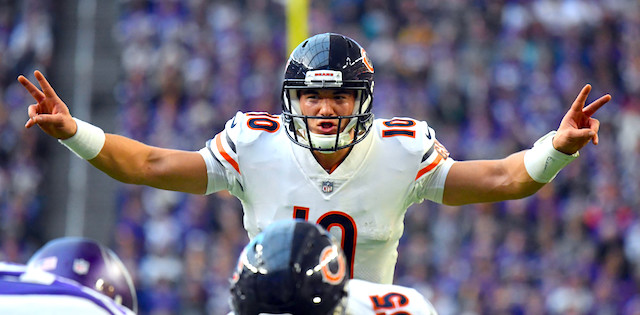 BALLER MOVE: Add in 14+ Team Leagues
OWNED IN: 10% of Leagues
ANALYSIS: Had you asked me about adding Mitchell Trubisky, let alone play him, a month ago I would have probably deemed you crazy. Good for fantasy owners, though, the second-year quarterback has been able to make amends and has performed to good levels lately. Just this past weekend he had his best game of the year by far. Trubisky finished Thanksgiving with 338 yards on 29 completions (38 attempts) throwing three touchdowns and just one interception. He completed three 20-plus yards passes and averaged 8.9 yards per attempt.
Trubisky's 29.3 fantasy points in Week 13 are the highest mark he's reached all season long, but that has been the norm during the month of November for him. In the four games he has played in that span he has thrown for 173 or more yards each time, eight combined touchdowns and "only" four interceptions. His last two outings went for 278 and 338 yards, by far the most he has thrown for this season.
More risks have brought worse numbers in the interception department, sure, but they have also helped in fantasy leagues as he's boosted his yardage lately and completed more passes (at least 24 in each of his last three games).
While Trubisky might not be a league winner nor a safe weekly play (he had a 7.8-point game in Week 9 and a 13.9-point one in Week 11), he should remain on a high-teens average for the remainder of the season and bring enough upside as to consider him a potential 25-plus points scorer if he can throw multiple touchdowns. He's got a couple of tough matchups ahead against the Cowboys (eight-best against QBs) and Packers (ninth-best) but his fantasy championship-week game is against Kansas City (20th) and he could award the trophy to a lucky owner if he performs to the levels he's shown lately.
Check out RotoBaller's famous fantasy football draft sleepers and waiver wire pickups list, updated regularly!