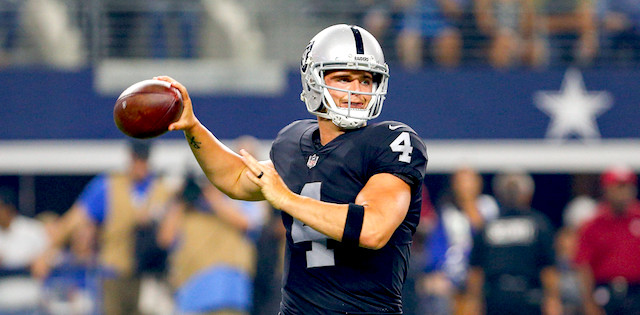 If you follow me on Twitter (@krich1532), you know I love to play the game Keep/Trade/Cut. We pick three players with an average draft position (ADP) in the same range and we determine what we will do with these players if we owned them in a league. This is a great exercise to start a discussion and get your brain moving. So why not turn it into a reccurring article to go even more in-depth on these players?
There is one draft strategy I use time and time again, regardless of format, and that is late-round QB. In one QB leagues or even superflex leagues, getting the best value at QB has always been one of my most important bullet points when entering the draft. Heading into 2018, I think we are looking at one of the most fantasy football talent-rich quarterback groups we have seen. Players who fall into the QB13 to QB15 range could only be a few points outside QB1 status.
So, in 2018, more than any other season, we need to practice patience with quarterbacks. There are some intriguing options later in the draft that could have an excellent return on investment and possibly QB1 upside. Let's try to decide what we are doing with Derek Carr, Eli Manning and Dak Prescott this season.
Editor's Note: All you early birds can get a full-season NFL Premium Pass for 50% off. Our Draft Kit, In-Season tools and over 150 days of Premium DFS.
Sign Up Now!
Keep, Trade or Cut?
Derek Carr - 144 (QB19)
Eli Manning - 154.7 (QB20)
Dak Prescott - 155 (QB21)
*12-team, PPR ADP from fantasyfootballcalculator.com as of 8/19/18
Keep
One of the main reasons I picked these three players for this article is because I needed to write and defend my stance on Dak Prescott, who I will be keeping in this scenario. I've gotten a ton of heat for my takes on Prescott this off-season, who I even called a must own in one of our RotoRevolution episodes on RotoBaller YouTube. His ADP is an insane investment right now and one that you should take advantage of.
If you love to go late round QB like myself, how could you not want to pay the QB21 ADP of Prescott right now when he has QB1 upside. Recency bias has hit hard with Prescott because this guy wasn't considered a big-time prospect coming out of college. Many could look at year one as a fluke and year two being what Prescott really is. Was year two really that bad though? Prescott had to fight through injuries to his offensive line and didn't have Ezekiel Elliott to help take the pressure off for six games. The fact is, Prescott is much better with Elliott than without and that's not a bad thing. Even the deepest haters of Tom Brady have called him a system QB for years, and he's always been a top fantasy asset at the position. So even if Prescott is a system QB, he has great value in his current system.
Prescott has a lot of value added from his legs. Over the last two seasons, Prescott has 638 rushing yards and 12 rushing touchdowns. The combination of Elliott and Prescott on the ground may lead some owners to believe that opposing defenses will stack the box and force the passing game of the Cowboys. If that happens, you can bet the Cowboys receivers will be good enough to make teams rethink that tactic.
The core of Michael Gallup, who was considered one of the better receiving prospects in this class, Allen Hurns, who was the WR18 the last time he was healthy and Cole Beasley, who was the WR33 in 2016 as one of Prescott's favorite targets will do just fine. The real issue remains to be depth for the Cowboys, but they have the weapons on the front line to be one of the better offensive teams in 2018. Prescott, who finished 13th and fourth the past two seasons in completion percentage is more than capable of getting these guys the ball. Even if you don't feel comfortable with this guy as your QB1, then at least take him as your QB2 and reap the benefits.
Trade
You probably wouldn't get much in return for Eli Manning, but you could put together a better sales pitch for him than you could for Derek Carr right now. The sales pitch itself wouldn't even be centered around Manning, but more about the weapons around him.
Manning currently has an ADP of QB20, which is crazy considering the ADP of the players around him. Saquon Barkley is currently the RB6 with an ADP of 6.7, Odell Beckham Jr. is the WR3 with an ADP of 11.0 and Evan Engram is the TE6 with an ADP of 66.5. Is it possible that Manning finishes as a low end QB2 with three weapons that are being drafted to finish top six at their position? I find that highly unlikely, so either Manning will have to finish much higher or all three of those guys will need to finish much, much lower than their current ADP.
Even though we have the impression that Manning is headed downhill, he has thrown for at least 4,000 yards and thrown for at least 26 touchdowns three of the last four years. I think we need to look at 2017 as a down year due to injuries and ineffective play by the offensive line and not the end of Manning's career. He may have the most talented team we have seen in his career and the Giants still worked on the line this off-season. Manning still has plenty of value in 2018, so let's put together a package with him.
Cut
Derek Carr is going to have the least amount of value in this scenario and therefore ends up on the waiver wire. I think Carr has plenty of value this season as a QB2 for your fantasy team, so don't take this as a slight on Carr. He doesn't have the same upside with his legs, like Prescott or the run game. Carr also doesn't have the plethora of difference makers like Manning. Carr's value has all but tanked at this point.
The Raiders offensive line was considered one of the best when they made the playoffs two years ago, and according to Pro Football Focus, they are ranked seventh heading into the 2018 season. Last season just didn't turn out to be what the Raiders had hoped for. Improved play from the offensive line can help keep Carr upright and healthy, which is the biggest issue.
The Raiders defense could be the boost that Carr needs to put up big numbers. Last season The Raiders were last in the NFL with only five interceptions and tied for 22nd in forced fumbles with only 12. The Raiders had a -14-turnover differential in all. If the Raiders defense doesn't improve in 2018, there could be a lot of games Carr will be asked to keep them in.
More Draft Prep and Analysis