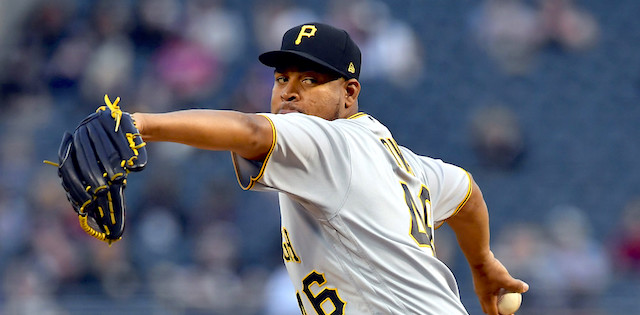 The buzz all off-season surrounding the White Sox has been whether they will break out the checkbook and land superstars Bryce Harper or Manny Machado. Well, it took only three days into the Winter Meetings for the White Sox to... trade for Ivan Nova.
While this may not have been the big move White Sox fans have been waiting for, the addition of Nova will be a boost for their rotation in 2019. After a 2017 season that saw no pitcher surpass 140 innings pitched, the White Sox had James Shields, Reynaldo Lopez, and Lucas Giolito each finish with more than 160 innings in 2018. Comparing Nova's 2018 line to the rest of the Chicago staff, he would've arguably been the second-best starter on the team behind Lopez. Although he could be one of the top pitchers in Chicago this season, that doesn't mean much for fantasy owners looking at his 4.16 ERA and 6.6 K/9 over the last three seasons.
Nova's addition will likely be a better move for real-world baseball than fantasy baseball, but owners should still be able to find some value in his arm in 2019.
Editor's Note: Get any full-season MLB Premium Pass for 50% off. Exclusive access to our Draft Kit, premium rankings, projections, player outlooks, top prospects, dynasty rankings, 15 in-season lineup tools, and over 200 days of expert DFS research.
Sign Up Now!
Nova-dy Knows the Trouble I've Seen...
Looking at Nova's stats from the three full seasons since his 2014 Tommy John surgery, while they haven't been great numbers overall they have been consistent.
| Year | IP | ERA | K/9 | WHIP |
| --- | --- | --- | --- | --- |
| 2016 | 162 | 4.17 | 7.1 | 1.253 |
| 2017 | 187 | 4.14 | 6.3 | 1.278 |
| 2018 | 161 | 4.19 | 6.4 | 1.280 |
The biggest killer for Nova throughout his career has been his terrible home run rate. Over nine seasons in the majors, Nova has had only two seasons where he has posted a HR/9 rate below 1.0 while throwing more than 100 innings. On top of that, since returning to the mound in 2015, Nova has never posted a HR/FB rate below 13.4 percent.
Alright, now that we've taken a look at the problems with Nova, is there any hope he can provide fantasy value in 2019? Well, there are a few things that point to a potential rebound for Nova with Chicago. First off, he could potentially see a slight tick down in his home run rate playing at Guaranteed Rate Field. With field dimensions of 330 feet down the left field line and 335 to right, Guaranteed Rate will be the largest home ballpark down the lines that he has thrown in. Another factor in Nova's favor will be the relatively weak power hitting in the AL Central, with the Twins, Royals, and Tigers all finishing in the bottom-10 in MLB for team home runs last season.
Beyond the home runs, Nova's stats were slightly better down the stretch — which could be an indicator of better numbers in 2019. After his worst start of the season on July 3 in which he allowed seven earned runs and five home runs over five innings against the Dodgers, Nova posted a 3.80 ERA, 1.18 HR/9 and 12.5 percent HR/FB rate over his final 13 starts — all three numbers which if extrapolated over a full season would have been his best marks since 2013. In fact, if we were to give Nova a mulligan on his July 3 start and take those numbers out of his season totals, he would have finished with a 3.92 ERA, 1.21 HR/9 and 1.250 WHIP which would have all been his best numbers since 2013.
All that being said, it is extremely unlikely to see a repeat of his 2013 numbers in 2019. Fantasy owners should expect his numbers to be better next season with the potential for Nova to put up a sub-4.00 ERA a very real possibility. He should be an interesting late-round flier in AL-only leagues, and a potential streaming option in mixed leagues, but that will be very heavily dependent on the match-ups. A good comparison for owners is Marlins starter Jose Urena — a guy who can provide some solid value throughout the season, just not consistently.
And now a quick look at the prospect heading to Pittsburgh in this trade. Yordi Rosario is a 19-year-old right-hander who rose up to the Arizona League this year after spending two-and-a-half years in the Dominican Summer League. After posting a 7.20 ERA with a 2.057 WHIP and 6.7 K/9 in his first year of pro ball, Rosario has improved his numbers in each of the two following seasons and in 2018 recorded a 2.57 ERA with a 1.125 WHIP and 11.3 K/9 over 56 innings between the DSL and AZL White Sox. It's still a long ways away before any accurate projections can be made for Rosario, but owners in dynasty leagues should keep an eye on him this season, as he will likely pitch for the Gulf Coast League Pirates or the Advanced-Rookie level Bristol Pirates.