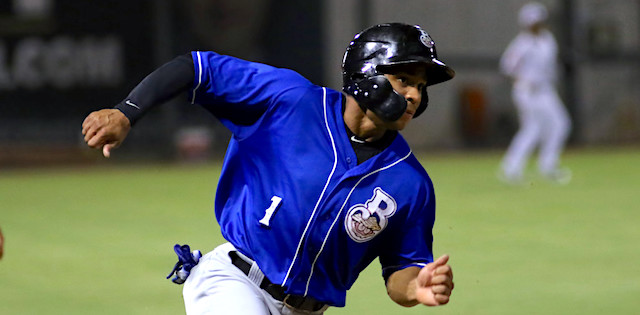 There's a lot of good young talent coming up through the minor leagues right now, so this week we're going to take a look at four prospects under the age of 20 who have been on a hot streak.
The four players on this week's list are still a couple years away from making an impact at the major league level, and three of them are likely already owned as they were first round picks from the last two MLB Drafts. That doesn't mean that they aren't worth keeping an eye on though, as they can likely still be acquired somewhat easily for the time being. All four of these players have a good chance of having significant fantasy value once they reach the majors, and their numbers from over the last 10 days show the potential value that lies in store for them.
They may not be able to legally drink yet, but they can dominate the minor leagues. Let's take a look at this week's hot prospects.
Editor's Note: Get any full-season MLB Premium Pass for 50% off. Exclusive access to our Draft Kit, premium rankings, projections, player outlooks, top sleepers, dynasty and prospect rankings, 15 in-season lineup tools, and over 200 days of expert DFS research.
Sign Up Now!
Royce, Royce Baby
SP MacKenzie Gore — Fort Wayne TinCaps (Single-A: San Diego Padres)
Projected starts: at Lake County 8/8, vs West Michigan 8/13
The Padres' first round pick in last year's draft, Gore has posted a 12.0 K/9 over 13 starts with the TinCaps this season. In three of his last four starts, Gore has thrown five innings, allowed two or fewer earned runs and struck out seven or more. He had gotten off to a slow start this season while dealing with injuries, but since returning from the disabled list on June 10, Gore has posted a 2.48 ERA and a 1.000 WHIP. Gore has the makings of a top of the rotation ace, and playing in Petco Park once he reaches the majors gives him the edge in fantasy to make him one of the top pitching prospects out there.
SS Royce Lewis — Fort Myers Miracle (Single-A Advanced: Minnesota Twins)
Upcoming games: at Lakeland 8/7-8, at Florida 8/9-12
Ever since being taken with the first overall pick in last year's draft, Lewis has put on a tantalizing display of power, speed and average that dynasty owners can't help but stop and look at. Over 380 at-bats between Single-A and Single-A Advanced, Lewis is hitting .318 with 12 home runs, 26 steals and an .869 OPS. Those numbers extended out over a full season would have him on pace to hit roughly 20 home runs and steal 40 bases — something that no shortstop has done at the major league level since Jimmy Rollins and Hanley Ramirez in 2007. Lewis' earliest ETA is likely the end of the 2020 season, but he has super star potential and could be a game-changer in fantasy.
3B Nolan Gorman — Johnson City Cardinals (Advanced Rookie: St. Louis Cardinals)
Upcoming games: at Bristol 8/7-8, vs Princeton 8/9-11
Just 36 games into his career, Gorman is already making plenty of noise playing in the Appalachian League. Over 137 at-bats, Gorman has 11 home runs — second-most in the league — while hitting .343 with a 1.102 OPS — third-best in the league. His last 10 games have been particularly eye-opening, as he has hit .500 with six doubles, four home runs and a 1.510 OPS. Of the four players on this week's list, Gorman likely is the furthest away from reaching the majors, but his potential fantasy value is just as high as the others mentioned here. If you can acquire Gorman today in dynasty leagues, you should feel safe at third base for years to come with a perennial 35 home run candidate.
SP Brusdar Graterol — Fort Myers Miracle (Single-A Advanced: Minnesota Twins)
Projected starts: at Lakeland 8/8, vs Charlotte 8/13
The hard-throwing right-hander has rocketed up prospect rankings over the last year, and in MLB Pipeline's mid-season rankings Graterol passed Stephen Gonsalves for the spot of top pitching prospect in the Twins' organization. Over 14 starts between Single-A and Single-A Advanced, Graterol has had nine starts with at least five strikeouts, and six starts with seven or more. This is basically nothing new for Graterol, who has posted a 10.5 K/9 over 124 1/3 career innings in the minors. While he has seen a slight uptick in his WHIP — 1.145 this year vs 0.975 last year — his BB/9 is down slightly to 2.3 from 2.9 last year. Out of the four players listed here, Graterol is the only one who wasn't a first round pick, and as such is likely the easiest to acquire in dynasty leagues.
More MLB Prospects Analysis