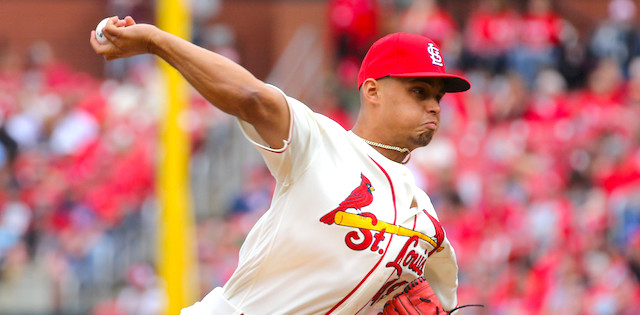 While holds are even tougher to predict than saves, the players we'll highlight today include some elite setup men to target off the waiver wire in Week 12.
One-inning middle relievers are the constant sources for holds and specialists can manage to secure a hold even with one out. However, while specialists can get many holds, their fantasy value is limited to how effective they are in their specific role. Long relievers are not a strong source of holds, they are often used in emergency or mop-up roles; reducing their likelihood to enter a game with the lead. The strongest setup relievers can even be eligible for saves on occasion.
Bottom line: the more likely an MLB team is to win, the more likely these pitchers will be eligible to earn the holds that could be the difference between winning or losing in your fantasy league. Let's get to it.
Editor's Note: Get any full-season MLB Premium Pass for 50% off, with exclusive access to our season-long articles, 15 in-season lineup tools and over 200 days of expert DFS research/tools.
Sign Up Now!
Week 12 Waiver Wire RP Pickups for Holds
Anthony Swarzak, New York Mets
1 Save, 1 Hold, 3.38 ERA, 5.1 IP, 7 K, 1.31 WHIP
The New York Mets are piecing the bullpen together to find out what works and Anthony Swarzak is getting his opportunities. The 32-year-old Swarzak had closing experience as recently as last year. After a great season with two teams last year, Swarzak quickly earned his opportunity this year. In his brief time for the Mets, opponents are hitting .222 against Swarzak. With a 93.9 mph fastball and 85.5 mph slider, Swarzak is striking out more than a batter per inning. Swarzak and Robert Gsellman will likely share closing opportunities for the Mets for the remainder of the season.
Kirby Yates, San Diego Padres
2 Saves, 12 Holds, 1.00 ERA, 27.0 IP, 32 K, 0.93 WHIP
The San Diego Padres are bringing a strong bullpen to the game and Kirby Yates is one of their stronger relievers. Yates is currently having the best season of his career. He is striking out more than a batter per inning and is allowing less than a baserunner per inning. Opponents are hitting .179 against Yates and is keeping the ball low. With his 93.5 mph fastball and 87.1 mph splitter, batters are hitting a ground ball on 52.3 percent of batted balls. In the month of June, Yates has been used in winning situations, securing four holds and two saves. Yates is putting up quality numbers and is being used properly for a waiver wire claim.
Jordan Hicks, St. Louis Cardinals
1 Save, 7 Holds, 2.06 ERA, 35.0 IP, 28 K, 1.09 WHIP
Making a name with a blazing fastball, Jordan Hicks may be trending upward in the bullpen of the St. Louis Cardinals. Hicks is not just a fireball pitcher; his 99.8 mph fastball is mixed with a sharp 85.0 mph slider to catch everyone's attention. Opponents are not getting on top of Hicks, as he generates a ground ball on 59.3 percent of batted balls. Towards the end of May, Hicks has been pitching in the eighth inning and is finding himself in the ninth inning this month as well. Hicks' save opportunities may come situationally but his numbers have shown promise and make him an encouraging waiver wire claim.
Drew Steckenrider, Miami Marlins
10 Holds, 3.90 ERA, 30.0 IP, 39 K, 1.23 WHIP
The Miami Marlins are in a rebuild but reliever Drew Steckenrider could become a trade piece with his success before the season ends. Steckenrider uses a 94.5 mph fastball and 87.7 mph cutter to strikeout more than a batter per inning. He has opponents hitting .211 against him this year. He benefits from pitching in a spacious home ballpark as well. Steckenrider is primarily used in the seventh inning and with Brad Ziegler ineffective as a closer, Kyle Barraclough will probably move into closing situations, pushing Steckenrider up to the eighth inning. The Marlins offense is not a formidable threat regularly so their leads will be thin. Do not let his ERA scare you away as it was elevated by one bad appearance this year.
Trevor Hildenberger, Minnesota Twins
6 Holds, 2.41 ERA, 33.2 IP, 27 K, 1.01 WHIP
The Minnesota Twins have some shakiness in the bullpen, but Trevor Hildenberger has been solid of late. With 10 consecutive scoreless appearances of late, as of May 18, Hildenberger has been reliable in his usual seventh and eighth inning roles. With an 89.5 mph fastball, 77.6 mph changeup and 78.4 mph slider, Hildenberger is not overpowering. He is not striking out more than a batter per inning and opponents are hitting .216 against him. Hildenberger is getting batted balls on 48.5 percent of batted balls. His consistency of late should give him consideration for a waiver wire claim if your other statistics are covered.
More Waiver Wire Pickups and Adds