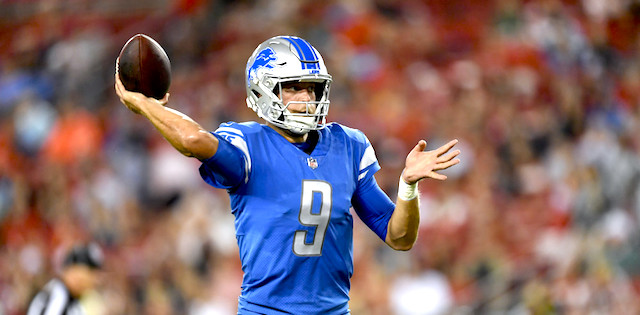 It's time to forget what you thought you knew. Halfway through the year, NFL teams now have a good idea whether they are contenders or simply playing for next year's draft picks. The trade deadline has passed, shaking up depth charts across the league.
That means it is also time to throw that "draft stock" out the window. It doesn't matter if you picked someone as your RB2, WR3, or passed over on Pat Mahomes to secure a safer QB. (How's that Marcus Mariota pick working out these days anyway?) We must forget the past and focus on the here and now. James Conner, Adrian Peterson, and Phillip Lindsay are top 10 running backs. LeSean McCoy, Derrick Henry, and Le'Veon Bell are completely worthless. Deal with it. The smart owner will quickly adjust his perceptions and play this game the way it's meant to be played - on a week-to-week basis. I say this so that you, the reader, understand that my advice to start Alex Smith instead of Matt Ryan isn't a hot take or contrarian pick. It's just reality.
Now, here are my fantasy flex and streamer "heroes" and "zeroes" at each position for Week 9 of the NFL season. These players are borderline start considerations for your flex (and superflex) spots that I believe will perform unexpectedly well or that might fare poorly relative to expectations in this week's matchups. To see how our staff feels about all the players you might possibly care about, look no further than our very own RotoBaller consensus weekly rankings.
Editor's Note:
For a limited time,
RotoBaller readers can get $25 off any FFPC Contest
. Just sign up for a new account, join any type of game including
Best Ball or Superflex
,
Dynasty Startup
,
Victory Points
, or FFPC's one-of-a-kind
Terminator contest
, and the $25 voucher will be applied to your account immediately!
Sign Up Now!
Week 9 Lineup Heroes
QUARTERBACK
Alex Smith, Washington Redskins
There are way too many obvious QB plays this week that I won't mention, like FitzMagic, so we'll need to go deeper down the line. Rather than trusting the overall fantasy QB3 this season, Matt Ryan, use a little reverse psychology to confuse your opponent and plug Alex Smith into your lineup. No really. Just one look at the numbers might be enough to convince you. The Falcons allow the second-most fantasy points to QBs and are prone to shootouts based on the strength of their offense and weakness of their defense. Washington typically runs the opposite way but with Chris Thompson set to miss another game and backup Kapri Bibbs also expected to sit out, the team will be forced to pass more than they'd like. Adrian Peterson can't literally run "all day" after all, can he? Smith has already put up 35+ pass attempts three times this season and this will surely be the fourth. There is a limit to his ceiling obviously, which could sit right around 300 yards and two touchdowns. That's not too bad for someone that can be pulled off waivers in 60% of leagues and can serve as a bye-week fill-in for Blake Bortles. OK, probably Andrew Luck or Carson Wentz.
RUNNING BACK
Isaiah Crowell, New York Jets
Ugh. It's so hard to recommend the Crow, as he's been far more bust than boom throughout his career, especially this season. He's failed to tally more than 40 rushing yards in six games so far, with two monster performances sprinkled among them to remind us he's still around. There's something those teams he decimated with big runs have in common though - they are terrible against the run. Detroit has allowed the fifth-most rushing yards in the league and Denver is tied for third. Guess who they're tied with? Here come the Dolphins, who have given up 1,001 rushing yards to RB. They let former teammate Lamar Miller run for 133 yards and rookie Kerryon Johnson go for 158 the last two weeks. Crowell didn't do much in Week 2 against the Fins, running for 35 yards on 12 carries, but that was back when the Jets could actually pass the ball. Darnold was slinging it to Quincy Enunwa, Terrelle Pryor and Robby Anderson and the Jets were making plays down the field. None of those three wideouts will be playing this Sunday. The loss of Bilal Powell further necessitates a big workload for Crowell. Concerns about Elijah McGuire can be ignored this week, as it's doubtful he'll get a huge dose of touches in his first game after missing the last three months of action. Crowell is still risky but he has shown the ability to rip off long runs, just as the Dolphins are apt to let them occur. Take a chance on Crowell this week. Then drop him immediately, he's not that good.
WIDE RECEIVER
D.J. Moore, Carolina Panthers
If you've been paying attention, Moore has been creeping up the charts in terms of targets for the Panthers. While he still sits fifth on the team with a 10.3% target share, behind other receivers like Torrey Smith and Jarius Wright, that won't last much longer. He saw four targets in the first three games but climbed to six last week along with two rush attempts, resulting in 129 scrimmage yards. The obvious catalyst for this call is the opponent, namely the Bucs. Tampa temporarily seemed inspired by the firing of DC Mike Smith in Week 7 but holding the Browns to 23 points before Hue Jackson's dismissal isn't much to brag about. They've been horrendous against the pass, barely trailing the Saints for most fantasy points allowed per game to WR (31.1). With Torrey Smith already ruled out, Moore could use this game as his coming-out party to prove his worth as a first-round pick.
TIGHT END
Michael Roberts, Detroit Lions
Go ahead and chase your shares of T.J. Jones and Brandon Powell, I'm all about Roberts. Someone will fill the slot receiver void left by Golden Tate but it could be Roberts who benefits most. Already utilized as a red zone threat, he has four RZ targets in his four games played, which is just two fewer than Kenny Golladay or Golden Tate. We don't know much about Roberts yet, as he's played just 19 games in his career and four this season, catching a total of eight passes. As a fourth-round pick out of Toledo, he doesn't have exceptional athleticism or potential. He is a big body that can occupy space and use his hands well enough that he could see some of those important targets vacated by Tate. It's far from a sexy pick, but in this climate for tight ends, he is a streaming candidate. Plus, I can't, in good conscience, keep recommending Gerald Everett so someone's got to pick up the slack.
Week 9 Lineup Zeroes
QUARTERBACK
Matthew Stafford, Detroit Lions
Losing his main receiver and preferred slot option won't be the death knell for Stafford's fantasy value. In fact, his three most prolific passing seasons, 2011-2013, came before Tate arrived in Detroit in 2014. Back then, Stafford led the league in pass attempts in consecutive seasons. This year, he's not even in the top 10 in attempts per game. His two highest completion and attempt totals came in Weeks 1 & 2, so it's declining even more. With the emergence of Kerryon Johnson, absence of Tate, and coach Matt Patricia's desire to focus more on defense, Stafford may not be a fantasy QB1 much longer. The Vikings have had their struggles defensively, but with Everson Griffen and Xavier Rhodes back in the fold, they could be a much-improved unit the rest of the way. Stafford isn't a strict must-bench, but he can be bypassed for a QB with a stronger matchup.
RUNNING BACK
Dion Lewis, Tennessee Titans
Finally, some hope for Lewis and his owners! He enjoyed his finest day as a Titan in Week 7 before going on bye, posting 91 rushing yards and 64 through the air with six receptions. Confirmation bias tells us he is finally going to deliver on his draft stock. Unfortunately, one good game isn't a sample size you should buy into. First of all, it was a London game and those shouldn't even count. Secondly, it's not as if he suddenly made Derrick Henry disappear. Lewis took just 13 rush attempts and made the most of them. Who scored on a one-yard plunge though? Henry did, leaving Lewis stuck without a touchdown since Week 1. Finally, this matchup does not bring the promise of high offensive output for anyone involved. Both Dallas and Tennessee are among the slowest teams as far as pace of play, ranking 29th and 21st respectively in seconds per play. The Cowboys are somehow a top-10 run defense (I double-checked, trust me) and Sean Lee isn't even listed on the injury report (I verified this through three sites and 28 Twitter sources so it checks out). Lewis could, in fact, be a buy-low candidate for the second half as some of our staff believes, but not now. Wait until he puts up a dud on Monday Night and then strike a deal.
WIDE RECEIVER
Doug Baldwin, Seattle Seahawks
With David Moore around, who needs Doug Baldwin? Seriously though, the Seahawks don't need Baldwin. They can now be declared a Run-First Team™ with Chris Carson leading the way. Seattle has run the fourth-most rushing plays and is dead last in passing plays. Baldwin missed a couple of weeks due to a knee injury but when he's been in the lineup, his target share has been inconsistent at best. It's clear the knees are bothering him and there is also the question of whether he has lost a step at age 30. All this is enough to scare a fantasy owner into ditching him outright. If you do own him and are considering flexing him in what could be a high-scoring game, his WR/CB matchup this week is enough reason to keep him benched. CB Desmond King is one of PFF's highest-rated corners and recently held Jarvis Landry to two catches for 11 yards. If you want to choose between Seahawk receivers, he might just be third on the list.
TIGHT END
Kyle Rudolph, Minnesota Vikings
This isn't so much about matchup as bitter, bitter disappointment that I chose to spend a high pick on Rudolph in the Scott Fish Bowl. So much for that tight end bump. Rudolph hasn't been as big a part of the offense as we'd expect despite favorable conditions. His quarterback, Kirk Cousins, made Jordan Reed into a Pro Bowl player. His OC, John DeFilippo, turned Gary Barnidge into a stud for one glorious season. The Vikings are one of the more pass-heavy teams in the league, ranking third in yards and seventh in touchdowns. What gives? Personally, I blame Adam Thielen. The man has been such a target hog, he is simply rendering Rudolph useless, especially in the red zone. Last year, Rudolph finished just behind Thielen in red zone target share with 24%. This year, Rudolph is down to 19% in the red zone and a 12% target share overall that is down as well. Without the promise of touchdowns, Rudolph doesn't have enough big-play potential to be worth starting each week. The potential return of Dalvin Cook, finally, plus a weak Detroit D-line could lead the team to pound the ground more anyway.
More Start/Sit Advice