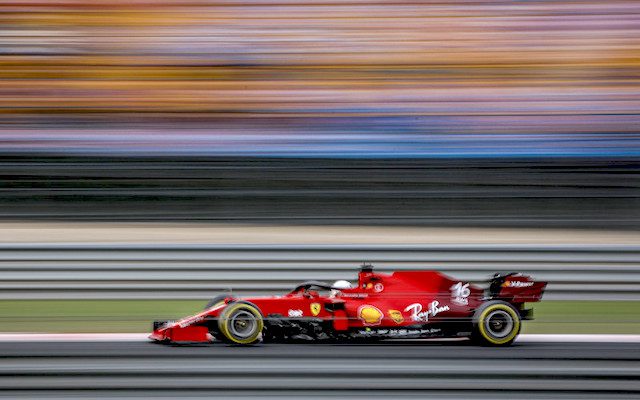 Who's ready for some Formula 1 DFS? This week, we're heading to Spain for the Spanish Grand Prix.
Charles Leclerc and Max Verstappen have won the first five races of the season, with Verstappen winning two in a row. But Leclerc still holds the points lead because of his consistency, with an average finish of 2.4 this season.
Below you will find our Formula 1 DraftKings DFS lineup picks for 5/22/22, with the slate locking at 9:00 a.m. ET. If you have any questions or want to talk about Formula 1, you can find me on Twitter at @juscarts.
How Does Formula 1 Fantasy Work?
If you're familiar with using DraftKings for NASCAR, this Formula 1 format is going to feel really, really different from what you're used to. It's a lot closer to the NFL single-game showdown slates than it is to anything on the NASCAR side.
So, here's how the scoring and format work. You'll pick five drivers and a constructor. One of those drivers will be your captain, who earns you 1.5-times the points but also costs 1.5-times as much as they usually cost. For the constructor, you're choosing one of the F1 teams.
So, here's how the scoring works. Your driver only gets points if they finish in the top 10. Here's a chart for how that breaks down.
| Finishing Spot | DraftKings Points |
| --- | --- |
| 1 | 25 |
| 2 | 18 |
| 3 | 15 |
| 4 | 12 |
| 5 | 10 |
| 6 | 8 |
| 7 | 6 |
| 8 | 4 |
| 9 | 2 |
| 10 | 1 |
In addition, the driver with the fastest lap of the race gets three points. You get 0.1 points per lap led, five points for beating your teammate, one point for being classified at the finish (finished 90% of the race, essentially), and points for place differential. Finish three spots higher than your grid position and you get two points. Finish five better and you get three points. Finish 10 better to get five points. You also lose points for negative place differential, starting at three spots.
The constructor points work the same way, with some added points if both cars do well.
It's confusing, but for Formula 1 DFS to work, it probably had to be confusing.
Now that we've gone over that, let's talk drivers. And bare with me, as this whole F1 fantasy thing is new to all of us.
Captain/Constructor Stack Pick: Charles Leclerc ($16,800), Ferrari ($11,400)
Starts 1st
At this point, I'm going to stack a captain and his constructor until someone tells me I'm wrong for it.
Obviously, this F1 season has been all about Verstappen and Leclerc. Leclerc has led laps in every race except for Imola, where he finished sixth. He's started on the pole three times, with a dominant win in two of those, as he led 55 of 57 laps at Bahrain and then all 58 laps in Australia.
This race will likely be about who gets the advantage early, since Verstappen starts second. Last year, Lewis Hamilton and Max Verstappen started 1/2 and combined to lead every lap. In 2020, Hamilton led all 66 from the pole. In 2019, Hamilton again led all 66, this time from second.
Why I lean Leclerc is actually more about the stack with Ferrari. Teammate Carlos Sainz Jr. starts third and I like him to do better than Sergio Perez, who starts fifth. I think there's a better chance that both Ferrari cars podium.
George Russell ($8,800)
Starts 4th
Consistency matters. Russell hasn't led a lap yet this year, but he has finished fifth or better in each of his races and has beat teammate Lewis Hamilton in four of the five races.
Beating Hamilton this week might be a tough task based on Hamilton's track record here, but it's really, really hard to bet against Russell's consistency, especially when Hamilton hasn't shown that same level of consistency yet.
Kevin Magnussen ($5,200)
Starts 8th
Magnussen has qualified in the top 10 three times. He's finished top 10 in all of those races.
He's shown himself to be pretty tough to pass, so if you're looking for someone who can get a top 10 and beat out his teammate—which he's done in three of five races this season—then Magnussen is definitely in play. Obviously risky since there's not much place differential upside, but he's had some solid runs this year and this should be another one.
Alexander Albon ($4,000)
Starts 19th
Lot of place differential upside for Albon this week. He's finished 14th or better in each race, showing improvement on race day despite starting 18th or worse in the last three races. This marks the fourth race in a row where Albon has to come from the very back. Last week, he gained nine spots on the grid.
He's also finished ahead of Williams teammate Nicholas Latifi in every race this season. For a driver who costs this little, Albon offers a ton of upside.
Sebastian Vettel ($3,400)
Starts 16th
It'll be interesting to see what kind of speed Vettel has on Sunday. He was eighth in the second practice and 12th in the third one.
Vettel has run three races this year for Aston Martin. In two of those, he crashed out. But in the other, he started 13th at Imola and then finished eighth. He finished two spots ahead of teammate Lance Stroll in that one.
If Vettel has the kind of speed that he showed in practice, he can gain some place differential points and potentially sneak into the top 10 here. He's had a lot of past success here and while he isn't in a car that can replicate his five podiums at this track, he does have a lot of experience that should help him run a smooth race and pick his spots to move forward.
The Keys to Weekly NASCAR DFS Success
NASCAR is back, and it's time for you to win big with RotoBaller!
Our DFS NASCAR Premium Package
 features several heavy hitters and proven winners.
Jordan McAbee joins the team in 2023 with his exclusive NASCAR DFS projections and algorithm-predicted finishing order! In 2022 DFS contests, Jordan had a +33.92% profit margin good for +$10,467.06 profit and qualified for the Fantasy Racing World Championship.
Four-time NASCAR Racing Writer of the Year finalist and fantasy industry legend Scott "The King" Engel is also in the crew, bringing you his weekly strategies and lineup picks. Set your winning DFS lineups with our award-winning team.