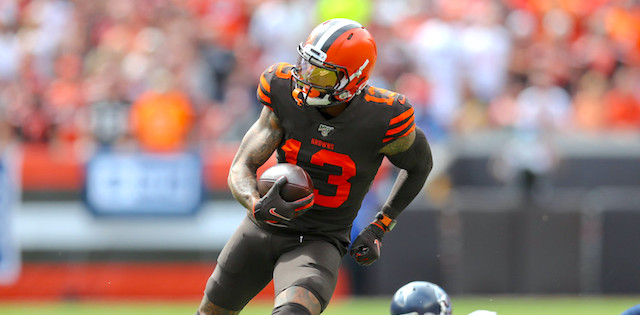 Welcome to our Week 12 matchup analysis and start/sit column for fantasy football. We'll be covering every single contest from the Sunday slate in one convenient location, helping you make the best decisions for your fantasy lineups. Be sure to check back regularly because this article will be updated as news comes in regarding injuries and other important information.
Spencer Aguiar will start off by covering the first set of games that begin at 1:00 PM ET on Sunday, and Chris O'Reilly will take you home with his analysis of the late afternoon and evening games.
If you have any additional lineup questions, follow us on Twitter @Teeoffsports and @cjoreillyCLE and feel free to ask away! Without further ado, let's get started.
Editor's Note: Get any rest-of-season NFL Premium Pass for 50% off. Our exclusive DFS Tools, Lineup Optimizer and Premium DFS Research through the Super Bowl.
Sign Up Now!

Matchups Analysis - 1:00 PM ET Games

Denver Broncos at Buffalo Bills
Matchups We Love:
None
Matchups We Hate:
Brandon Allen (QB, DEN)
Some of the radiance of Brandon Allen seems to have worn off from his first start to his performance last weekend. Allen struggled to get much going with his 43.6% completion percentage but did save the day with a few big throws, most notably a 48-yard bomb that was hauled in by Courtland Sutton. Unfortunately for Allen, his days are numbered with rookie Drew Lock eligible to come off injured reserve shortly, and head coach Vic Fangio hasn't ruled out Lock being activated for Sunday. I'll assume that is still a longshot possibility right now, but this might be the last week we see Allen under center for Denver.
Devin Singletary (RB, BUF)
We can see that the Bills are beginning to give Devin Singletary more on-field action, but the rookie wasn't able to make the most of his opportunity in Week 11 against the Miami Dolphins. Singletary's 15 rushes for 75 yards look flashy on paper, but he did fumble the ball twice, albeit both were recovered by his team. Denver has held Dalvin Cook and Nick Chubb for a combined 91 yards on 31 carries in their past two games, and Singletary's moderate usage through the air does cause reasons for concern. There is always a chance the explosive back breaks a big play or two, but he should be downgraded into the RB3 range in Week 12.
Frank Gore (RB, BUF)
It probably goes without saying that if Devin Singletary is on the hate list, Frank Gore is also, but I figured I'd add him to get rid of any confusion. Gore is no longer the lead back in Buffalo's backfield and has become a touchdown-dependent option for fantasy owners. That makes him a low upside RB4/RB5.
Courtland Sutton / Tim Patrick (WR, DEN)
I'd be very careful with playing Courtland Sutton this week if it can be avoided. Sutton has shown enough talent that perhaps he can shine through a horrendous matchup against the Bills' lockdown secondary, but until QB Drew Lock gets under center for the Broncos, his production is going to be stop-and-go. The same goes for Tim Patrick, who caught four of eight passes for 77 yards during his first game of the year in Week 11. I actually believe Patrick has a higher floor than Sutton for this contest, but I think the upside of what he can actually provide is rather capped. Sutton's upside still obviously makes him the better play, but I wouldn't discount the possibility that we see him produce a bit of a headscratcher on Sunday.
Other Matchups:
Josh Allen (QB, BUF)
Josh Allen deserves some credit for the improvements he has shown passing the football in year two of his NFL career. Since Week 7, Allen is ranked second in fantasy points at his position, and he has not thrown an INT during that duration of time. Those haven't always been things we could count on from the young QB, but his ability to look for yards given to him by defenses have improved drastically, which is obvious by his average intended air yards dropping from 11 to 9.2. That factor has helped him to improve his passer rating by 7.4 points and help lead the Buffalo Bills to a 7-3 record. A matchup against the Denver Broncos will test just how far he has come in the past season, as the Broncos are a top-10 unit against the pass on the year. Allen's legs help to give him a higher floor than some QBs, but he still has to be treated as a high-end QB2 in what could turn out to be a defensive battle.
Phillip Lindsay / Royce Freeman (RB, DEN)
If you are looking for the higher floor, the option is Phillip Lindsay, but both men have done their part in pilfering work from the other. On the year, Lindsay has seen 161 touches to Royce Freeman's 129, but it is worth noting that Freeman has failed to exceed 15 touches in a game since Week 6. Lindsay's floor should keep him in back-end RB2 consideration, while Freeman has shown bust potential on multiple occasions since Joe Flacco's absence from a neck injury. It is difficult to trust Freeman as anything more than an RB3, and that is even generous right now.

John Brown (WR, BUF)
Although the Denver Broncos have a top-10 pass defense, John Brown has shown the ability to produce in almost all contests so far this season. He has only failed to surpass 10 PPR points once and is entering Week 12 after providing a nine-catch, 137-yard and two-touchdown onslaught against the Miami Dolphins. The matchup this week isn't going to make you jump for joy, but it is hard to leave 'Smokey' out of your lineup. Treat him as a mid-to-back end WR2.
Cole Beasley (WR, BUF)
Similar to John Brown, just at a much smaller scale, Cole Beasley has been a steady provider for owners this season in PPR leagues. He has only scored less than 7.8 points once, but in the same breath has failed to eclipse 15 points in a game. Unless you are in an extremely deep league and need safety, I will assume you can do better than Beasley, but there is something to be said about his consistency this season.
Noah Fant (TE, DEN)
Eleven targets for Noah Fant in Week 11 shows that Brandon Allen feels comfortable checking the football down to him in pressure situations, but the rookie tight end was only able to bring in four of those targets on the day. The Bills have been stingy against tight ends this season, but Fant's usage keeps him in the running as a TE1 caliber play.
Dawson Knox (TE, BUF)
It is tough to put any TE on the hate list with how desolate the talent can be at times. Still, though, Dawson Knox did come close to rendering that decision. I ultimately determined there is enough upside to warrant him avoiding that designation since he has been impressive at times this year, but it is challenging to trust him as anything more than a TE2 against a stingy Denver squad.
New York Giants at Chicago Bears
Matchups We Love:
David Montgomery (RB, CHI)
If you are looking for a bright spot for David Montgomery during his unstable first season, the rookie has received at least 15 touches in each of his past four games. Add that to the fact that the Giants have given up 122.7 yards rushing per contest, and a picture starts to form that Montgomery could be in store for an extensive workload on Sunday. Treat Montgomery as an RB2 with upside.
Matchups We Hate:
Daniel Jones (QB, NYG)
The New York Giants on offense have proven to be volatile, which has been evident by QB Daniel Jones alternating QB1 type performances for 10-point starts every other outing. This week suggests Jones should revert back to a menial level of production after his barrage of 30.3 points against the New York Jets in Week 10, and a matchup against the Chicago Bears won't do anything to dispel that notion.
Evan Engram / Rhett Ellison / Kaden Smith (TE, NYG)
Evan Engram shed his walking boot on Monday, but we should still not be overly optimistic about his chances of suiting up on Sunday. He has yet to practice with the team and would need multiple sessions this week to be re-activated to the squad. Rhett Ellison is dealing with a concussion but did have an extra bye week to clear protocol. For the time being, he should be considered questionable. If both are unable to play on Sunday, Kaden Smith would draw his first start, but the rookie has only been able to bring in one catch for one yard during his 52 offensive snaps this season.
Other Matchups:
Mitch Trubisky / Chase Daniels (QB, CHI)
Watching the game live, it looked as if Mitch Trubisky was benched during the latter stages of the Chicago Bears' loss to the Los Angeles Rams on Sunday night. However, head coach Matt Nagy has said that was not the case, and his removal from the game had to do with a hip-pointer that he suffered late in the second quarter. Assuming that is true and Trubisky is healthy enough to play, he does have a nice bounce-back spot present against a struggling Giants Defense. With all that being said, it is still difficult to trust the third-year QB as anything more than a desperation QB2, and we would recommend leaving him on the waiver wire.
Tarik Cohen (RB, CHI)
After a slow start to the season, Tarik Cohen owners have been rewarded for their patience during the past two weeks with the scatback accumulating nine catches, two touchdowns and 111 total yards. Unfortunately, the inconsistent production this season could come back to bite him in a game where the Bears are favored by nearly a touchdown. Negative game scripts have hurt Cohen in the past, and this could be another weekend where he just isn't included in their offensive game plans. If you are desperate, he does have low upside flex potential, but I'd prefer to leave him on my bench this weekend.
Saquon Barkley (RB, NYG)
Saquon Barkley extinguished rumors of the potential of being benched towards the end of the season during the teams' bye week, stating "the mindset of sitting me out and resting me for the rest of the season is beyond me. I do not agree with it. It won't happen." That has to provide his owners with some relief they will have their first-round pick down the stretch this season, but there is still always a chance that we see the Giants tailback his workload. Until that happens, Barkley is an RB1 anytime he suits up and should be rolled out as such against a tough Bears Defense.
Golden Tate / Sterling Shepard / Darius Slayton (WR, NYG)
Sterling Shepard was a full participant in practice on Monday and assuming he gets cleared by an independent neurologist at some point this week, it will be interesting to see what the Giants look like on offense with one of their top playmakers back in the mix. Shepard's return will most likely cause Golden Tate and Darius Slayton to regress slightly from their current roles - making Tate a flex option this week and Slayton more of a WR4. Unfortunately, the situation doesn't become much clearer for Shepard, who should also be placed into the flex range for Week 12.
Allen Robinson (WR, CHI)
Allen Robinson failed to get the better of CB Jalen Ramsey last Sunday night, catching just four passes for 15 yards en route to the second game in his past three contests where he has failed to eclipse 15 yards through the air. In fairness, a lot of the blame can be placed on the inconsistent play from struggling third-year QB Mitch Trubisky, but Robinson won't have to deal with a corner anywhere near as talented as Ramsey when the Bears takes on the Giants' 28th ranked defense in success rate against the pass. If you own Robinson, there are reasons to be concerned going forward, but you should be able to trust him for WR2 type production on Sunday.
Taylor Gabriel (WR, CHI)
Taylor Gabriel has given owners a bit of a surge in recent weeks, hauling in 18 catches in his past four contests. A showdown on Sunday gives him another chance to find success, as the 28-year-old gets CB Janoris Jenkins, who has struggled to defend speedy wideouts in the past. If you are in a pinch, Gabriel does have flex appeal in Week 12.
Pittsburgh Steelers at Cincinnati Bengals
Matchups We Love:
Jaylen Samuels (RB, PIT)
Assuming James Conner is unable to suit up in Week 12, Jaylen Samuels could resurface as a strong plug-and-play option in PPR leagues given the fact that the Bengals' defense is amongst the most inviting matchups in all of fantasy football. The second-year back has struggled at times on the ground this season, but his usage through the air should keep his floor nice and high.
Matchups We Hate:
Ryan Finley (QB, CIN)
Eww. Ryan Finley looked all sorts of bad in Week 11 when he took on the Oakland Raiders and is perhaps not even startable in Superflex leagues over a handful of options. The Bengals have averaged a whopping 1.1 points per drive with Finley under center, and it seems like pretty simple advice to say the rookie should be left on your bench or wire.
Mason Rudolph (QB, PIT)
Coming off a head-smacking performance of 6.3 points for fantasy owners in Week 11, Mason Rudolph will look to get back on track against the struggling Cincinnati Bengals. Rudolph was able to provide his best game of the season earlier in the year when the two teams met in Week 4, but it is hard to trust a QB that has only exceeded 14.5 points in one of his eight starts this year. With wideouts JuJu Smith-Schuster and Diontae Jonhson possibly inactive for the contest, I'd leave Rudolph on the bench until he gets his head back on straight.
Juju Smith-Schuster / Diontae Johnson (WR, PIT)
It has just been one of those years for Juju Smith-Schuster. A concussion suffered in Week 11 to go along with a knee ailment could see Smith-Schuster sit this matchup against the reeling Bengals. It's unfortunate if he does have to miss the game since Cincinnati presents one of the most favorable matchups in the league, but it shouldn't come as a shock with how the year has gone for the 22-year-old in 2019. On the other hand, Diontae Johnson looks to also be on the wrong side of questionable after suffering a jarring helmet-to-helmet hit against the Cleveland Browns. Johnson has shown some upside here and there, but Mason Rudolph's lack of passing down the field has hurt the rookies' production week-to-week.
Update: Diontae Johnson is slated to play, while Juju Smith Schuster has officially been ruled out.
Alex Erickson (WR, CIN)
I bought into the Alex Erickson hype, but I can't get myself to go down that route again. Erickson has been a total disaster in his past two games with just one catch on seven targets, totaling a whopping zero yards through the air. WR Auden Tate being unavailable should give Erickson a slight boost, but what is that increase even worth at this point with Ryan Finley under center? If you have room on the bench and want to pick him up, ok. But I don't want him near my starting lineup.
Johnny Holton / Tevin Jones (WR, PIT)
I never like the idea of plugging in fill-in type players from a poor offense. The expectations of the unknown are too appealing for some owners to pass up, but I typically see it as a letdown waiting to happen. QB Mason Rudolph has not looked good this season with better talent around him, so why should we expect inferior skillsets to change that narrative? I'd leave both Holton and Jones on the waiver wire this weekend.
Other Matchups:
James Conner (RB, PIT)
If you made me guess early in the week, I would anticipate that we don't see James Conner active for this game against the Bengals because of the injury he suffered to the AC joint in his right shoulder. Cincinnati has been one of the friendlier matchups for opposing RBs this season, but owners might need to start looking elsewhere.
Update: James Conner has officially been ruled out.
Joe Mixon (RB, CIN)
Three straight weeks of 17+ PPR points has to feel good for Joe Mixon owners that held onto him throughout his slow start to the year. A matchup against the Pittsburgh Steelers is risky with the way T.J. Watt and the defensive line can get to the ball-carrier, but RB2 or flex potential is still on the board for the third-year back.
James Washington (WR, PIT)
With Mason Rudolph presumably without his top-two options this weekend, James Washington would be in a good situation by being the last known entity that the QB can trust, even if the story ended there. But what makes the circumstance even more dynamic for Washington is that he and Rudolph played together at Oklahoma State and have years of chemistry with one another. This connection doesn't all of a sudden make Washington a WR1 that can't miss, but I would consider him a back-end WR2 with upside.
Tyler Boyd (WR, CIN)
Tyler Boyd expressed frustration after he was held to just three targets and one catch for zero yards last weekend at Oakland, and I agree with his sentiments that the team needs to try and get him the ball more. A.J. Green doesn't appear to be walking through that door this season, and the Bengals need to treat Boyd as if he is their top playmaker. Aside from last week, Boyd has been a target hog this season, so I'd anticipate him going back down that route, especially with Auden Tate now injured.
Vance McDonald (TE, PIT)
With seven targets in each of his past three games, Vance McDonald could be in store for a heavy target share with Juju Smith-Schuster and Diontae Jonhson most likely inactive for the tilt on Sunday. Still, though, we might need to temper expectations slightly, as he has scored just one touchdown in the past seven games and has yet to exceed 40 yards receiving this season. If you are looking for a streaming option, McDonald is a suitable TE1 choice but be careful with who you start him over.
Tyler Eifert / C.J. Uzomah (TE, CIN)
Tyler Eifert finished behind C.J. Uzomah in snaps for the second straight week, recording 23 to Uzomah's 38, and the former 2015 Pro-Bowler is averaging only 2.8 receptions for 23 yards per game this year. A matchup against the Steelers is encouraging for both TEs, but they seem to be pilfering too much playing time away from one another to get overly excited about either.
Miami Dolphins at Cleveland Browns
Matchups We Love:
Baker Mayfield (QB, CLE)
If Baker Mayfield can't get it going against the Miami Dolphins, consider 2019 to be a lost cause for the second-year QB. Mayfield has looked better in his two recent starts, throwing for multiple TDs for the first times this season and should have a chance to match that production against a Miami defense that has allowed 21.4 fantasy points per game to opposing quarterbacks this year.
Nick Chubb (RB, CLE)
Kareem Hunt has lowered Nick Chubb's ceiling since being reinstated by the league, but a game against the Miami Dolphins should allow Chubb to get a plethora of touches against a team that most likely won't be able to stay competitive. Anytime the game script points towards a heavy-dosage of runs on the ground, Chubb is in RB1 consideration.
Odell Beckham Jr. / Jarvis Landry (WR, CLE)
If your league hasn't closed its trade deadline yet, you might want to steal Odell Beckham Jr. away from his owner. I realize Beckham and Baker Mayfield have yet to get on the same page this season, which was emphasized again last weekend with the duo only connecting on four of 10 targets, but the Dolphins have given up slightly over 36 PPR points per game to receiving corps this year. The schedule is finally starting to lessen for every pass-catcher on the Browns, and I would look for both Beckham and Jarvis Landry to find success. Slot Landry in as a WR2 and Beckham as a potential WR1 for the first time in weeks.
Matchups We Hate:
Kalen Ballage (RB, MIA)
Kalen Ballage is currently producing one of the worst seasons in NFL history thanks to his 1.9-yard per carry average on 64 rushes. To put that into perspective, no NFL RB has ever averaged less than two yards per carry with at least 60 touches in a year and only one player has ever finished less than 2.25 (Deji Karim 2.06 in 2011). Ballage is clearly not the long-term answer for the Dolphins, and I wouldn't be surprised if Myles Gaskins ends up getting a shot before this year is done. Also, look for Patrick Laird to continue getting work through the air.
Other Matchups:
Ryan Fitzpatrick (QB, MIA)
Ryan Fitzpatrick has been limited in practice this week with a right forearm and shoulder injury, but I don't think there should be real concerns around his availability come Sunday. The gunslinger has posted five straight games of at least 11.3 points in standard-scoring leagues, but it is challenging to get too excited about his prospects against the Cleveland Browns, even if the team is without two of their top defensive linemen.
Kareem Hunt (RB, CLE)
With 13 catches in his first two games with the Cleveland Browns, Kareem Hunt has transformed into a PPR specialist for fantasy owners down the stretch of the season. Unfortunately, a matchup against the Miami Dolphins might not be as promising as it looks on paper. Game flow should dictate a lot of rushes between the tackles for Nick Chubb, making Hunt more of a flex option on Sunday.
Devante Parker / Albert Wilson (WR, MIA)
Perhaps past frustrations can be blamed for why DeVante Parker is currently only owned in 44.8% of leagues, but the once struggling wideout deserves more recognition for what he has been able to accomplish in 2019. Currently ranked the 25th WR in PPR leagues, Parker has reached double-digits in points in eight of the nine games he has suited up for and exploded last weekend with seven catches for 135 yards. Cleveland's secondary has been great when healthy, making Parker more of a flex play, but more owners should give him a shot. On the other hand, Albert Wilson has been one of the bigger disappointments in the NFL in 2019, currently ranked as the 116th WR in PPR league. In fairness, he has missed three contests, but Wilson has failed to surpass 7.5 PPR points in a game this season. Outside of the deepest of leagues, the elusive speedster is still not startable, but he does draw a winnable matchup in Week 12 against corner T.J. Carrie. Don't be shocked if we see Wilson post his best game of the season on Sunday.
Mike Gesicki (TE, MIA)
Mike Gesicki's consistency in providing three straight games of six targets will keep him in the running as a streaming option against a defense that has been middle of the pack in defending TEs. If you are desperate for production, you could do a lot worse.
David Njoku (TE, CLE)
The Browns officially designated David Njoku as one of two players eligible to return from injured reserve Wednesday, with the tight end reportedly putting in a full-contact practice in Cleveland's first session of Week 12. If you have been scrounging for a TE this year, look to see if Njoku is on your waiver wire. He might be able to solve some of your woes.
Tampa Bay Buccaneers at Atlanta Falcons
Matchups We Love:
Matt Ryan (QB, ATL)
Matt Ryan missed practice on Wednesday, but it is worth noting that the Falcons have limited his reps the previous two weeks. The Buccaneers have allowed a mountainous 23.1 points per contest this season, placing Ryan in the running for overall QB1 status.
Chris Godwin / Mike Evans (WR, TB)
Good luck trying to figure out which wideout Jameis Winston will favor from week-to-week. Both men are weekly WR1 or WR2 fixtures to lineups, so you are going to have to roll out the man you have every Sunday going forward.
Julio Jones (WR, ATL)
Julio Jones didn't practice on Wednesday due to a foot injury. Injury and Julio are two words you never want to hear in the same sentence, but Jones has played through health concerns on numerous occasions throughout his career. You will need to watch closely as the week goes on, but this matchup feels like the one where the star wideout perhaps performs as the overall WR1.
Calvin Ridley (WR, ATL)
Calvin Ridley doesn't get the same buzz that his counterpart Julio Jones does, but the second-year wideout is coming into the week off of his best outing of the season in Week 11, finding the end zone and leading the Falcons in receiving. While Jones is always safer, there are plenty of reasons to be excited about Ridley this weekend.
Matchups We Hate:
Brian Hill (RB, ATL)
Brian Hill disappointed fantasy owners on Sunday after rushing for only 30 yards on 15 carries, and a showdown against the Buccaneers won't make it easier to go back to him on Sunday. Tampa Bay is ranked third in fantasy points given up to the position and second in success rate against the rush. Hill's lack of usage through the air doesn't help to add to his appeal, so you might want to consider leaving him on the bench in Week 12 if you have other choices.
O.J. Howard (TE, TB)
O.J. Howard only had one target last weekend, which turned out to be a horrendous effort where he bobbled the ball behind his back and had the pass taken away from him by the defender. Howard is a talented player, but it is just not showing up on Sundays. Maybe he gets back on track in Week 12, but it is going to be from my bench from here on out.
Austin Hooper / Luke Stocker (TE, ATL)
Head coach Dan Quinn hasn't ruled Austin Hooper out for Sunday yet, which is good for his prognosis going forward, but I'd still consider him a longshot to suit up. Luke Stocker started at tight end last weekend but didn't draw a target on 43 offensive snaps. Assuming Hooper isn't able to play, there are better options you can find on your waiver wire than Stocker.
Other Matchups:
Jameis Winston (QB, TB)
Even bad Jameis has been good for fantasy purposes as of late. Winston has thrown a whopping 13 INTs in his past five games but has still averaged 16.9 fantasy points through that duration of time. The Falcons have stepped up in a big way defensively in their past three contests, holding Russell Wilson, Drew Brees and Kyle Allen all under 16 points in normal settings, so there are some concerns that we could see Winston add to his INT total on Sunday but consider the volatile QB as a potential QB1 option on the day.
Ronald Jones II (RB, TB)
The game plan for the Buccaneers shouldn't be confused after Ronald Jones' poor performance in Week 11. Jones will get the brunt amount of the work when the team is competitive or winning, and Dare Ogunbowale will see the field when the team is behind. Peyton Barber is more so just there to randomly pilfer touchdowns, but I wouldn't place much emphasis on his past two performances. With Tampa Bay listed as four-point underdogs at this moment, Jones is the only option worth considering on Sunday.
 Russell Gage (WR, ATL)
The matchup is excellent for Russell Gage on Sunday, but I've been making this point for the past few weeks. Gage's breakout performance in Week 8 came with Matt Schaub under center, and his connection hasn't been quite as strong with Matt Ryan at quarterback. For that reason, I'm leaving Gage on the bench for the time being.
Cameron Brate (TE, TB)
Fourteen targets, 10 receptions and 73 yards in Week 11. How is that for a breakout performance? As much as I want to believe Cameron Brate has overtaken O.J. Howard, I just can't get myself to be overly excited about either player for the rest of this season. Split playing time and inconsistent volume have hurt both, and it is just difficult to know what to expect on a weekly basis. If you are desperate for help, take a shot. But just know Brate has failed to exceed three catches or 47 yards in any other game this year.
Carolina Panthers at New Orleans Saints
Matchups We Love:
Alvin Kamara / Latavius Murray (RB, NO)
Alvin Kamara is my top option on the board this weekend for any position. The Panthers are five percent below league average in rushing efficiency, despite playing a below-average schedule in rushing attacks. On the other hand, the Saints are sixth in offensive rushing efficiency. When you plan this game script out in your head, New Orleans is currently 9.5-point home favorites, which means they should be able to run often against a poor Panthers front four. Kamara is obviously the one you want to own, but this might be one of those classic situations where Murray can also provide flex value for your squad.
D.J. Moore (WR, CAR)
No player in the NFL has had more receptions in the past three weeks than DJ Moore. With CB Marshon Lattimore questionable for the game on Sunday,  Moore would see a massive upgrade if the corner can't suit up in Week 12.
Matchups We Hate:
None
Other Matchups:
Kyle Allen (QB, CAR)
The Carolina Panthers have scored 16 or fewer points in three of their past four games, although Kyle Allen isn't the only reason for their struggles. It is hard to say that fact with a straight face after the second-year QB imploded against the Falcons, throwing for four INTs on the day, but there is some streaming potential available for those that are in two-QB leagues.
Drew Brees (QB, NO)
The blueprint of how to attack Carolina is out there. The Panthers are a significantly better team in applying pressure to QBs than they are in preventing rushing yards. That can be statistically modeled by Carolina ranking 27th in success rate against the rush and dead-last in explosive rushes allowed this season, even though the team is in the top-12 in success rate against the pass. Brees will have his opportunities this week because of the scoring chances the Saints should have, but this feels like an Alvin Kamara and Latavius Murray kind of game.
Christian McCaffrey (RB, CAR)
32 straight games the Saints have held opposing rushers under 100 yards. Christian McCaffrey isn't your standard back and can earn points in a plethora of different ways, so you will most likely need your top player to get his work through the air. Pencil in McCaffrey into his typical RB1 role.
Michael Thomas (WR, NO)
Michael Thomas has caught an absurd 83.1% of his targets this season, even though he has had to play with both Drew Brees and Teddy Bridgewater. If you own him, he is your WR1, but I would imagine we see the Panthers attempt to make someone else beat them on offense. That doesn't mean Thomas can't still perform, but it will be interesting to see how much running space he gets handed. With all that being said, Alvin Kamara and Latavius Murray should apply enough pressure on the Panthers' defense that the team won't be able to cheat pass. Regardless of how you want to shake it, almost all the Saints are in play this week.
Ted Ginn Jr. (WR, NO)
If the Panthers do decide to double team Michael Thomas, Ted Ginn Jr. might have some running room available for a big play or two. That hasn't come to fruition often this season, but there are worse dart throws on the board that you could make if you are in a desperate situation.
Curtis Samuel (WR, CAR)
Curtis Samuel has the build to be a big-play WR for the Panthers, but Kyle Allen has dwindled his value in recent weeks by not being able to get the ball down the field. New Orleans' solid pass defense and Samuel's low catch rate halt his potential to a flex option for Sunday.
Jared Cook (TE, NO)
Jared Cook has been a complementary source of production for the New Orleans Saints, which isn't necessarily a negative if the Panthers decide to prevent Thomas slightly in Week 12. You might want to lower your expectations slightly since Carolina is ranked third in the NFL when it comes to fantasy points given up to TEs, but there is some potential there for TE1 production.
Greg Olsen (TE, CAR)
As Kyle Allen started to struggle throughout the game last Sunday, I noticed he used Greg Olsen as a security blanket when he came under pressure. That has accounted for Olsen posting his highest yardage totals since Kyle Allen's first start in Week 3. Expect more of the same this weekend, making Olsen a TE1.
Seattle Seahawks at Philadelphia Eagles
Matchups We Love:
Russell Wilson (QB, SEA)
I've stressed this for the past few weeks, but the Philadelphia Eagles are a completely different secondary when Ronald Darby, Jalen Mills and Avonte Maddox all play. With that being said, this is the first true test for this trio since they have returned. It will be important for the Eagles to stop Chris Carson, which would help to make the Seahawks one-dimensional, but if they can't get to the All-Pro QB, they could be in for a long day. Philadelphia is currently just ranked 14th in pressure rate and 25th in sack rate on the year. If you own Wilson, you most likely aren't benching him in any matchup down the stretch.
Zach Ertz / Dallas Goedert (TE, PHI)
If both Nelson Agholor and Alshon Jeffery are ruled out for Sunday, we should see a lot of two-tight end sets this week from Philadelphia. That would transform Goedert into a streamable TE1 selection, while Ertz should perform as a target hog for a team that will be desperate for a go-to option. Ertz has received 11 targets in each of the past two games and should rival that number again.
Matchups We Hate:
None
Other Matchups:
Chris Carson (RB, SEA)
Chris Carson's volume has made him playable in every game since Week 3, and this seems to be another case where you just have to close your eyes and hope for the best. The Eagles have been an elite run-stopping team at times, but you are going to have to roll with your back in this situation.
Tyler Lockett / Josh Gordon / D.K. Metcalf (WR, SEA)
Josh Gordon only played 38% of snaps during Seattle's last game, but a bye week should allow that number to rise exponentially on Sunday. Tyler Lockett appears as if he will play after suffering a scary injury in Week 10, but that isn't a guarantee right now. And DK Metcalf has seen his targets go up in recent weeks, with nine-plus passes being thrown his way in three of the past four games. Assuming we see all three available on Sunday, consider Metcalf a high upside WR3, Lockett a back-end WR1 and Gordon a flex option.
Jacob Hollister (TE, SEA)
Jacob Hollister has emerged onto the scenes with back-to-back quality outings, catching 12 passes and three touchdowns in his past two games. The Eagles don't appear to be an easy matchup on paper, but it is not like they have faced too many top options this year. If you have Hollister, treat him like a low-end TE1.
Carson Wentz (QB, PHI)
It has been a tough stretch for Carson Wentz, who has thrown just a single touchdown in each of his last four games. Some of his struggles can be placed on facing defenses like the Cowboys, Bills, Bears and Patriots, but his production has hurt fantasy owners in recent weeks. Thankfully for Wentz, Seattle has allowed 18.1 points per game in standard-scoring leagues, so there is a chance we see him bounce back in Week 12.
Jordan Howard / Miles Sanders (RB, PHI)
Jordan Howard practiced in a limited capacity on Thursday, making him truly questionable for the game on Sunday. Should he miss the contest, Boston Scott or Jay Ajayi will pick up some of the workload, but I'd look for Sanders to receive the biggest boost. Both Sanders and Howard are merely flex plays if both are in the lineup, but Sanders could sneak out RB2 production if he gets more of the backfield to himself.
Update: Jordan Howard is officially questionable.
Alshon Jeffery / Nelson Agholor (WR, PHI)
Alshon Jeffery was a limited practice participant on Thursday, leaving his status once again in jeopardy. Nelson Agholor has yet to practice this week after suffering a knee injury in the fourth quarter of their defeat at the hands of the New England Patriots. If those two can't go, Jordan Matthews, Mack Hollins and J.J. Arcega-Whiteside would be the three remaining members in the wide receiving room. That would most likely mean Zach Ertz and Dallas Goedert would play a larger role, but check back later in the week for a clearer picture of this situation.
Update: Alshon Jeffery and Nelson Agholor are both officially questionable.
Detroit Lions at Washington Redskins
Matchups We Love:
None
Matchups We Hate:
Adrian Peterson (RB, WSH)
We saw Derrius Guice's return completely cut into Adrian Peterson's workload against the New York Jets. After averaging nearly 19 carries per game in his past four contests, Peterson was held to just nine carries for 25 yards in Week 11. The veteran isn't going to go completely away now that Guice is back, but the removal of Peterson's volume takes away any fantasy value that he might have had.
Ty Johnson (RB, DET)
I thought Ty Johnson had a chance to become this year's Phillip Lindsay late in the season, but that never quite came to fruition. Johnson is most likely droppable in all settings now that the Lions have made it clear that Bo Scarbrough will be their main runner to go along with J.D. McKissic handling the passing down work.
Other Matchups:
Jeff Driskel (QB, DET)
Anytime you can insert a QB that adds points with his legs, your floor around that player grows exponentially. Backup quarterbacks are notorious for providing hit-or-miss results, but Jeff Driskel is turning into a solid streaming option because of the work he is able to do on the ground. In two games, Driskel has rushed for a combined 88 yards and a score, which makes him a startable commodity for however long  Matthew Stafford remains out.
Dwayne Haskins (QB, WSH)
Dwayne Haskins had the best game of his young career last Sunday, but I'd be careful in attempting to go back to the well again. The matchup is appealing against a defense that just surrendered 444 yards passing to Dak Prescott, but you are asking for trouble if you are trusting Haskins to replicate his 17.1 point outing from Week 11. Desperate teams can use him as a second quarterback in two-QB leagues, but let's temper the expectations slightly.
Derrius Guice (RB, WSH)
Derrius Guice might not have played much in Week 11, but he sure did make the most of his touches. The former LSU back showed off his big-play ability by taking a short dump-off 45 yards for a score, but it is worth noting that he only received eight touches on the day. I'd anticipate we see that number climb steadily as the year progresses, but we have to remember that Guice has been injury-prone early in his career and won't all of a sudden get 20+ touches a week. Detroit is a beatable matchup, but Guice will probably need another touchdown to surpass 10 PPR points.
Bo Scarbrough (RB, DET)
Fourteen carries, 55 yards and a score is just about as good of a debut as Bo Scarbrough could have hoped for in Week 11. However, Scarbrough's lack of involvement in the passing game does take away some of his excitement moving forward. A showdown against the Washington Redskins is intriguing because Detroit should remain competitive/win the game, but the roof might cave in once the Lions have to play from behind in a contest.
J.D. McKissic (RB, DET)
If you are looking for the highest floor of all the backs on the Detroit Lions, look no further than J.D. McKissic. At 194 pounds, McKissic isn't much more than a change-of-pace back, but his usage through the air will provide him a steady floor.
Terry McLaurin / Kelvin Harmon (WR, WSH)
And to think I once thought that Dwayne Haskins wouldn't be a downgrade for Terry McLaurin after the two played their college ball together at Ohio State. Haskins has done his part in completely sinking McLaurin's ship the past few weeks, with the rookie wideout failing to score more than 9.9 PPR fantasy points in four straight games. If there ever was going to be a get right moment, it would come here against a porous Detroit Lions squad, although facing CB Darius Slay is an issue in and of itself. Until things turn around, I'd prefer to leave 'Scary Terry' on the bench. As for Kelvin Harmon, if he is still floating around your waiver wire, consider him an intriguing prospect to pick up. Like his counterpart McLaurin, Harmon was a late-round selection from the 2019 draft who was once viewed as the top wideout in the class. Harmon put together five catches for 53 yards last weekend and will look to continue that momentum that he showed with Haskins on Sunday. I would still leave him on my bench, but there may be something there for the future.
Kenny Golladay (WR, DET)
Kenny Golladay has seen his production level plummet under Jeff Driskel. His one-catch, 34-yard disappointment against the Dallas Cowboys could be a sign of things to come, as the wideout has lost his big-play ability with Matthew Stafford out of the lineup. The Redskins present a chance for Golladay to get right for a week, but I'm concerned that we might be in store for some ups-and-downs from here on out.
Marvin Jones Jr. (WR, DET)
Even though Marvin Jones was once thought of as a boom-or-bust fantasy option, the Lions have done a great job of having him run shorter routes this season. That has propelled him to be the 12th-ranked PPR WR in 2019 and has helped him to keep some of his upside potential with an inexperienced QB at the helm. All that is a good thing, but it is still difficult to view Jones as much more than a flex option with Jeff Driskel under center.
Danny Amendola (WR, DET)
Unless you are in the deepest of deep leagues, playing Danny Amendola doesn't excite me. Sure, there is a decent floor that he brings to the table, but I'd prefer playing options that have the chance for more upside. Perhaps he can provide that for you in a winnable matchup against the Redskins, but I'm not a huge fan of keeping low upside wideouts on my team and would prefer to take a gamble on players that could be game-changers if they catch the right break.
T.J. Hockenson (TE, DET)
If first impressions were the be-all and end-all, T.J. Hockenson would have been the new 'King of Motown' by now. Unfortunately, Hockenson has not been able to reproduce the quality we saw from him in Week 1 and has turned into a nightmare for fantasy owners this season. I keep waiting for him to replicate his first outing, but it is beginning to seem as if that is not going to happen again in 2019. Maybe the breakout comes this week against a struggling Redskins squad, but I'd prefer for it to happen on my bench than having to take another paltry score from the rookie in my starting lineup.
Oakland Raiders at New York Jets
Matchups We Love:
Sam Darnold (QB, NYJ)
The key to this game is going to be how often the Raiders can apply pressure to Sam Darnold? The second-year QB boasts a 102.1 passer rating to go along with a 5.6% touchdown rate when working from an unpressured pocket this season compared to a 34.8 rating and a 2.7% touchdown rate when pressured. The Raiders enter this game ranked 30th in pressure. If the Raiders can't create a pass rush, Darnold is going to find success.
Jamison Crowder (WR, NYJ)
Jamison Crowder remained Sam Darnold's favorite target in Week 11, catching five passes for 76 yards and a score during the Jets' victory over the Washington Redskins. That makes three straight fantasy explosions for Crowder, who is the top-ranked PPR WR since Week 9. Until that changes, Crowder deserves to be started.
Matchups We Hate:
None
Other Matchups:
Derek Carr (QB, OAK)
The way to beat the New York Jets is through the air, and Derek Carr will need to do just that if he wants to keep the Raiders in playoff contention. Carr's 86.2% completion rate in Week 11 marked the second-highest of his career, but I wouldn't be so quick to pencil him in for QB1 production once again. Although the Jets are vulnerable to the pass, this is a trap game for Oakland to slip up and one where Carr will need to bring his best stuff to find success. He is more of a QB2 for me this weekend.
Le'Veon Bell (RB, NYJ)
I acquired Le'Veon Bell in a lot of leagues after his slow start to the season, and I watch these games on Sunday and never realize just how many points he has scored. From a worried owner's perspective, Bell consistently seems to be off the field or plowing ahead for just two-yard gains, but the All-Pro back has been able to provide three straight quality performances in a row because of his usage through the air. I'm not thrilled about where he is heading with this offense, but you have to keep treating him as an RB2 for now.
Josh Jacobs (RB, OAK)
Anytime Josh Jacobs has gotten over 20 touches in a game in 2019, owners have celebrated massive fantasy performances. A showdown against New York is far from ideal, as the Jets rank first in success rate against the rush, but you are going to have to bite the bullet and hope the rookie performs. I am not loving the matchup, but he has earned his RB2 status.
Demaryius Thomas / Robby Anderson (WR, NYJ)
Robby Anderson has transformed into a boom-or-bust option that is touchdown dependant to find success in games. Demaryius Thomas has gotten a role that allows him to provide marginal success through volume. While the matchup remains winnable on paper for both wideouts, Anderson is more of a desperation option because of his low ceiling, whereas Thomas should be treated as a low upside flex play.
Tyrell Williams / Hunter Renfrow (WR, OAK)
The New York Jets' propensity to allow explosive passes could play out nicely for Tyrell Williams and his 15.4-yard per catch average this season. Hunter Renfrow caught five catches for 66 yards last weekend, but the average distance his targets traveled ended at only seven yards per attempt. If I have other options, I am ok leaving Renfrow on the bench this weekend but believe you have to play Williams because of his big-play ability.
Ryan Griffin (TE, NYJ)
Coming off of a five-catch, 109-yard and one-touchdown performance in Week 11, Ryan Griffin will remain a streamable option against the Oakland Raiders, who have allowed the fifth-most points to the position this season.

Darren Waller (TE, OAK)
If you take away Darren Waller's two huge performances this season, he has only surpassed 12.6 fantasy points once in his other eight games. I'm a little worried about Waller's lack of consistency lately, but the plethora of targets do help to alleviate some of those concerns. If you own the breakout TE, you are starting him.
Matchups Analysis - 4:00 PM ET Games
Dallas Cowboys at New England Patriots
Matchups We Love:
Ezekiel Elliott (RB, DAL)
I hesitate to "love" anybody taking on the Patriots Defense, but Ezekiel Elliott is in a realm of his own and New England hasn't been as impenetrable on the ground as through the air. Running backs are averaging 4.36 rushing yards per attempt against the Pats, which isn't ideal but is also not cause for discouragement. Dallas ranks sixth in yards before contact per rushing attempt at 2.6, so trust Elliott's offensive line to give him the room he needs to operate on Sunday in a game where the Cowboys will likely need him to come up big if they're going to win.
Matchups We Hate:
Rex Burkhead (RB, NE)
The New England rushing attack remains as untrustworthy as ever, but not for the same reasons we'd gotten used to in seasons past. While the Patriots used to frustrate us by featuring a different back seemingly every week, the struggles this year have been primarily the product of a running game that just isn't any good. In turn, New England has become increasingly more dependent on the pass of late. Rex Burkhead's role in the offense has lost all fantasy value as a result, and the Cowboys don't present a get-right matchup.
Amari Cooper (WR, DAL)
Look, he's Amari Cooper. You're rolling him out there no matter what. But if ever there was a week to project his upside as very limited, it's in a matchup with Stephon Gilmore on the other side. The Patriots have allowed exactly one player (Golden Tate, of all guys) to reach 100 yards receiving this season, and have surrendered one solitary touchdown to WRs (also Tate) all season. Lower your expectations for Cooper, as this won't be an easy one.
Other Matchups:
Tom Brady (QB, NE)
It's been awhile since the Cowboys were lit up through the air, and somehow the Jets were the last team to do it. Dallas has held the last four quarterbacks it's faced to 220 or fewer passing yards and six total touchdowns. After throwing for multiple TDs in four of his first five games, Tom Brady has accomplished that feat just once in his last five, and has been held without any passing touchdowns twice in the same span. Despite New England's sudden tendency to lean heavily on the pass over the last month or so, Brady hasn't greatly benefited from a fantasy perspective. You have to like Bill Belichick to out-coach Jason Garrett at least to the extent that the Patriots are able to get the best of the Cowboys' pass rush and secondary a handful of times, but Brady's overall fantasy outlook in this one is that of a high-end streaming option or low-end QB1.
Sony Michel (RB, NE)
Brady is averaging over 42 pass attempts per game in his last six. That's not the formula we were all expecting coming into this season, but the Patriots are officially a pass-happy offense. In their last two games especially, this has greatly hindered Sony Michel's fantasy value, as he's attempted 14 rushes combined. Combine the recent lack of volume with a matchup against a Dallas front that has allowed just one running back to go over 55 yards rushing since Week 5, and it's extremely difficult to trust Michel as anything other than a touchdown-dependent flex option. If I have to start him, I'm praying the Patriots see a handful of red zone opportunities; Michel is tied for third in the NFL with 11 carries inside the opposing team's five-yard line.
James White (RB, NE)
James White has remained a serviceable PPR option, even if New England's in-season metamorphosis into a pass-heavy offense would ideally have raised him higher than a mere low-end RB2. He's been averaging 6.2 targets per game, which is coincidentally the same number of catches per game the Cowboys Defense is allowing to his position. I like White to hit the over in a game where I expect his offense to run through him early, and I'd be comfortable starting him as a high-end flex at worst.
Julian Edelman / Phillip Dorsett / Mohamed Sanu (WR, NE)
All three of New England's top wide receivers are on the injury report as of Thursday evening. Julian Edelman doesn't appear in danger of missing Sunday's game, but fantasy owners will want to monitor him going into the weekend anyway. Mohamed Sanu appears in serious doubt of suiting up, as Thursday marked his second straight day without participating in practice. Phillip Dorsett's concussion kept him limited. Anyway, whoever plays wide receiver for the Patriots on Sunday is getting a Cowboys secondary that has been very stingy to the position. Opposing wide receivers are averaging just 10.3 receptions per game against Dallas, and have scored six total touchdowns. You're obviously trotting Edelman out there in his customary PPR role, assuming he's given the green light. I would have a hard time trusting anyone else on this depth chart. Dorsett's target share hasn't been fantasy-friendly for weeks, and Sanu has sandwiched one exceptional game in between two duds.
Update: Mohamed Sanu is officially listed as questionable, while Dorsett is not expected to suit up.
Dak Prescott (QB, DAL)
There are plenty of reasons I could list Dak Prescott among the hates this week. He's going on the road in cold weather to Gillette Stadium of all places to face a Patriots team that has held six straight opponents under 200 yards passing (and two of them under 100). The writing is certainly on the wall for a bad day out of Prescott. But New England is two weeks removed from struggling greatly against Lamar Jackson. What do Jackson and Prescott have in common? They can run. Prescott isn't quite as electrifying with his legs as Jackson, but they do give him the quickness and ability to create plays where there aren't any. Look for the Patriots' 27.5% pressure rate to result in several scrambling opportunities for Prescott, ultimately providing him with a decent floor for Week 12.
Michael Gallup (WR, DAL)
For all of the reasons discussed in Amari Cooper's write-up, I'm not crazy about Michael Gallup this week. But we also have to recognize that Prescott has to throw the ball to someone, and with Gilmore blanketing his number-one option, Gallup could be in line for a high-volume day. I'd still be hesitant to trust him as anything higher than a flex.
Randall Cobb (WR, DAL)
Randall Cobb has entered the realm of fantasy relevance after seeing at least seven targets in his last three games, and going for 100-plus yards and a touchdown in each of his last two. I'm actually optimistic that the target trend continues this week for the same reasons I'm not all-out on Gallup. As for the production, the Patriots secondary naturally detracts from his opportunity for another explosive fantasy performance. Treat him as a volume-dependent PPR flex.
Jason Witten (TE, DAL)
Jason Witten remains an un-flashy fantasy tight end, as his volume from week to week fluctuates enough that you can never be entirely sure what you're going to get. You like the idea that this could be a "boom" week for Witten, as the Cowboys' dynamic playmakers elsewhere on the field are sure to draw the mostly undivided attention of New England's defense. Still, that formula hasn't resulted in much production for his position: 3.8 receptions per game, 11 yards per catch. What is interesting is that three of the four passing touchdowns the Patriots have surrendered have gone to tight ends. Consider Witten a low-end and touchdown-dependent TE.
Jacksonville Jaguars at Tennessee Titans
Matchups We Love:
Derrick Henry (RB, TEN)
Jacksonville is allowing well over five yards per carry to opposing backs, and is enough of a pain to throw against that the Titans should be looking to establish Derrick Henry early and often on the ground. The volume has gone to Henry out of the Tennessee backfield all season long, and he's largely been as advertised in the production department now that he's finally being utilized appropriately. Expect another solid mid-range RB1 outing from the Titans workhorse.
Leonard Fournette (RB, JAX)
I'm not over the moon about Leonard Fournette's matchup this week; the Titans are holding opposing backs to just decimal points over four yards per carry, and have permitted just five rushing touchdowns to the position. But volume outweighs bland matchup outlooks for bell-cow running backs more often than not, and that's what Fournette is for Jacksonville. Any concerns you might have about his occasional inefficiency on the ground are offset by his weekly involvement in the passing game, as he's caught 19 passes in his last three games. The Titans are one of the league's more exploitable teams in this facet, surrendering 6.3 catches per game to RBs.
D.J. Chark (WR, JAX)
One thing we definitively learned in Nick Foles' return last week is that D.J. Chark isn't going anywhere. Foles looked his way 15 times in a loss to the Colts, and the Jags' number-one wideout hauled in eight of those for 104 yards and two scores. The Titans don't jump off the page at you as an inviting matchup, but at this point that doesn't matter for Chark. He needs to be started in all fantasy formats.
Matchups We Hate:
None
Other Matchups:
Ryan Tannehill (QB, TEN)
Ryan Tannehill has quietly posted solid fantasy numbers in four straight games, and has accounted for nine total touchdowns in the same span. He's also been efficient enough (71.3% completion rate) to warrant consideration as a relatively high-floor streaming option. The Jaguars are an overall quality pass defense, holding opponents to the eighth-lowest yards-per-game average through the air and pressuring the quarterback at the fourth-highest rate. They don't force turnovers very often, however, with the fifth-lowest rate in the NFL. I'd exhaust other options before turning to Tannehill, but if I'm in a Patrick Mahomes bye-week bind, I wouldn't run away from him either.
Corey Davis / A.J. Brown / Adam Humphries (WR, TEN)
If any of Tennessee's wide receivers had established anything resembling consistent chemistry with Tannehill, I wouldn't lump them all together. Unfortunately, there is no definitive option to count on. There is no consistent target share to depend on, though if you were going to lean that way, Corey Davis has the narrowest range of outcomes in the opportunity department. A.J. Brown is the upside play, though it should be noted he has seen four or fewer targets in six of 10 games. Adam Humphries simply hasn't been the PPR threat we hoped we might see at the beginning of the season. As for the matchup, the Jaguars are giving up a middling 12.2 receptions per game for 159.3 yards to WRs. I can see Brown and Davis doing enough to challenge those averages on their own, but at the same time I can see this entire trio failing to get there. There's too much risk here; as such, Brown and Davis are PPR dart throws.
Jonnu Smith / Delanie Walker (TE, TEN)
Delanie Walker hasn't played in more than a month and is still limited in practice, so for now it's likely best to operate as if he will miss Week 12. Jonnu Smith, like all of Tennessee's pass-catchers, hasn't offered anything in the form of weekly dependability. There's optimism to be found in the fact that he's seen an average of six targets over his last three games, but he'll likely need at least that to produce against a Jacksonville defense holding his position to 3.7 receptions per game. 
Nick Foles (QB, JAX)
The Titans haven't made it to Week 12 without being lit up by their fair share of quarterbacks, but the instances in question have predominantly come at the hands of guys with loftier fantasy reputations than Nick Foles. If there's promise in Foles' fantasy profile this week, it's that Tennessee is among the league's worst teams at creating pressure on the quarterback. Jaguars QBs are averaging 2.5 seconds of pocket time per passing play, which ranks among the NFL's highest. Foles should be looking at enough time to go through his reads and get the ball to his talented corps of WRs, but I'd still err on the side of caution if he was on my fantasy radar.
Dede Westbrook / Chris Conley (WR, JAX)
Dede Westbrook missed Thursday's practice due to illness, so keep an eye on him to make sure he's good to go as we approach the weekend. I'm not quite as all-in on him as I am (and we all should be) on Chark, but his target share has been enough to keep him in PPR flex territory most weeks. Chris Conley and his 17.9 yards per catch make for a compelling upside play against a Titans team with the sixth-highest average depth of target against. Chalk this up as something I didn't think I'd be saying this late in the season, but the Jaguars' triumvirate of WRs have all seen the opportunity to sustain fantasy relevance in most matchups.
Matchups Analysis - Sunday Night Football, 8:20 PM ET
Green Bay Packers at San Francisco 49ers
Matchups We Love:
Tevin Coleman (RB, SF)
As long as he doesn't have to share backfield work with Matt Breida, Tevin Coleman can be treated as a high-end RB2 with RB1 upside. That upside is very much in play against the Packers this week, as Green Bay is giving up just a shade under five yards per carry to opposing backs. The Packers' 11 rushing touchdowns (second-most) allowed to the position also bode well for Coleman. Coleman has been a letdown in the efficiency department often enough to give you pause, but this matchup should allow for a breezy fantasy day.
Aaron Jones (RB, GB)
The 49ers aren't the terrifying RB matchup they looked like early in the season. Christian McCaffrey, Kenyan Drake (twice), and Chris Carson have all put up solid fantasy numbers against this once-invincible defense. Considering they're still pretty stiff against the pass, I like Aaron Jones to see his customary RB1-caliber workload in Week 12. The Packers haven't shown a reluctance to rely on Jones when game flow calls for it, and he's put his signature on several of their eight wins this season as a result. If there's any reason to be concerned about him, it's that he's suddenly disappeared from PPR territory in recent weeks after seeing a ton of passing game work earlier on.
Matchups We Hate:
Jimmy Garoppolo (QB, SF)
After posting huge fantasy outings in two of his last three games, it might be tempting to hop aboard the Jimmy Garoppolo bandwagon. Let me talk you out of that. Those two great games came against the Cardinals, who throw defensive caution to the wind on a weekly basis. Garoppolo could also potentially be missing his top three receiving options in George Kittle, Emmanuel Sanders, and Deebo Samuel. Green Bay is a disaster against the run, meaning Garoppolo is likely to spend most of the day handing the ball to Tevin Coleman. San Francisco's defense is adept enough to keep this game relatively low-scoring, in turn limiting his upside. I don't hate him as a streaming option if his supporting cast is healthy, but I am out on him as anything higher than that.
Other Matchups:
Matt Breida (RB, SF)
Matt Breida missed Thursday's practice, which in turn puts a damper on his potential to play this Sunday. There's promise in the matchup if he gets the go-ahead, but how much do you trust a guy still working his way through an ankle injury less than three days before a game?
Update: Matt Breida is officially doubtful.
Raheem Mostert / Jeff Wilson Jr. (RB, SF)
I don't know how likely we are to see much of Raheem Mostert or Jeff Wilson this week, but they're both healthy running backs facing a dreadful run defense, so that counts for something. Wilson hasn't had a rushing attempt since Week 9, but we can't just casually shrug off the fact that he trails only Coleman among 49ers in carries inside the five. He's an extremely touchdown-dependent vulture threat for the truly desperate at RB or flex. I feel similarly about Mostert from a risk standpoint, but the window should be there for him to flirt with 10 or so touches provided Breida misses this game. He could spring one for a big play or touchdown against this Packers Defense.
Kendrick Bourne / Deebo Samuel / Emmanuel Sanders (WR, SF)
If it were any other team, I'd look favorably upon a group of WRs about to face a defense giving up nearly 17 yards per reception to the position. Unfortunately, Deebo Samuel and Emmanuel Sanders are questionable for this outing, so I'll try my best to sort this mess out. If at least one of them misses this game, Kendrick Bourne becomes a low-end fantasy starter after seeing 14 total targets in his last two games and converting those into 73 yards and two touchdowns. The way Samuel has been playing of late, he's a must-start as well. He's caught 16 of 21 targets for 246 yards in the last two weeks. Assuming he's healthy, he has to be viewed as the top fantasy option in this trio. Sanders worries me the most, as the rib injury he continues to play through may be slowing him down. He put up a pedestrian three catches for 33 yards in Week 11. I also have to mention that while Green Bay is routinely being beaten deep by wideouts, they're not giving up a ton of PPR production to the position (just 10.2 receptions per game). The injuries only serve to cloud this outlook further, and I've already touched on the idea that San Francisco should lean heavily on the ground game. Then there is the matter of the tight end…
Update: Emmanuel Sanders is officially listed as questionable, while Deebo Samuel is on track to play.
George Kittle / Ross Dwelley (TE, SF)
George Kittle was listed as a limited participant in Thursday's practice, casting doubt on his potential to play Sunday. The Sunday night start time naturally throws a wrench in the spokes of any fantasy owner hoping to capitalize on the surging 49ers pass offense, but contingencies need to be in place. If he's out there, he gets a Green Bay defense allowing nearly six receptions for over 60 yards a game to tight ends. The Packers have also allowed five touchdowns to the position. If he's not out there, the matchup falls to Ross Dwelley. Dwelley has hauled in seven of 12 targets for just 38 yards in Kittle's two-week absence, but he did score two touchdowns last week. If he's available in your league (and especially if you have Kittle), grab him as an emergency fill-in for this matchup.
Update: George Kittle is officially listed as questionable.
Jamaal Williams (RB, GB)
The Packers resorted to an even split in their backfield the last time we saw them, with both Jones and Jamaal Williams seeing 13 carries each. Jones did nothing to lose out on volume, as he accumulated more yards than Williams and scored three touchdowns. Considering the volatility in Williams' usage rates, it's difficult to view this as anything other than a blip on the radar. Williams likely needs to see more PPR work than he did in Week 10 (one target, zero receptions) to bring back consistent value, and the 49ers are among the stingiest teams in the league in that regard. Trust Williams as a PPR flex at your own risk.
Aaron Rodgers (QB, GB)
The matchup is enough for me to lump most quarterbacks among the hates, but Aaron Rodgers gets the benefit of the doubt where others do not. Rodgers routinely completes a high percentage of his passes and almost never commits turnovers, giving him a relatively high floor at the very least. It's his ceiling that worries me, naturally. San Francisco is giving up just one passing touchdown per game while pressuring the quarterback at the league's highest rate and holding opposing offenses under 150 passing yards per contest. For what it's worth, they rank third in turnover rate as well. What's even more telling about this unit as that these numbers have all stood the test of three straight shootouts. Any way, as Omar Little once said: You come at the king, you best not miss. If you bench Rodgers this week, you better hope he doesn't make you regret it.
Davante Adams (WR, GB)
Davante Adams continues to deal with the toe injury that caused him to miss time earlier this season, but it doesn't appear to be anything that will set him back for Week 12. Assuming he's active, he's arguably the only pass-catcher (outside of Jones and potentially Williams) that you can justify starting. Adams has picked up right where he left off since returning from injury, with Rodgers gratefully celebrating his presence with 21 total targets in two games. The matchup is dicey, as the 49ers are giving up just over 10 receptions per game to WRs. Adams is among the few guys out there you wouldn't hesitate to bet on achieving that total himself, so start him as you would any other week with what should be a WR2 floor.
Allen Lazard / Marquez Valdes-Scantling / Geronimo Allison (WR, GB)
I don't know what I'm supposed to do with the evidence at hand besides declare Allen Lazard the number-two wideout in Green Bay. Marquez Valdes-Scantling has virtually disappeared from the Packers offense, and that isn't just a product of Adams being back in the fold. Geronimo Allison hasn't fared much better in recent weeks, having hauled in just six catches for 34 yards in his last three games. Adams is a target vacuum, the Packers are willing to lean heavily on the run, and they're going to have to in this game. I'm avoiding all three of these WRs if I can help it.
Jimmy Graham (TE, GB)
The 49ers are statistically the worst possible matchup for a tight end, and Jimmy Graham hasn't exactly inspired much confidence from fantasy owners. He hasn't caught more than four passes in a game since Week 4. I'd be scouring the market for guys with more upside, even if I was only looking for a Week 12 streamer.
More Start/Sit Advice