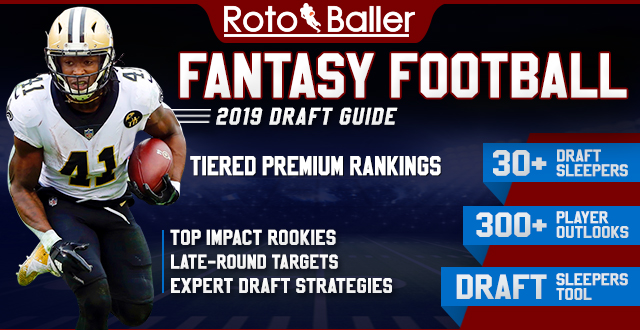 Kansas City Chiefs rookie wide receiver Mecole Hardman is, perhaps, the most difficult rookie receiver to value right now, because his immediate fantasy potential is almost entirely dependent on whether or not the NFL suspends Tyreek Hill and, if they do, on how long that suspension is.
Hardman is an interesting prospect, a speedster who can get behind defenses and fits well into what the Chiefs like to do offensively, which is have Patrick Mahomes, who was fourth in the league in air yards last year, throw the ball down the field. Hardman projects to be a deep ball option in the NFL, so his landing spot in Kansas City is a solid fit.
Let's talk about Mecole Hardman's fantasy value.
Editor's Note: Get any rest-of-season NFL Premium Pass for 50% off. Our exclusive DFS Tools, Lineup Optimizer and Premium DFS Research through the Super Bowl.
Sign Up Now!
Background
Among wide receivers, Hardman runs a 95th percentile 40-yard dash, but his other measurables don't stack up super well. 16th percentile in height. 17th in weight. Sixth in wingspan. He's got a lot of strength relative to his size, though, and had a 72nd percentile showing in the bench press, and he's got a decent vertical leap.
MockDraftable keeps track of Combine performances and includes a spot where you can see which other players have measurables that best compare to a player, and of Hardman's top four comparisons, three should be familiar names: Andy Isabella, Antonio Callaway, and Keke Coutee.
All three guys are known for their speed, though Isabella hasn't taken a snap in the NFL yet, so we don't know his role. Callaway's been a deep threat guy -- or, at least, should be a deep threat guy -- for the Browns, while Coutee went through an injury-riddled rookie campaign, but looks like one of those speedy, PPR machines in the slot, a guy who can take a variety of screens and sweeps and turn them into solid production.
Which of those roles would Hardman be best served in? Let's take a look at some of his college production and see if it reveals anything.
What Hardman Did In College
Workload is the big question when you look at Hardman's college numbers, as over his final two years at Georgia he had a combined 60 catches for 960 yards and 11 touchdowns. He added 13 rushing attempts over that time frame, as well as 73 punt or kick returns, one of which he turned into a touchdown.
Hardman's college dominator was only in the 19th percentile. Even D.K. Metcalf, who gets a lot of negative comments about his college productivity, had a 57th percentile dominator. So, Hardman's lack of high-level usage in college is concerning.
When he was on the field and getting the ball, Hardman was impressive:
Mecole Hardman is the most underrated receiver in college football @MecoleHardman4 pic.twitter.com/L8dgBYqtCB

— ☆ sᴀᴠᴀɴɴᴀʜ ᴋ ᴊᴏɴᴇs ☆ (@sav_katherine) May 20, 2018
In the clip above, Hardman shows not only his ability to get behind the defense, but also to break free from the defenders and keep his balance along the sideline. Hardman's mix of speed and strength -- especially for a player his size -- has the ability to create all kinds of mismatches for the Chiefs offensively.
Mecole Hardman with the 70 yard punt return TD #GoDawgs pic.twitter.com/mFHZoKIBb6

— WeRunThisState (@garunsthisstate) September 15, 2018
Here's Hardman's punt return touchdown, which gives us a good look at what happens when he gets off on the run. One of those things is, as the clip above also showed, that he's able to break tackles and keep his legs churning. After Hardman breaks that initial tackle, he's got blockers in the right spots and is able to turn on his jets and take the ball to the house.
What to Expect Moving Forward
Now, let's go ahead and break this section down even further, into two potential futures for Hardman.
Tyreek Hill Misses Little or No Time
This scenario isn't good for Hardman's fantasy value.
With Hill serving as the team's WR1 and deep threat, Hardman would likely split snaps as the third receiver and also play when the team runs a four receiver set. The problem with that, though? Last year, they didn't run four receiver sets, because the best version of this team keeps Travis Kelce and a running back on the field at all times. That's part of why despite the prolificness of this offense, the receivers after Hill and Sammy Watkins weren't all that valuable.
In this scenario, Hardman's a gadget player offensively who'll likely have most of the team's return duties. Not an exciting outcome.
Tyreek Hill Misses Most or All of the Season
Without Hill, Hardman does become a lot more interesting. I was talking earlier this week with fellow RotoBaller writer Gage Bridgford about this on Twitter because we have differing opinions on Hardman's upside: Gage thinks Hardman could be the top rookie wide receiver this year because of his foot speed and Patrick Mahomes liking to throw it deep, while I'm a little more cautious. Sammy Watkins slides into the number-one role with Hill out, and I think head coach Andy Reid is going to trust Demarcus Robinson before he trusts Hardman. This still puts Hardman in the third receiver spot, but he wouldn't be sharing it with Robinson, which would keep him on the field more; last year, the Chiefs used a 1-1-3 grouping on 60 percent of their total offensive snaps. Hardman can serve as a jet sweep guy, but he can also be used as a burner in this scenario. I still don't love his value, but if he can show that he's capable of handling something closer to a full workload, there's some deep league flex appeal for Hardman.
Still, he's a rookie whose primary skill is being very fast. There's a learning curve, and even if you don't love the other receiving options on this Chiefs team, I think it's a little too much to expect immediate results from Hardman.
More NFL Rookie Profiles