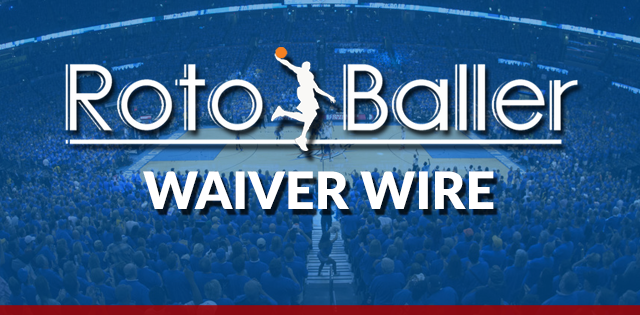 What a great opening week. There's been some surprises and some mild disappointments. However as I mentioned last week, this is a reminder that fantasy basketball is a marathon, not a sprint. In this early part of the season, it's super important to have a roster spot open on your team. The reason being is that you are likely to find hidden gems early part of the first week of the season as opposed to later in the season. For example, Pascal Siakam comes to mind as he was not being drafted in a lot of leagues last season, but he became a top-50 player by season's end.
It's always helpful to see early rotations early birds of the season, but it's mindful to take all factors into consideration. Players may be off to slow starts, and it may take a week or two to see consistency. Also be mindful players who are off to flaming hot starts may eventually cool off, or eventually fade out.
As a reminder for most leagues, it's crucial to plan ahead. Waiver wire adds, scheduling and player injuries are all things to consider. Make an effort to improve your team by maximizing your weekly adds and utilizing streamer spots via the waiver wire. In some cases, preach some patience in the early part of the season if a player isn't busting out of the gates. For example, owners were dropping Trae Young last season because of his inefficiencies.  Don't be that guy! Be wary of weekly streaming options and stay ahead of your opponents. Our staff at RotoBaller has great insight and daily columns on how to improve your squad and tips to make your team successful, so be sure to check them out! Now let's get prepared for Week 2.
Editor's Note: Get any full-season NBA and DFS Premium Pass for 50% off. Our exclusive Preseason Draft Kit, 10 In-Season Lineup/DFS tools, and daily Premium DFS Research.
Sign Up Now!
Week 2 Schedule
4 Games - Jazz, Spurs, Kings, Magic, Knicks, Bucks, Clippers, Pacers, Rockets, Warriors, Pistons, Nuggets, Cavaliers, Bulls

3 Games - Hawks, Nets, Hornets, Mavericks, Lakers, Heat, Pelicans, Thunder, Sixers, Suns, Trail Blazers, Raptors
2 Games - Wizards, Timberwolves, Grizzlies, Celtics
Week 2 Standard Leagues - Waiver Wire Pickups
*Securing your categorical needs at this point is important, especially if you're playing in head-to-head leagues*
I write my columns based on H2H 9-category standard size leagues:
The following adds for Week 2 means all of these players are good to be dropped after you maximize the games played. Owners should be targeting long-term prospects who can contribute in multiple games, if not the entire season during the first couple of weeks of the NBA season.
Dwayne Bacon - SG - Charlotte Hornets (27% owned)
Bacon hasn't been shy in the preseason, jacking up shot after shot for this Charlotte Hornets team. He'll be given opportunities as one of the few who isn't shy about shooting it. He looks to be a good bet to average double-digits given his ability to knock down 3-pointers. The Hornets will be one of the worst teams this season, but look for Bacon to provide a decent source of points and 3-pointers. The inefficiency is a killer, but he's worth a streamer spot to see what happens.
Devonte' Graham - PG - Charlotte Hornets (47% owned)

Graham has outplayed Rozier in the two games thus far this season, but we also cannot expect him to continue shooting 62 percent from the field, including 75 percent from deep. Graham's averaging six 3-pointers per game and he's averaging 23.5 points in just 27.5 minutes of action. It's early into the season, so don't go dropping someone with a better outlook for Graham. However, he should be in most rosters in all 12+ team leagues.
Kendrick Nunn - PG  - Miami Heat (45% owned)

I'm not convinced this will continue when Jimmy Butler (birth of child) returns to the lineup this week, but you cannot ignore what Nunn's been capable of doing thus far this season. He's off to a great start right now, and it looks like he will remain a starter even when Butler returns to the lineup. I would grab Nunn seeing that he's able to flirt with top-100 value all season. Look for Nunn to boost your points, 3-pointers, with a sprinkle of assists.
PJ Washington - PF/C - Charlotte Hornets (67% owned)
The front court of the Charlotte Hornets is very thin, with Cody Zeller looking to start at center on opening night. With the Hornets looking treating this season to give the young core as much playing time as possible, Washington could see himself into a 20-minute role right from the start of the season. Washington averaged 12.2 points with 5.0 rebounds, and 1.8 assists per game through preseason. He also has the ability to knock down 3-pointers, averaging 1.6 3-pointers per game with a steal and 0.8 blocks per game as well. He's got a versatile fantasy game which is worth holding onto for the first couple of weeks to see what happens.
EDIT: He's a must-own player moving forward. The Hornets are going to be development mode all season and there's little reason to not throw Washington into the fire. He's responded quite well, including a 27-point outing in the season opener. He won't be this good from deep, but it's not crazy to think he can average close to two triples per game.
Frank Kaminsky - PG/C - Phoenix Suns (28% owned) / Dario Saric - PF/C - Phoenix Suns (46% owned) /Aron Baynes - C - Phoenix Suns (18% owned)
DeAndre Ayton (suspension - 25 games) will open up all the minutes for Kaminsky, Baynes, and Saric. All three players are likely to earn a bump where Kaminsky probably provides the most upside of the three players, where Baynes will give you traditional big man numbers. Saric will be a wild card on any given night but look for all 3 to be worth of a streamer spot where Kaminsky should be the one you should be targeting in most leagues.
Bryn Forbes - PG/SG - San Antonio Spurs (14% owned)
Forbes seems to have cemented a starting role and has killed the value of teammate Derrick White thus far. Forbes provides better spacing in the starting unit along side Dejounte Murray, so I guess it makes sense that Forbes is getting a majority of the minutes. With that said, Forbes is a bit limited outside of 3-pointers and points, but he remains consistent enough to warrant a spot in most rosters. Forbes is averaging 18.0 points per game, 4.5 rebounds, 2.0 assists, to go with 3.5 3-pointers made per game.
Markelle Fultz PG - Orlando Magic (25% owned)
Fultz is a low risk, high reward stash at this point, and he's looked pretty good early into the season. The Magic currently has D.J Augustine still as the starting point guard, and it would be surprising if we didn't see Fultz being promoted into the starting lineup soon. The Magic likely wants to ease him back into action, which explains just 23.5 minutes per game. He's also been productive enough to be added in most leagues, having averaged 12.0 points and 4.5 assists per game. Treat him like a stash with upside later into the season.
Isaiah Thomas - PG - Washington Wizards (31% owned)
Isaiah Thomas didn't disappoint on Saturday, finishing with 16 points and five assists in just 19 minutes of action. The usage was crazy with him leading the second unit and as long as he's healthy - he should be owned in most leagues. Although we should not expect to see Isaiah Thomas from the Boston Celtics days, he's a player who can get hot on any given night and be a nice sneaky source of points, assists, and free throw percentage. He's definitely worth a flier if he's available on the waiver wire and you're in need of a point guard.
OG Anunoby - SF/PF - Toronto Raptors (60% owned)
OG Anunoby has been killing it in the preseason, scoring 18 points with six rebounds, one assist and four 3-pointers in 28 minutes against the Nets on Friday. He'd be battling Norman Powell for the small forward minutes, but he's also got path to play the power forward whenever the Raptors decides to go small. OG has some upside as well, since he can hit 3-pointers and generate some steals with a sprinkle of assists and boards. We're not expecting him to be the next Pascal Siakam, but if he can evaluate his play from last season - he's certainly worth a look in standard leagues.
Patrick Beverley - PG - Los Angeles Clippers (69% owned)
Beverley is arguably the Clippers captain, leading the team on a nightly basis with his defensive intensity. He's not the most fun guy to own, but his ability to pick up the peripheral across the board makes him a valuable player to have in standard leagues. He also won't hurt you in turnovers, although his shooting struggles on some nights will be annoying. Make sure he's not on your waiver wire.
More Fantasy Basketball Analysis
By popular demand, RotoBaller has aggregated all of our fantasy basketball NBA waiver wire pickups into a running list of NBA waiver options, so bookmark the page and check back often for updates.