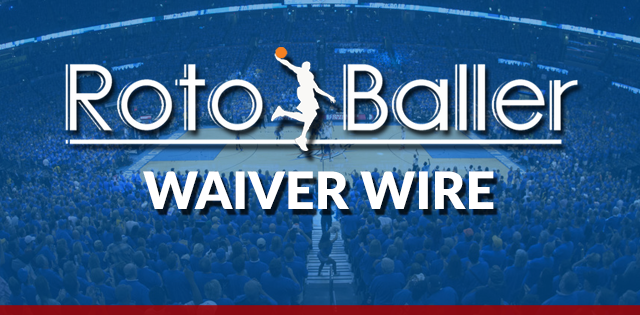 The waiver wire is where leagues are won and lost. The draft is long past and now your rosters feel completely different if you are even moderately active. Players come and go due to poor performances and/or injury all the time. Staying on top of your needs is essential to winning matchups and grinding your way to a championship.
Be mindful of some of the players on your roster as they may be off to slow starts, and it could take another week or two to see the return you expected when drafting them. Typically, you should be looking to drop those on the end of your bench who, even if productive, do not provide a real long-term outlook. Stay the course with the talent you drafted.
As a reminder for most leagues, it is crucial to plan ahead. Waiver wire adds, scheduling and player injuries are all things to consider. Make an effort to improve your team by maximizing your weekly adds and utilizing streamer spots via the waiver wire. Be wary of weekly streaming options and stay ahead of your opponents. Our staff at RotoBaller has great insight and daily columns on how to improve your squad and tips to make your team successful, so be sure to check them out! Now, let's get prepared for Week 4.
Editor's Note: Get any full-season NBA and DFS Premium Pass for 50% off. Our exclusive DFS tools, Lineup Optimizer and daily Premium DFS Research.
Sign Up Now!
Week 4 Schedule
4 Games - Timberwolves, Celtics, Lakers, Clippers, Hawks, Pelicans, Grizzlies, Rockets, Warriors, Spurs, 76ers

3 Games - Pistons, Mavericks, Knicks, Bulls, Jazz, Raptors, Pacers, Cavaliers, Nets, Nuggets, Heat, Trailblazers, Hornets, Kings, Wizards, Magic
2 Games - Suns, Bucks, Thunder
Week 4 Standard Leagues - Waiver Wire Pickups
*Securing your categorical needs at this point is important, especially if you're playing in head-to-head leagues*
Columns are written based on H2H 9-category standard size leagues:
Jabari Parker- PF - Atlanta Hawks (55% owned)
Parker's ownership has appropriately doubled since John Collins' suspension. Parker is reaching "must-own" territory with his performances of late. He is on a fast Hawks squad that gets him open looks on the floor and due to their lack of depth, keeps him playing massive minutes per game. Parker's minutes have gone up nearly 50% from the start of the season and he will look to continue compiling gaudy scoring stats along with solid rebounds while Collins is out of action. Parker's pretty useless for stocks and he will turn the ball over a bit but at least he does provide a high FG and platable FT percentage. As long as he is healthy, he is viable in all formats.
Danuel House Jr. - SF - Houston Rockets (48% owned)
House Jr. hits threes, scores efficiently, grabs rebounds and collects stocks. It is hard to hate a guy who is producing like this even if he is not a household name. House Jr's rise to fantasy relevance is sweet for anyone who still has him available in their waiver pool. Guys like him go unnoticed for weeks in some leagues because of their unknown nature. He is currently producing as a top-50 player and although that should not be expected ROS, it is not unreasonable to get top-75-to-100 stuff from someone free on the wire.
Kevin Huerter - SG - Atlanta Hawks (44% owned)

The Big Huert is finally coming along. After missing the preseason with a knee injury, his minutes have returned to normal levels. His most recent game on Friday is promising for his fantasy prospects even though it was against a glorified G League level team. Huerter's knee could be an issue down the line (he is currently probable for Sunday) but for now, we should assume that he is getting healthier and back on track. Huerter was not much of a fantasy value last year due to being a rookie on a terrible team. However, he has the potential to have some value this year on a less awful roster. Threes and points are where he will be most useful with rebounds/assists/steals all sprinkled in throughout the week. The low turnovers are a nice cushion from the poor field goal percentage too. He's worthy of ownership in all 12+ teamers.
Ivica Zubac - C - Los Angeles Clippers (32% owned)
ZUUUU is pretty much a situational role player but he fills that role very well in fantasy and reality. He is not asked to play too much and still provides top-100 numbers. This is mainly due to his blocks and that is totally fine. It is difficult to find someone who can block shots and not kill your FT percentage. On the contrary, he actually boosts it with his three attempts per game. Zubac is an underrated asset in most leagues as he can boost your field goal percentage a bit, rebound and not hurt your turnoverss. If (God forbid) an injury were to hit Montrezl Harrell, Zubac would be a must-add across the board. For now, he should be reserved for those in 12+ teamers.
Alec Burks - SG - Golden State Warriors (25% owned)
Alec Burks is playing a major role in Golden State's rotation. His minutes have increased since the start of November and have climbed to 36 most recently on Saturday. Burks should continue playing this much as long as he is healthy and productive given the Warriors' atrocious situation this season. Burks is helpful for threes, points, rebounds FT%, and does not hurt your turnovers too much. The stocks are minimal and the FG% should regress eventually but he will get his fair share of shots to produce with. Burks is worth owning if you need scoring first, and foremost. Otherwise, look elsewhere.
Frank Ntilikina - PG  - New York Knicks (21% owned)

The stock monster is reaping. Ntilikina's playing nearly 40 minutes a night and absolutely stacking up steals and blocks. Fizdale's rotations are unpredictable but at least for now we should assume that Frankie Smokes is a major cog. The Knicks are currently without Dennis Smith Jr. due to personal reasons and Elfrid Payton's injured. Once/if either return, Ntilikina's minutes could drop, but that also depends on if he stops producing. He is currently on fire as he is playing with a newfound confidence that led him to nearly assassinating Kristaps Porzingas with a dunk attempt. If this keeps up, he is a must-own player, however, we have seen stretches of brilliance in the past followed by absolute dust on the stat sheet. Ntilikina is a volatile fantasy add but could be worthwhile if he is actually putting things together. Take a shot in any league if you're feeling risky. He should provide assists, blocks, and steals, three of the hardest categories to fill, especially together in one package.
Daniel Theis - C - Boston Celtics (11% owned)
Theis has played well in Enes Kanter's absence. He is filling the Aron Baynes role in Boston as the interior enforcer and is producing some fantasy value while he's at it. Theis is pretty useless outside of blocks and rebounds but that is fine. Blocks are hard to find and he isn't shooting enough free throws to kill you and outweigh the value. He can score a little bit and might throw you a bone with an occasional steal. The good news is his FG is very solid and he does not turn it over. Grab him as a specialist in any league while Kanter is out.
Raul Neto - PG - Philadelphia 76ers (3% owned) 
This is only in case Ben Simmons misses more time with his injured shoulder. Neto has stepped in and produced these past few games. If he is asked to continue playing heavy minutes in Simmons' place, he should be a valuable stream for Week 4 given that the 76ers play a four-game slate. Points, assists, threes, a steal, and solid percentages are to be expected if Neto does continue playing. He is waiver fodder right in any other case.
More Fantasy Basketball Analysis
By popular demand, RotoBaller has aggregated all of our fantasy basketball NBA waiver wire pickups into a running list of NBA waiver options, so bookmark the page and check back often for updates.