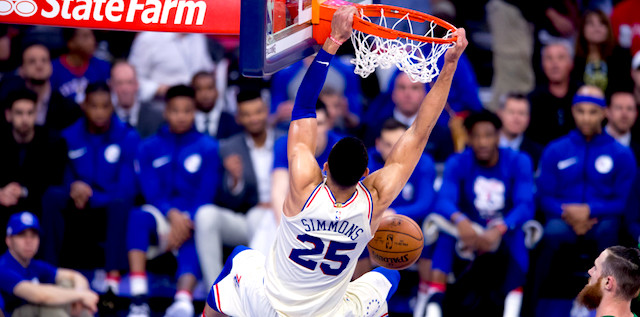 We are officially on our second day of NBA DFS basketball and Thursday's three game slate has a lot to live up to. There are already plenty of names starting to emerge and unfortunately for the Miami Heat, they will be the only team on the second night of a back-to-back. A little cruel, but regardless we need to take advantage wherever possible. Also, the Lakers-Trail Blazers game is great for stacking and chances are, cashing out will require multiple players in that late game.
In this article, I will be providing you with my daily fantasy basketball lineup picks for FanDuel on 10/18/18. These DFS lineup picks can vary from higher-priced players and elite options to lower-priced players and value picks on FanDuel. You can also check out today's DraftKings lineup picks and our Premium DFS Cheat Sheet.
As always, don't set your lineups to early and check player statuses prior to opening tip. You can find me in the NBA Chat Room or on Twitter, @HalfCourtJester.
Editor's Note: Our friends at Monkey Knife Fight have the best, most fun, fastest growing DFS props game! It's super simple to play and to win real money. Just choose your NBA, NHL or PGA game, and make your picks! Get a 100% instant deposit bonus up to $50 using promo code: BALLER. That's $50 for free - don't miss out!
Play Now!
FanDuel DFS Guards
Goran Dragic - PG, MIA @ WAS (FD - $6,000)
Goran Dragic was shooting incredibly well Wednesday night and that should continue going into Thursday. He does face the Wizards backcourt, but if Dragic's shooting continues, it won't matter. The Heat look like an entirely different team and play like a contender when they have a someone playing like Dragic did Wednesday, acting as a nightly superstar. Dragic has the ability to be a top guard but struggles with shooting consistency. Even then, he tends to start strong so look for him to continue this uptrend for the next week or so.
Evan Turner - SG, POR vs LAL (FD - $4,200)
It's not guaranteed Evan Turner will play tonight so be cautious, but he is one of the better isolation players on the team and is a top reserve. With a price this low and a defense as skeptical as the Lakers, Turner could be a top sleeper as long as he is hitting his shots. He fills the stat sheet and plays enough defense to justify minutes, he just needs to be healthy before he is thriving in DFS. Nights like tonight are ideal for veterans because young guys are prone to struggle in their first few games.
FanDuel DFS Forwards
Ben Simmons - SF, PHI vs CHI (FD - $9,500)
After his first game, it's once again clear you can't really fade Ben Simmons on nights like tonight. His stat lines are already absurd and the Bulls defense has not really improved since last season. They added a few pieces but still lack a defensive foundation outside of Robin Lopez. Until then, stack the superstars against Chicago and especially Simmons. There is no reason he shouldn't post a similar stat line unless he literally just doesn't play well, but I wouldn't bank on that. Simmons looks like he's gotten better. Still can't shoot though.
Jabari Parker - PF, CHI @ PHI (FD - $5,200)
Jabari Parker is going to start this season as the best player on the Bulls and it should reflect the box score. The 76ers defense, mainly Robert Covington is capable of limiting Parker but he shouldn't keep him from getting to his spots and producing. The Celtics were able to shoot all over the 76ers and although the Bulls don't have that scoring capability, Chicago have a mixture of athleticism that can open the door specifically for Parker to contribute all over the court.
FanDuel DFS Centers
Dwight Howard - C, WAS vs MIA (FD - $5,900)
If Dwight Howard is playing, you should absolutely roster him. Not only are the Heat going to be somewhat fatigued from their game Wednesday, but they don't really have a strong paint presence. Hassan Whiteside used to be a shot blocker, but his defensive effort has significantly changed over the past two seasons and he struggles against veteran bigs. In this case, Howard is ideal for usage, but if he doesn't play, Jason Smith should get the start and must be played. Smith still has the rebound ability to be relevant and his outside shot just increases his upside even more.

Ivica Zubac - C, LAL @ POR (FD - $3,400)
Not many cheap options with the ability to post numbers like Ivica Zubac. He is going to get plenty of minutes and although he won't have eye-popping stats, for his price it's going be hard for him not to exceed his projected. Zubac is not the most skilled big, but he does have the ability to get easy rebounds and score in the paint, especially against someone like Jusuf Nurkic. Assuming that the Trail Blazers leave Nurkic to hold Zubac, this could be a big step in the right direction for the young center. Either way, this is a cheap option with solid upside because of his height and role, but don't be surprised if he posts a typical young player stat line and struggles to score.
NBA News and Player Updates