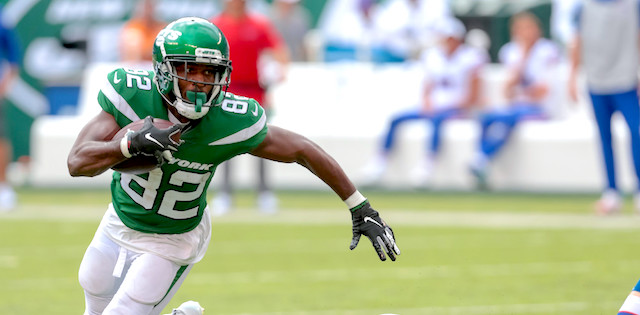 Assisting our famous waiver wire pickups list, and our weekly waiver wire columns by position, this column focuses on suggested waiver wire bidding percentages for fantasy football owners in leagues using a Free Agent Acquisition Budget (FAAB).
As a caveat, these prices do not by any means indicate how much these free agent players will go for. Each league values players differently and will continue to do so. These auction values are here to provide a baseline to understand roughly how much you should be targeting to spend on a particular player. If you want to go wild and blow a chunk of your budget on a guy you believe in, by all means, carry on. However, these players are not a dime a dozen. Guys get injured, and other guys replace them and their production all the time, every year. You only have so much FAAB money, spend it as wisely as possible.
Everyone has a vision for the football season before it's begun -- a plan, if you will -- and then the first week happens and chaos ensues. Is there a breakout star or two in our midst? Do we have a bunch of carriages just waiting to turn into pumpkins? Help us help you by reading our FAAB auction bidding recommendations for Week 2 below.
Editor's Note: Get any rest-of-season NFL Premium Pass for 50% off. Our exclusive DFS Tools, Lineup Optimizer and Premium DFS Research through the Super Bowl.
Sign Up Now!
FAAB Waiver Wire Bids - Quarterbacks
Matthew Stafford (QB, DET) - FAAB Bid: 2-3%
26% owned
Stafford ate up the Cardinals Defense across five quarters (thanks, overtime) for 385 yards, three touchdowns and zero interceptions. You could skip Week 2's matchup with the Chargers, but the Eagles in Week 3 and Chiefs in Week 4 could bring similar QB1 profits.
Marcus Mariota (QB, TEN) - FAAB Bid: 0-1%
8% owned
Mariota didn't need his legs in Week 1 thanks to a trio of passing TDs in a thumping of the Cleveland Browns. He only passed for 248 yards, which aligns with the Mariota and Titans offense that we know, but he looked particularly in tune with Delanie Walker and A.J. Brown. It's still Derrick Henry's offense, but the Titans face a Colts team that Philip Rivers just hit up for three TDs himself.
Gardner Minshew (QB, JAX) - FAAB Bid: 0-1%
0% owned
Minshew came on for an injured Nick Foles and completed 22-of-25 passes for 275 yards with two TDs and one pick in an uphill battle against the Chiefs. Minshew looked composed and could surprise against a Texans Defense that just lost a premier pass-rusher and has little to boast about in the secondary. Not only that, but the guy drops Remember the Titans quotes, making him a winner in my book.
FAAB Waiver Wire Bids - Running Backs
Malcolm Brown (RB, LAR) - FAAB Bid: 15-20%
12% owned
Todd Gurley looked okay when on the field, but Brown won the "when" contest by getting five red-zone touches compared to Gurley's one. This led to a juicy 11-53-2 line for anyone crazy enough to start him from the jump. We can't just anoint Brown as the Rams' goal-line back, but if that trend proves true then you need to buy-in. It's as simple as that and if you don't want to gamble on it then spend elsewhere.
Ronald Jones II (RB, TB) - FAAB Bid: 10-15%
28% owned
Jones was one of the few effective Buccaneers in Week 1, rushing for 75 yards on 13 totes while sprinkling in an 18-yard catch. For context, Peyton Barber had just 33 yards on eight rushes, though PPR owners should note Dare Ogunbowale had four catches for 33 yards. Bruce Arians has little-to-zero loyalty towards any of these backs, so let this week's usage and production guide us.
Adrian Peterson (RB, WAS) - FAAB Bid: 7-10%
38% owned
Peterson goes from inactive in Week 1 to hot add in Week 2, all because Derrius Guice has a meniscus injury and expects to miss a few weeks. Guice had a paltry 10 rushes for 18 yards before leaving the game and I don't have high expectations for Washington's offensive line. They're always a strong candidate to be playing from behind, especially against Dallas in Week 2 and AP is a no-go against Chicago in Week 3. You can tepidly buy if you need the warm body, but I prefer going in other directions.
Giovani Bernard (RB, CIN) - FAAB Bid: 5-10%
14% owned
Joe Mixon is day-to-day with an ankle injury, which means the newly-extended Bernard could be Cincy's workhorse RB for Week 2's date with the Niners. Gio totaled 63 yards on nine touches in their Week 1 loss to Seattle and would be an RB2 should Mixon be limited or out. The O-line is in tatters but Gio's receiving chops give him a volume floor around 18-20 touches if given lead-back duties.
Raheem Mostert (RB, SF) - FAAB Bid: 6-8%
1% owned
Tevin Coleman is "week-to-week" with a high-ankle sprain per HC Kyle Shanahan, meaning Mostert will join Matt Breida as San Fran's one-two punch. Mostert is known for his special teams work, but mustered 40 yards on nine carries in Week 1 while both Coleman and Breida battled their injuries. Shanahan says Mostert will have to step up in Week 2 against the Bengals but do note the 49ers have an early bye in Week 4.
FAAB Waiver Wire Bids - Wide Receivers
Jamison Crowder (WR, NYJ) - FAAB Bid: 15-18%
46% owned
Crowder's 17 targets lead the NFL through one week of action, as Sam Darnold was unafraid to check down to his new possession receiver. Crowder caught 14 of them for 99 yards and turned in PPR gold for those who believed in him. Expect more of the same, with he and Le'Veon Bell drawing Darnold's eye often in the short-to-intermediate game.
Terry McLaurin (WR, WAS) - FAAB Bid: 14-16%
3% owned
Washington's passing game was one of Week 1's bigger surprises, with McLaurin's 5-125-1 line leading the WR corps. His route-running was praised throughout the preseason and it's clear why they moved on from Josh Doctson. Well, more clear. Washington had five players see six or more targets, but no one else topped 70 yards with their opportunity. I'm relatively unfazed by Case Keenum spreading the ball around in this one, and the Derrius Guice injury means more negative game scripts that will require passing.
Marquise Brown (WR, BAL) - FAAB Bid: 10-12%
31% owned
Brown somehow parlayed just 12 snaps into a 4-157-2 line and is clearly over whatever ailed him this offseason. Mind the usage, but I trust the playing time to catch up to his talent throughout 2019. Realizing that Baltimore will still be a run-heavy unit, they also won't be nearly that efficient in the future and the top-end production will smooth out over more snaps.
D.K. Metcalf (WR, SEA) - FAAB Bid: 10-12%
38% owned
After it seemed Metcalf would open 2019 with injury limitations, he and Chris Carson were the only Seahawks to see more than two targets during their 21-20 victory over Cincinnati. Metcalf caught four of his six looks for a team-high 89 yards. Jaron Brown barely saw the field and David Moore's shoulder will need a while to heal up. This team may emphasize the run, but games against Pittsburgh and New Orleans in the coming weeks should require more than 20 pass attempts from Russell Wilson.
John Ross (WR, CIN) - FAAB Bid: 8-10%
9% owned
If we're dealing with a consistent Ross then look out. The speedy wideout did his best A.J. Green impersonation by torching Seattle for 158 yards and two touchdowns. It's hard to buy in long-term with Green (hopefully) returning in the next month and there's no way Dalton averages 50 passes a game, but Joe Mixon's injury could leave the Bengals throwing more in Week 2 against San Francisco.
Danny Amendola (WR, DET) - FAAB Bid: 3-5%
6% owned
Why can't Amendola be close to what Golden Tate was for Detroit? Matt Patricia is familiar with Amendola's abilities and deployed him appropriately. Amendola saw 13 targets, catching seven of them for 104 yards and a score. The caveat that Detroit faced Arizona remains, but there have to be far more PPR leagues out there than the 6% ownership rate reflects.
Randall Cobb (WR, DAL) - FAAB Bid: 3-5%
10% owned
Cobb has teased us before, exploding in Week 1 of last season only to fade. The good news behind 2019's 4-69-1 line is that Dallas' schedule yields Washington, Miami, New Orleans, Green Bay, the New York Jets and the Eagles prior to their Week 8 bye. Those are some ripe passing matchups and Cobb playing on 71% of their Week 1 snaps is encouraging.
D.J. Chark (WR, JAX) - FAAB Bid: 3-5%
2% owned
Chark turned in 146 yards and a touchdown on just four catches while playing on 41-of-58 snaps (71%) in Week 1. I believe the upside is higher here than Chris Conley, but I won't blame anyone for adding Conley for cheaper after he actually outsnapped Chark by three and quietly led the Jags with seven targets for a not-so-quiet 6-97-1 line.
FAAB Waiver Wire Bids - Tight Ends
T.J. Hockenson (TE, DET) - FAAB Bid: 12-15%
52% owned
Hockenson hauled in six of his nine targets for 131 yards and a touchdown in his NFL debut. While Jesse James still played more snaps, it's clear Hock is the fantasy answer here as James had just one target. Don't buy in expecting Rob Gronkowski because these aren't the Patriots and the Lions won't face the Cardinals' poor excuse of a defense next week. Still, games against the Chargers, Eagles and Chiefs before their Week 5 bye should have Detroit leaning on its passing game an awful lot, despite Matt Patricia's finest coachspeak.
Darren Waller (TE, OAK) - FAAB Bid: 10-12%
43% owned
Waller caught seven balls for 70 yards as he showed off the size and athleticism on primetime television. No Antonio Brown hurts this offense -- no question about it -- but Waller could lead this offense in targets on any given night. Plus, Waller is still too fast for linebackers and too big for defensive backs. I won't be surprised by 10-plus targets in Week 2 against Kansas City.
Jimmy Graham (TE, GB) - FAAB Bid: 2-3%
48% owned
Graham had the honor of scoring 2019's first TD of the regular season in a brutal TNF opener. It helped mask that he only played on 55% of Green Bay's snaps, while Marcedes Lewis tallied 53% in a close split. Still, Graham doubled Lewis' target count with six on an underwhelming night from Aaron Rodgers. When you put up 3-30-1 while Davante Adams can only get 4-36-0 then I think it's okay to expect more moving forward from the offense as a whole.
Vernon Davis (TE, WAS) - FAAB Bid: 2-3%
2% owned
Jordan Reed was unable to suit up for Week 1 thanks to another concussion, which left the door open for Davis to put up a 4-59-1 line highlighted by a hurdle and poor tackling by the Eagles on his score. Washington's head coach, Jay Gruden, said he's "very optimistic about Reed, but...the most important thing is getting him symptom-free," per Matthew Paras of the Washington Times. 
This is the seventh confirmed concussion of Reed's career and as someone who suffered from post-concussion syndrome myself, I hope they take it seriously and that getting symptom-free can be a tumultuous process. Davis played 82% of their snaps with Reed out, making him a nice short-term add for Week 2 against a Dallas defense that just yielded an 11-114-1 line to Evan Engram.
FAAB Waiver Wire Bids - Defense/Special Teams
Kansas City Chiefs D/ST - FAAB Bid: 1-2%
34% owned
The Chiefs Defense draws an Oakland offense that, while better than expected against Denver, is still a subpar unit. KC's own defense isn't spectacular, but opponents are forced into risk-taking scenarios by virtue of the Chiefs' overpowered offense. They forced two turnovers against Jacksonville in Week 1 and were tied for the fifth-best defense last season.
Carolina Panthers D/ST - FAAB Bid: 0-1%
6% owned
The Panthers had the misfortune of facing the Rams in Week 1, but now they host mistake-prone Jameis Winston and the Buccaneers. In fact, Carolina faces Tampa, Arizona, Houston, Jacksonville and then Tampa again in Week 6 before their bye. Only Houston scares me in there for those seeking a longer-term add. Gerald McCoy's revenge game could be an ugly one for the Bucs and a juicy one for those streaming Carolina.
San Francisco 49ers D/ST - FAAB Bid: 0-1%
5% owned
Speaking of targeting the Bucs, it was San Francisco that parlayed a TB matchup into the top D/ST score of Week 1. Three sacks, four turnovers and two touchdowns is marvelous, let alone when the three interceptions and two TDs eclipse their 2018 totals (two INTs, one TD). A road date with Cincinnati's battered offensive line and a skill group that may be without both Joe Mixon and A.J. Green should be a great spot.
More Waiver Wire Adds and Pickups