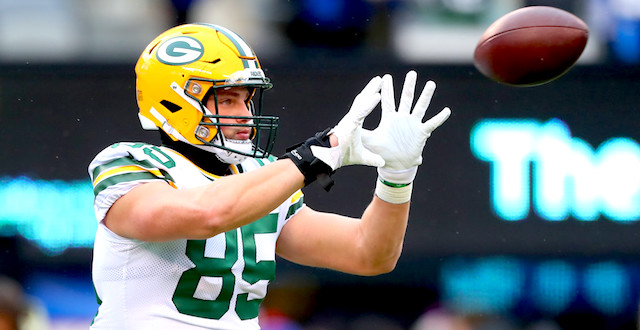 A growing number of managers are focused on the construction of rosters in anticipation of the 2021 regular season. This includes participation in Best-Ball drafts, which provides an outlet to assemble teams that will not require additional management. Building a roster in this format also serves as a resource to prepare for the eventual process in redraft leagues.
Those of you who participate in dynasty leagues are also considering a plethora of options as we progress toward this year's rookie drafts. The enticement of restructuring rosters in this format delivers massive appeal and the team at RotoBaller is aware of your ongoing management process. That is why we're supplying an extensive collection of material that will help you determine whether to retain your roster components or alter the current makeup of your teams. 
That includes our collection of dynasty price check articles that will provide a data-driven analysis of various players. This breakdown will focus on Robert Tonyan, who entered the NFL in 2017 but soared from irrelevance to secure a place among the TE1s during 2020. Multiple factors will determine whether he will sustain that status during the 2021 regular season. But the numbers that he delivered last season supply a blend of encouragement with tangible reasons for concern.
Featured Promo: Join the FFPC Main Event with a $1 million dollar grand prize and $5.9 million dollar total prize pool! It's the world's biggest event in season long fantasy football. All new sign-ups get $25 off any FFPC contest!!
Sign Up Now!
Profile

Team: Green Bay Packers
College:  Indiana State
Height/Weight: 6'5", 240 pounds
2017 Undrafted Free Agent
An Unexpected Rise To Relevance
Tonyan began his collegiate career as a quarterback at Indiana State before transitioning to wide receiver. He completed his final season with the Sycamores in 2016 and signed with Detroit as an undrafted free agent in 2017. He was released by the Lions before their season opener but signed with Green Bay later that season. He performed on just 260 snaps for the Packers from 2018-2019, while accumulating 21 targets, 14 receptions, 177 receiving yards, and two touchdowns during that sequence.
This left fantasy GMs without incentive to consider Tonyan as a potential resource entering the 2020 regular season. He was not targeted during the Packers' season opener. But he collected 14 targets (4.7 per game) from Weeks 2-4 while leading the NFL with five touchdowns during that span. He also finished sixth among all tight ends with 173 yards (57.7 per game) and was eighth in receptions (13/4.3 per game) during those contests.
He ultimately finished the season at WR3 in PPR scoring behind Travis Kelce and Darren Waller and completed the year at WR5 in point-per-game scoring. He also tied Kelce for the league-lead among tight ends with 11 touchdowns - which fueled a significant percentage of his fantasy production.
.@RobTonJr's 11 TD receptions match Paul Coffman's single-season #Packers record for a tight end (1983)! #GBvsCHI | #GoPackGo pic.twitter.com/lcLXLol7Gp

— Green Bay Packers (@packers) January 3, 2021
Tonyan became one of 12 different tight ends to attain a double-digit touchdown total since 2010 (Travis Kelce/Rob Gronkowski/Mark Andrews/Eric Ebron/Jimmy Graham/Tyler Eifert/Jordan Reed/Antonio Gates/Vernon Davis/Julius Thomas/Marcedes Lewis). He also joined Kelce, Andrews, Graham, and Ebron as the only five at their position to accomplish it since 2016.
| | | |
| --- | --- | --- |
|       Tight End | TDs | Year |
| Rob Gronkowski | 17 | 2011 |
| Jimmy Graham | 16 | 2013 |
| Eric Ebron | 13 | 2018 |
| Tyler Eifert | 13 | 2015 |
| Vernon Davis | 13 | 2013 |
| Rob Gronkowski | 12 | 2014 |
| Antonio Gates | 12 | 2014 |
| Julius Thomas | 12 | 2014 |
| Julius Thomas | 12 | 2013 |
| Travis Kelce | 11 | 2020 |
| Robert Tonyan | 11 | 2020 |
| Rob Gronkowski | 11 | 2015 |
| Rob Gronkowski | 11 | 2012 |
| Jordan Reed | 11 | 2015 |
| Jimmy Graham | 11 | 2011 |
| Mark Andrews | 10 | 2019 |
| Travis Kelce | 10 | 2018 |
| Jimmy Graham | 10 | 2017 |
| Jimmy Graham | 10 | 2014 |
| Rob Gronkowski | 10 | 2010 |
| Antonio Gates | 10 | 2010 |
| Marcedes Lewis | 10 | 2010 |
Tonyan capitalized on his opportunities throughout the season amid the touchdown-oriented nature of his scoring. He led all tight ends in catch rate (89.7), and his percentage rose in targets that were collected inside the red zone (90.9%). He also led all tight ends in Football Outsiders DVOA (Defense-Adjusted Value Over Average) and was second only to Kelce in DYAR (Defense-Adjusted Yards Above Replacement).
Reason For Concern
But in the aftermath of his frequent visits to the end zone last season, any doubt that he can replicate his 2020 touchdown total is justified. The list of tight ends that have generated double-digit touchdowns in multiple seasons since 2010 decreases sizably, as only Gronkowski (5), Graham (4), Gates (2), and Kelce (2) have scored 10+ at least twice during that sequence.
Tonyan's touchdown prowess completed the proverbial heavy-lifting that was required for him to finish at the aforementioned TE3. But he only finished 24th at his position in targets from Weeks 1-17 (59/3.7 per game) and was 13th in both receptions (52/3.3 per game) and receiving yards (586/36.6 per game).
Tonyan was also 23rd at his position in air yards (446) and 24th in percentage share of air yards (11.8). He was also 15th in yards after catch (234), while 17 other tight ends exceeded Tonyan's 11 red-zone targets during the season.
Tonyan was also just 15th among tight ends in offensive snaps (733) and 27th in snap count percentage (61.8). But his involvement was largely consistent, as his weekly percentages ranged from 58%-73% during 15 of his 16 regular-season matchups.
| | | | |
| --- | --- | --- | --- |
| Tight Ends | Target Share | Air Yards | aDOT |
| Darren Waller | 27.7 | 1129 | 7.7 |
| Travis Kelce | 25.3 | 1223 | 8.5 |
| Mark Andrews | 24.9 | 907 | 10 |
| George Kittle | 24.1 | 463 | 7.3 |
| Evan Engram | 21.8 | 785 | 7.2 |
| Logan Thomas | 19.2 | 800 | 7.3 |
| Noah Fant | 18.2 | 622 | 7.1 |
| T.J. Hockenson | 18 | 710 | 7 |
| Hunter Henry | 17 | 723 | 7.7 |
| Dallas Goedert | 16.7 | 553 | 8.5 |
| Mike Gesicki | 16.3 | 943 | 10.4 |
| Jonnu Smith | 15.5 | 360 | 5.4 |
| Eric Ebron | 14.9 | 650 | 7.1 |
| Austin Hooper | 14.8 | 451 | 6.3 |
| Hayden Hurst | 14.4 | 566 | 7.3 |
| Dalton Schultz | 14.4 | 556 | 6.7 |
| Zach Ertz | 12.8 | 544 | 7.6 |
| Jared Cook | 12.7 | 665 | 11 |
| Rob Gronkowski | 12.7 | 845 | 10.6 |
| Jimmy Graham | 12.7 | 515 | 6.6 |
| Robert Tonyan | 11.8 | 446 | 7.9 |

Competition For Targets
General Manager Brian Gutekunst and Matt LaFleur declined the opportunity to infuse additional talent into Green Bay's receiving arsenal during the 2020 NFL Draft, which has been widely discussed. That destined the Packers to rely on Marquez Valdes-Scantling and Allen Lazard as complements to Davante Adams. This also elevated Tonyan's level of importance to Aaron Rodgers, who desperately required a second dependable weapon option beyond the exceptional Adams.
The 28-year old Adams remains cemented as Green Bay's WR1 and can be considered as the NFL's premier receiving weapon entering Week 1. He has now averaged 148 targets, 103 receptions, and 1,252 yards since 2018  while averaging 10.9 targets, 7.5 receptions, and 91.6 yards per game during that span. That includes his stellar 2020 season when Adams finished WR1 in scoring while leading all receivers in targets per game (10.6) and yards per game (98.1).
He also commandeered a league-best target share of 34.1% and tied for the league lead by capturing 10+ targets in 10 different contests. He was also fourth overall in this category (149) despite being sidelined in Weeks 3-4 with a hamstring issue. Adams also led the league in red-zone targets (27), tied for second in receptions (115/8.2 per game), and was fifth in percentage share of air yards (38.6).
Valdes-Scantling led the league in yards per reception (20.9) among receivers who collected 20+ targets. He also surged to career highs in multiple categories during his third season, including receiving yards (690), touchdowns (six), and yards per target (11.0), while also tying DeAndre Hopkins and D.J. Moore for the league lead in receptions of 40+ (six). However, he also placed outside the top-100 in catch rate (52.4). Valdes-Scantling is also an unrestricted free agent, which has added to the uncertainty surrounding the composition of Green Bay's offensive weaponry.
Lazard assembled averages of 4.6 targets, 3.3 receptions, and 45.1 yards per game while performing in 10 games during 2020, as a core muscle injury rendered him unavailable for the Packers' six remaining matchups. His season highs in receptions (six) and yardage (146) were attained in Week 3 when Adams was sidelined with his hamstring issue.
There is nothing contained in the performances of Valdes-Scantling and Lazard to suggest that LaFleur and Gutekunst should be content with their wide receiver options beyond Adams. The Packers' backfield rotation could also be restructured if Aaron Jones does not resurface with the team. Jones finished ninth among all backs with 63 targets last season (4.5 per game) even though he was sidelined in Weeks 7-8 with a calf issue. A transition from Jones to A.J. Dillon as the team's primary back would shift additional targets from Green Bay's backfield to Tonyan and the Packers' wide receivers.
Tonyan's Current Value
.@RobTonJr is now the NFL touchdown leader among tight ends! #ProTrees | #StateMade

— Sycamore Football (@IndStFB) December 6, 2020
It is impossible to ignore the enormous role that touchdowns played in Tonyan's 2020 output, and regression should be expected. This will make it difficult for Tonyan to finish among the top-five in scoring once again unless his per-game averages in targets, receptions, and receiving yardage rise this season. Fantasy GMs are largely skeptical that he can match last season's scoring total, which is indicated by his current ADP of 90 (TE11) in best-ball drafts.
However, any zeal that might exist for bypassing him during the redraft process should not compel managers to lose all confidence in Tonyan's ability to function as a starter - if he already resides on your dynasty roster.
If this scenario applies to you, then you likely seized him from your league's waiver wire early in the 2020 regular season. You should not dismiss Tonyan's success in gaining the trust of Rodgers as you consider retaining, acquiring, or trading him during the offseason. Nor should you discount his proven ability to maximize his opportunities during 2020, as finding a favorable alternative from your available options at the position might be an arduous task.
Even though he did not attain the favorable target share that was commandeered by other tight ends last season, he still functioned as an unquestioned starter. His ability to maintain status as a TE1 during 2021 will improve if Tonyan returns to the Packers, with Rodgers spearheading Green Bay's aerial efforts for a 14th consecutive season.
Tonyan is currently a restricted free agent, and any offer sheet that he receives from another franchise can be matched by Green Bay. But if the Packers extend the least expensive tender offer (right-of-first-refusal tender), and fail to match an offer from another team, then Green Bay would lose him without receiving any compensation. This increases the incentive for the Packers to keep Tonyan. That scenario would present him with the opportunity to collect additional targets from Rodgers - whose comfort level in locating his tight end was on display during 2020.
Even though he will turn 27 in April, it is also wise to remain realistic about the dearth of enticing options that may exist in your league at this problematic position. If you are involved in a dynasty startup, you can expend an early-round selection on Kelce, George Kittle, Waller, Mark Andrews. or T.J. Hockenson. But if you are unwilling to make that level of investment, many of your remaining options are contending with talent deficiencies or complete uncertainty at their teams' quarterback positions as we approach free agency. These potential hurdles should not exist with Tonyan if he returns to the Packers as expected.
Any concern that a sizable decline in production is imminent can also be tempered by an additional reminder that locating a dependable option at this position can become a nightmarish experience.
Robert Tonyan has not dropped a pass in his last 77 targets

His last drop came in Week 17, 2018 pic.twitter.com/pmec69dXB0

— PFF (@PFF) January 22, 2021
His usage could be impacted if the Packers add a wide receiver that can perform with greater proficiency and reliability than Valdes-Scantling and Lazard. However, the uncertainty that currently exists regarding the components within Green Bay's offense will dissipate during the upcoming weeks. Tonyan can still maintain his standing as a TE1 without matching last year's touchdown total if he is located by Rodgers with greater frequency. That could also transpire even if LaFleur and Gutekunst infuse another wide receiver into the equation, as Tonyan's favorable catch rate underscores his reliability when Rodgers launches passes in his direction.
This supplies the incentive to retain Tonyan while avoiding any excessive urge to trade him. If you are focused on addressing other roster needs by moving him, then you should target an early second-round selection in return.
Download Our Free News & Alerts Mobile App
Like what you see? Download our updated fantasy football app for iPhone and Android with 24x7 player news, injury alerts, rankings, NFL rookies & more. All free!


Win Big With RotoBaller
Be sure to also check out all of our other daily fantasy football articles and analysis to help you set those winning lineups, including this new RotoBaller YouTube video: