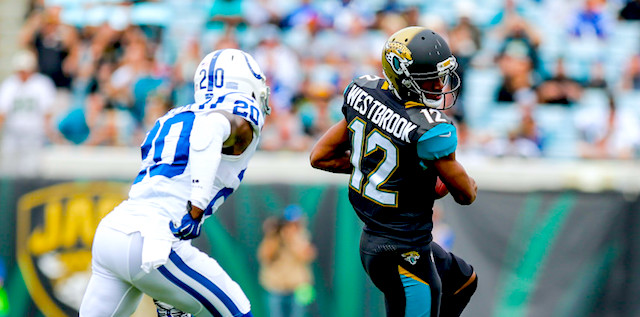 Last year, the Jacksonville Jaguars were a mess offensively, with the quarterback combination of Blake Bortles and Cody Kessler combining to throw for just 15 touchdowns to go along with 13 interceptions. Bortles, who'd been a guy fantasy owners could count on for solid production in the past, bombed badly enough that the team benched him.
This meant that Dede Westbrook went from a potential breakout candidate to just another guy. Westbrook finished with 66 receptions for 717 yards and five touchdowns and added another 98 rushing yards to his total. Those numbers were good enough to lead the team in yards and touchdowns, and Westbrook finished as the WR31, but those numbers weren't as good as Westbrook could have put up if the team had gotten consistent production from the position.
Westbrook is ranked as the WR44 in our current dynasty rankings. Should you be buying low on him? Or selling him for whatever you can get?
Editor's Note: Get any full-season NFL Premium Pass for 50% off. Our exclusive In-Season Lineup Tools, Lineup Optimizer and over 150 days of Premium DFS Research.
Sign Up Now!
Profile
Dede Westbrook
Team: Jacksonville Jaguars
College: Oklahoma
Height/Weight: 6'0", 178 pounds
2017 NFL Draft: Round 4, Pick 110
Case to Buy
The Jaguars brought in quarterback Nick Foles this offseason, and Foles should provide the team with a much more solid foundation at the game's most important position. You know that old saying about a rising tide helping all the ships? An improved Jaguars offense led by Foles will help all the various weapons that the Jaguars have, and since Westbrook was the team's most potent receiving threat last year, he should benefit from having Foles.
In fact, when we talk about last year's receiving options in Jacksonville, the drop off from Westbrook to the rest of the club was pretty immense. Donte Moncrief had 668 receiving yards, but big plays were a key part of that as he caught 18 fewer passes than Westbrook. Beyond that, Keelan Cole disappeared for large parts of the year, finishing with 38 receptions for 491 yards. From the start of November to the end of the year, Cole had just nine catches. Add in just 14 catches for rookie D.J. Chark, and it's pretty clear that Westbrook's the top receiving option for the Jaguars, right? And with his dynasty value being down around what guys like Tre'Quan Smith and Golden Tate have, you can the number-one receiver in a potentially much-improved offense for a pretty cheap price. Westbrook's going to provide you with solid value this year.
Case to Sell
There are complications, though, and one of those is a name I didn't mention in the section above: Marqise Lee. Lee was supposed to be Jacksonville's WR1 last season, but a knee injury ended his year during the preseason. While he's still out while recovering from surgery, Lee is expected to be the team's top wide receiver again once the season arrives.
In 2017, Jacksonville had both Westbrook and Lee. Westbrook appeared in seven games, and in those seven games, Westbrook was targeted 51 times. Lee and Westbrook only really shared the field for four games, though, and in those four games, Lee was targeted 27 times and Westbrook was targeted 33 times. That suggests that Westbrook can be capable of still leading the team in targets with Lee in tow, but I'm still worried about how the two will split usage in this offense. Lee was targeted 201 times between 2016 and 2017, and a healthy Lee is going to see a significant amount of the offense funneled his way. That leaves Westbrook's role a little bit up in the air; we know he'll be a key piece, but how key?
There's also D.J. Chark, who was a second-round pick in 2018. Chark wasn't used much last season, but in three of the last four games he played, he was on the field for at least half of Jacksonville's offensive snaps. If a quad injury hadn't held him out for five games, we'd have likely seen that usage continue to rise. Could the Eagles game last year where Chark took 75 percent of the team's offensive snaps be a sign of things to come? And how will the team handle Lee's return and an increased workload for Chark when it comes to Westbrook?
And that's not to mention Chris Conley, who came over from the Chiefs. Presumably, Conley's not leaving a high-flying Chiefs offense where he was the WR3 to be even farther down the depth chart on a worse passing offense. Conley likely ends up filling the role of the departed Moncrief as a speedster who can serve as the team's big-play receiver. Conley ranks in the 97th percentile in the 40-yard dash, has a 100th percentile burst score, and a 99th percentile catch radius per PlayerProfiler. The Chiefs mostly used him on short routes out of the slot, but Conley's got the athletic profile of a guy who can outrun defenses and stretch the field, so expect the Jaguars to make use of him plenty.
The Jags also signed Terrelle Pryor recently after working him and coming away impressed. It's not guaranteed that he'll be on the final roster or make much of an impact, but for the time being, he's there and could be another receiver taking snaps away.
Advanced metrics also weren't super kind to Westbrook last year. His contested catch rate was 27th among wide receivers, but his other numbers weren't as encouraging. A true catch rate that ranked 82nd at the position. A QB rating when targeted that was 67th at the position. Just 60th among receivers in fantasy points per target.
Final Verdict
Even with these obstacles in Westbrook's way and the numbers going against him, I think I'm buying him in dynasty right now at the right price, because he has the physical tools, he's in an offense that should be improving, and he should have a pretty safe role in that offense moving forward. Lee's return worries me, but Westbrook is younger, some of the other options in Jacksonville are unproven, and if I'm acquiring Westbrook at this point, I'm likely not being asked to give up much to get him.
More Dynasty League Strategy