On Monday in part 1, we looked at the U.S. Open links style course in detail, and discussed the high priced golfers who might be great picks this weekend. Today we will look at the mid-priced and lower priced DFS PGA picks for this weekend's Fantasy Golf U.S. Open and help you identify the key sleepers to target.
Editor's Note: Our Partner DraftKings is hosting the biggest Fantasy Golf tournament ever this weekend. The PGA $400K HUNDRED THOUSANDAIRE MAKER will pay $400,000 in prizes! It's just $20 to enter, but you can win entry for as little as $.25. 
If you Sign up and make a deposit now, you'll get a 100% bonus on your first DraftKings deposit. We'll also give you free access to RotoBaller's Premium MLB DFS Lineup Picks and Tools (a $29.99 monthly value).
PGA DFS Mid-Priced DraftKings Picks ($7000-$8900)
Francesco Molinari ($7,200 Vegas 100-1)
Coming off a blistering Memorial Tournament two weeks ago where he tied for third and scored 106.5 fantasy points, look for Molinari to continue to play well. Molinari is number one on the PGA Tour in driving accuracy, and third in greens in regulation. It's not about how far you can drive the ball on Chambers Bay, but rather if you can just hit the fairway and then get to the green. Molinari fits that mold. He has played very well on links courses over his career, finishing runner up at the 2012 Scottish Open and closing out the 2012 Ryder Cup against Tiger Woods.
Graeme McDowell ($7,600 Vegas 120-1)
Even though he just missed the cut at the FedEx St. Jude Classic and tied for 56th at the Players Championship, McDowell was born playing on links courses in Northern Ireland. He has already won a U.S. Open on a links style course in 2010 at Pebble Beach Golf Links. He knows what it will take to get the job done on a crazy course like Chambers Bay. Additionally he is 15th in putting average, something that is always crucial at majors.
Jason Dufner ($7,600 Vegas 100-1)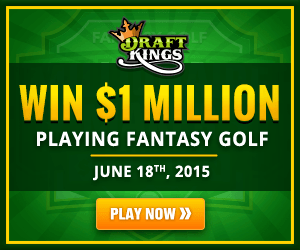 The rare smiles, wobbling his club instead of taking a practice swing, his whole golf demeanor is great to watch. Since his divorce in April he did not play well at the Masters, but in his last two tournaments played it looks like his game is coming full circle again. He finished 11 under, tied for eighth at the Byron Nelson and six under, tied for 24th at the Memorial. He has finished tied for fourth at the 2012 and 2013 U.S. Open, so look for him to be in competition again.
Tiger Woods ($8,600 Vegas 50-1)
The most complicated player on the tour these days, no one can figure him out. Experts say it's all in his head or some say it's his whole swing, yet no one can be sure why he is so horrid. If Tiger is in contention going into Sunday it will take this tournament to a whole new level, which would be great for golf. Pick Tiger at your own risk, but if I had to say I think he will make the cut and not be relevant at all on Sunday. I hope I am wrong though.
PGA DFS Mid-Priced DraftKings Picks to Avoid at all Costs
Gary Woodland ($7,300 Vegas 110-1)
He just was cut at the Memorial Tournament and in the two biggest tournaments he has played in so far this season, The Masters and Players Championship, he was also cut. I don't think he will be able to turn it around on this hard of a course.
Other Players To Consider
Kevin Na ($7,100 Vegas 90-1)
He has been playing well all year having made 14 of 16 cuts with six top 10 finishes. He has finished no worse than tied for 20th in his last eight tournaments, including tying for sixth at The Players and tying for 12th at the Masters.
PGA DFS Low Priced DraftKings Picks ($5100- $6900)
Angel Cabrera ($6,800 Vegas 200-1)    
Cabrera always brings his best for the major tournaments. He has only won three times on the PGA Tour and two of those wins were at The U.S. Open in 2007 and The Masters in 2009. He can either bomb or be right there come Sunday afternoon.
Brendan Todd ($6,900 Vegas 150-1)
As noted in Molinari's section, you need to drive accurately on this course and Todd ranks seventh in that department. He just took the FedEx St. Jude Classic off to rest up for the U.S. Open so look for him to be fresh.
Erik Compton ($6,100 Vegas 300-1)
Compton has such a remarkable story for him to even be here is a miracle. He finished last year tied for second at the U.S. Open and although he has had a shaky year, he can surprise many people at this tournament.
PGA DFS Low Priced DraftKings Picks to Avoid at all Costs
Matt Every ($6,600 Vegas 300-1)
He just withdrew from the FedEx St. Jude Classic due to a wrist injury. Any kind of injury scares me going into a major tournament, let alone the U.S. Open.
Cole Hammer ($5,200)
Even though he has a great name, he is just 15-years-old. He will be blown away by the competition. He will just be happy to be on this kind of stage.
DFS & Fantasy Golf Chat Room
Premium DFS Golf Tools and Lineup Optimizer
Our friends at Fantasy National have created some game-changing DFS Golf tools, and you can 
read all about them here
. They are hands-down the best daily fantasy Golf tools in the industry.
Sign Up Now!