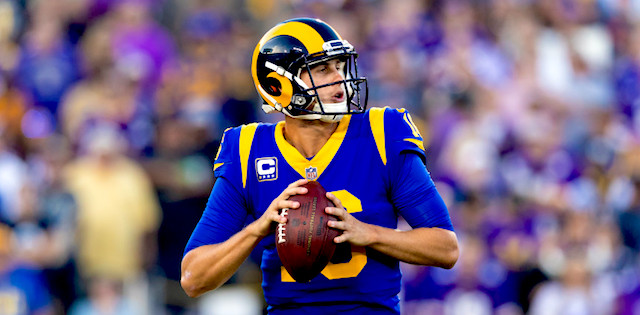 If the Divisional round was a mouth watering set of matches the Championship games may even take that one step further. Now we just have to hope that these two games do not disappoint as much as the first three did last week. In this round we get the top four offenses in the NFL facing off, and one of the two games is in a dome. The only disappointment from a fantasy perspective is that the Chiefs and Patriots game is likely to be played at extremely low temperatures, likely stunting offense somewhat.
However, there are still interesting options in that game, despite the weather. If the offenses can get things flowing in the cold then we have the potential that both games get wild and should provide plenty of scoring in this weeks slate. Below are my DraftKings DFS Lineup Picks for the Conference Championships.
These DraftKings lineup recommendations are based on matchups, season performances, overall upside/talent levels, opportunity, and other factors such as Vegas odds, home field advantage, and more. There are quite a few great value plays available, so read on to find out which players are the best DFS picks for the Championship Round. Good luck with your DraftKings DFS lineups!
DraftKings DFS Quarterbacks - Conference Championships Picks
Jared Goff - LAR @ NO (DK $5,400)
So full disclosure here, I am also going to pick the defense who Goff is facing this week. No I am not crazy but I am trying to play the percentages. If the weather was likely to be good in Kansas City I would be all over Patrick Mahomes and Tom Brady, but right now I cannot be sure enough. As for Drew Brees, well his offensive line really struggled last week, and when you are facing Aaron Donald the rest of that Rams front seven that is a concern.
As for Goff, he has had ups and downs this season but he can have success in this game. In his last trip to New Orleans he threw for 391 yards and three touchdowns, with just one interception. Goff is undoubtedly a good player and playing in a dome should suit his style. I think there is a chance this game is a shootout, as does Vegas with the over/under set at 57, and Goff has demonstrated he can hang in in those types of games.
DraftKings DFS Running Backs - Conference Championships Picks
Damien Williams - KC vs. NE (DK $6,400)
Cold weather games tend to see teams lean on the short passing game and the running game. The Patriots have struggled at times this season against the run. A particular example that is a good sign for Williams is the game against the Steelers. The Patriots appeared to focus on defending the passing game and Jaylen Samuels averaged 7.47 yards per rush, while adding 30 receiving yards. This is a game where I expect the Patriots to load up to try and stop the explosive Chiefs passing game, and that should see Williams get plenty of opportunities against weakened looking fronts.
James White - NE @ KC (DK $5,400)
Similar theory here in terms of the short passing game and the cold weather. The Chiefs effectively neutralised the Colts running game last week at times. However, if Brady can get the ball to White on quick screens and passes the Chiefs may have trouble bringing him down. There is also the chance the Patriots end up chasing the game, especially if the Chiefs start off as hot as last year, and that is where White would really shine. I am not sure he matches his 17 receptions from last week but I think there is a good chance we see close to 10 on Sunday evening.
DraftKings DFS Wide Receivers - Conference Championships Picks
Michael Thomas - NO vs. LAR (DK $8,200)
I cannot go anywhere else with this selection. Yes the opposing corners will be better than what the Eagles had last week but the Brees to Thomas connection has been money all season. Thomas has caught a whopping 85% of passes thrown his way, and in a game that could be a shootout I can see him going big again. He also proved last week that he does not need the Saints to score a ton of points for him to put up a big day and that is significant.
Julian Edelman - NE @ KC (DK $6,600)
We saw the return of playoff Edelman last week. After numerous questions about his health and whether he might be done Edelman produced a massive performance. Over his last three playoff games he has 30 receptions and averages over 16 yards per reception. In terms of wide receivers Edelman is the only truly reliable weapon Brady has and I expect him to utilise him a lot. Edelman also feels weather proof as a short passing game can still operate in cold and windy conditions. Expect to hear Edelman's name a lot on Sunday evening and make sure you are enjoying every catch for your DFS team.
Keith Kirkwood - NO vs. PHI (DK $3,200)
Kirkwood rewarded me last week with a touchdown, even if he did not do much else. He is a low price pick who you are essentially hoping has a touchdown or breaks a couple of big plays. Do not expect to see much from him, as he averages just 2.9 targets per game, but when he is utilised it is often in high leverage situation near the end zone. I think we see another touchdown this week and that is more than enough at the bargain basement price.
DraftKings DFS Tight Ends - Conference Championships Picks
Travis Kelce - KC vs. IND (DK $7,100)
Despite the cold weather I just cannot look anywhere else this week. I will have lineups with Rob Gronkowski in them in the hope he takes over that game, but outside of that I do not think you can trust anyone in the Saints/Rams game. Kelce has had a record breaking season, and even a bad game for him likely looks like five yards for 50-something yards. The Patriots did a good job against him earlier in the season but I think the Chiefs find ways to get him the ball in this one.
DraftKings DFS Defenses - Conference Championships Picks
New Orleans Saints vs. Los Angeles Rams (DK $2,700)
The cold game in Kansas City may provide the more obvious defensive plays, but I am going to assume there is at least some offense in that game. Therefore, I am going to pick the most complete defense here, especially given there is such a small variation in cost across the board. The Saints defense has been superb in the second half of the season, and I think if any defense can return a solid fantasy day this weekend it will be them. If the cold weather in the Chiefs game is accompanied by snow and wind then I will pivot to the Patriots.
More Fantasy Football Analysis