Happy Thursday, Rotoballers! The first batch of play-in games was a huge success. Yes, it was boosted by the phenomenal Los Angeles-Golden State game, but the game-seven environment to all four games was really cool to watch so early in the postseason. Jayson Tatum went off for 50 to down Washington, Memphis got past a mental hurdle with a win over San Antonio, and Indiana wiped the floor with Charlotte for a chance to face the Philadelphia 76ers.
Thanks to this Eastern Conference win-or-go-home matchup, we will move into Showdown mode for DFS on DraftKings tonight. To build our rosters for this particular format, we need to identify a Captain and five utility players. It's just like the analytics nerds dreamt it up: positionless basketball. The Captain will earn 1.5 times the amount of points he regularly tallies, but it also drives up the price for your more prominent players like Westbrook, Beal, and Sabonis.
This article will provide you with my daily fantasy basketball lineup picks for DraftKings on 5/20/21. You can also check out today's FanDuel lineup picks. With COVID-19 a significant factor, remember to monitor injury news as the slate can completely change before lineups lock.
Washington Wizards (-4) (122.5 total)
Russell Westbrook - PG (Captain: $20,100, Utility: $13,400)
Westbrook's salary sits at a mountain-top like $20,100 if you want to use him as your Captain tonight. It's a tough call because, with the 1.5-points multiplier, he could grab 120 fantasy points if he's playing his best game. The 2017 MVP was stifled in Boston on Tuesday night, but Indiana's defense will be a whole different story... in a good way. While the Celtics are top-10 in point guard defense this season, the Pacers are bottom-nine. Meanwhile, Russ has still scored at least 70 DraftKings points in seven of his last 10 outings. It would be silly to keep him out of your DFS lineup tonight, but I think he's better as a Utility player than a Captain.
Bradley Beal - SG/SF (Captain: $15,300, Utility: $10,200)
I'm taking Beal over Westbrook tonight because his price as a Captain is (somewhat) affordable, and you can still fit many good players in the lineup around him at $15,300. By itself, the volume of shots Beal puts up makes him a great fantasy target. However, when you add in how deadly he can be on any given night, it puts him all the way up near the top of the list. Unfortunately, we are getting him at less than 100 percent, but it wouldn't be wise to write off the three-time All-Star. For the season, the 27-year old is averaging 31.3 points and 23.0 shots per game, which will do quite nicely in any DFS scenario. Especially in a meeting between the two fastest-paced teams in the league.
Smith has been around the NBA block for years, but he's finding a pretty good gig in Washington. On his 11th team, Smith is averaging 29.4 fantasy points per game over his last 10 tilts. That's due to his 12.8 points, 5.8 rebounds, 4.0 assists, and 1.2 steals each night. In fact, over the last couple of games, the veteran guard has totaled 36 and 37 DraftKings points, respectively. In a fast-paced matchup, there's a strong possibility Smith can crack the 35-point barrier for the third contest in a row. At $5,200, he is a suitable roster-filler type guy in the one-game Showdown slate.
Other options: Davis Bertans ($4,600), Daniel Gafford ($4,400)
Want more NBA DFS tools and content? Our NBA Premium package includes our daily DFS Cheat Sheets, Research Station, Optimizer, and access to our Premium Slack Chatrooms where members can chat with our NBA analysts. Check out this recent big win from RotoBaller premium member Bsuperak on FanDuel - join in on the winning!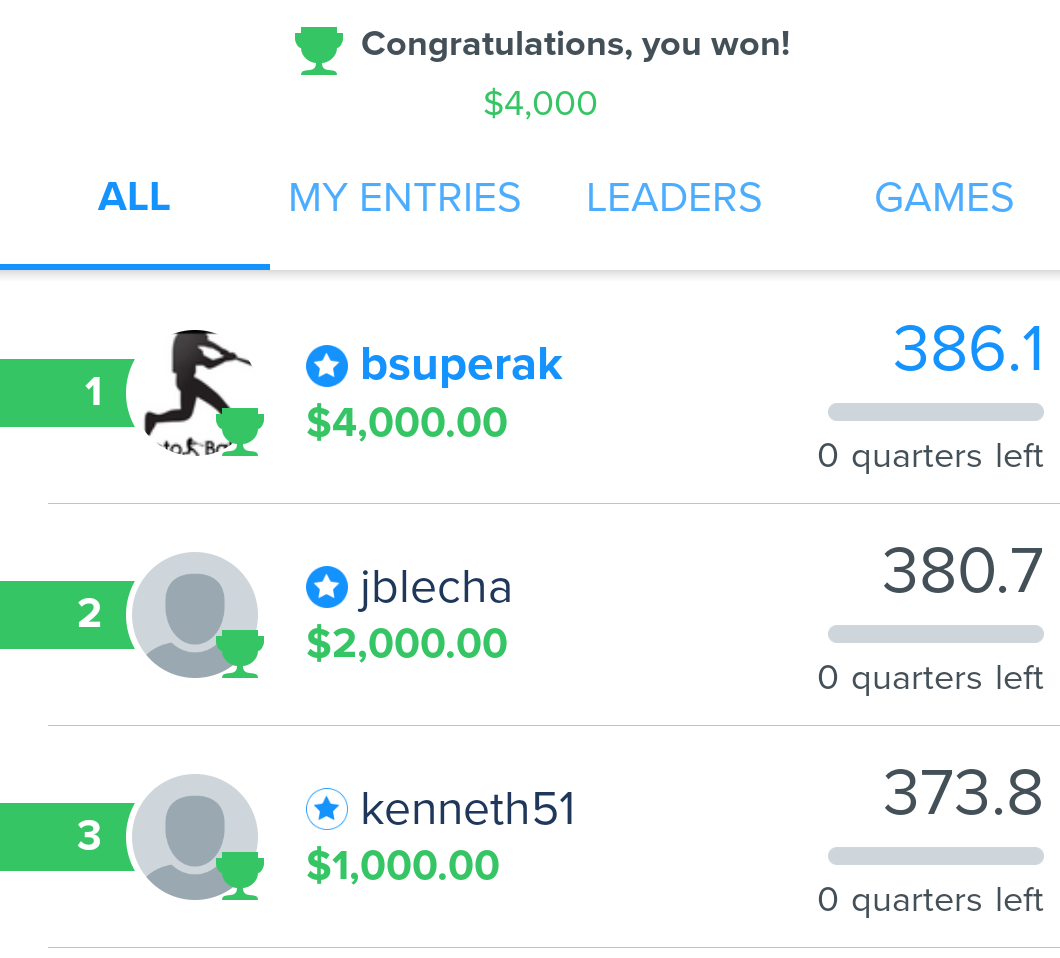 Indiana Pacers (+4) (118.5 total)
Domantas Sabonis - PF/C (Captain: $16,800, Utility: $11,2o0)
Sabonis is my third and final candidate to be a Captain in your DFS lineup tonight. The big man obliterated Charlotte from the play-in tournament in dominating fashion. In 33 minutes, the 25-year old recorded 14 points, 21 rebounds, nine assists, a block, and a steal, as he continued his dominant month of May. Since the calendar flipped, Sabonis is averaging 22.1 points, 14.8 rebounds, and 10.5 assists, and he's accumulated at least 55 DraftKings points in eight of 10 games, including four efforts north of the 70-point mark.
Doug McDermott - PF ($6,200)
Dougie McBuckets strikes again! After finishing the regular season on a high note, the veteran wing came up big for a depleted Pacers unit on Tuesday and supplied his team with valuable minutes and counting numbers. On Tuesday, the veteran wing added 21 points, three rebounds, two assists, and four three-pointers as the team advanced into tonight's matchup. Put it all together, and he scored 28.75 fantasy points - the fifth-straight game McDermott went over 24 DraftKings points. Once again, this game will be flying up and down the court, and there's no reason to doubt the points will be flowing among both offenses.
Oshae Brissett - PF/C ($7,400)
I was pretty mad at myself on Tuesday for not recommending Brissett, and I won't make the same mistake tonight. The second-year forward was extremely impressive this season when the Pacers missed Sabonis and Myles Turner, and he came up big for his team against the Hornets. In 33 minutes, Brissett added 23 points, five rebounds, three triples, two assists and made 10 of his 14 field-goal attempts. He's scored at least 30 DraftKings points on eight separate occasions this season, and three of them came in his last four games. Brissett is a bit pricier than McDermott, but if you roll with Beal as your captain over Sabonis and Westbrook, he can slot in as a useful utility man.
Other options: T.J. McConnell ($8,000), Justin Holiday ($5,000)
NBA DFS News and Injury Alerts
More DFS Lineup Picks and Analysis