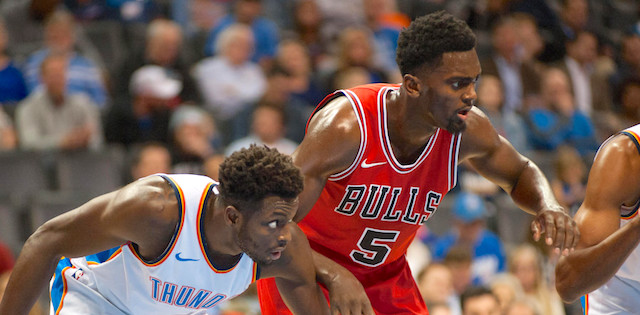 With four main slate games and three early games, I am going to spend this intro talking about the early slate, using the rest of the article to find those sneaky value plays for tonight. The Timberwolves and Lakers rightfully have the highest point total for these early games, so it's hard not to advise a major stack leaning towards those two teams, but I am telling you now, don't. Those two teams are set to have a good game, but I can't see this game becoming a very high-scoring contest. The Lakers don't have their best player and even if they had LeBron James, they still can't score from the outside. The projected score favors Minnesota and Los Angeles, but you can't pass up all the value in both the Bulls-Nets contest, and the Magic versus the Clippers. Honestly, all four of these teams are borderline unpredictable and it's a little more difficult to track where the secondary scoring will come from. Even then, players like Zach LaVine, Lauri Markkannen, Spencer Dinwiddie, Tobias Harris, Montrezl Harrell are all locks tonight, while Terrence Ross should cover all the value you might need for making the perfect lineup.
If you are looking for at least one player in the late-early game, (Ha) go with Dario Saric. His minutes are still a tad suspect because Tom Thibadeau isn't that good of a coach, but eventually he will be forced to give Saric more minutes the more tired his starting crew gets. It's been going on for years and I have hesitated to throw Thibadeau under the bus because of his tenure, but since 2016 I've tried to ignore all the negative narratives surrounding him to find the positive. Sadly, there isn't. Thibadeau wants to do what he wants to do. If it were working or a smart strategy I would understand, you can't argue with results, but it's not. Playing your starters close to 40 minutes a game in the dead part of the season, when you have backup options is inexcusable. It angers me giving him this type of attention because I honestly believe his thrives on it. The more hate he receives, the closer owner's will cling. Anyway, I'm done ranting but I'm still playing Saric, hoping he has such a good game it forces Minnesota to swap coaches.
For the rest of the article, I will be providing you with my daily fantasy basketball lineup picks for DraftKings on 1/6/19. These DFS lineup picks can vary from higher-priced players and elite options to lower-priced players and value picks on DraftKings. You can also check out today's FanDuel lineup picks. As always, don't set your lineups to early and check player statuses before the opening tip. Find me in the NBA Chat Room or @HalfCourtJester on Twitter with any questions.
Editor's Note: Get any full-season NBA and DFS Premium Pass for 50% off. Our exclusive DFS tools, Lineup Optimizer and daily Premium DFS Research.
Sign Up Now!
DraftKings DFS Guards
Dwyane Wade - PG/SG, MIA @ ATL ($4,800)
There are so many guard options tonight and Dwyane Wade is the one I think will go the most unowned. If you aren't going with Russell Westbrook, you have to go with Kemba Walker. If you aren't going with Kemba Walker, then you have to consider the two other cheap guards playing the Phoenix Suns, Tony Parker and Malik Monk. If their upside isn't good enough for you, then maybe Wade is your style. All the other guards will see some serious ownership, but Wade is coming off a big game I don't think many people would expect two strong games in a row from the veteran. Seeing how it's the Hawks, the only downside to this pick is if the rest of the Heat decide to shoot the lights out. At this point in the season, Wade is seeing serious usage as a key contributor for this team, so look for him to keep this role throughout the month until someone else can relieve some of the pressure. Wade can handle the usage for the time being, but sustainability will be a problem.
Tyreke Evans - SG/SF, IND @ TOR ($3,700)
Despite Victor Oladipo returning to the lineup to send Tyreke Evans into DFS-oblivion, he has still received consistent minutes off the bench, all while being able to score. The scoring needs to take a step-up if want to see him be a worthwhile pick tonight, but against the Raptors he should find himself in more isolation situations tonight than in recent games. The Raptors had a tough game versus the Bucks last night, and while I don't think will be suffering from fatigue, they will be playing at a slower pace. Indiana is a team that Toronto needs to beat there is no doubt that this game will stay competitive. While I expect the superstars in this game to hit their projected, I expect Evans to be one of the few productive options off the bench.
DraftKings DFS Forwards
Jonathan Isaac - SF/PF, ORL @ LAC ($3,700)
This is a risky pick seeing how the Clippers frontcourt has a notable rotation, but they have still been letting up serious production to big men all season. Jonathan Isaac has been getting increased minutes recently and he can offer spacing when he is able to hit from the outside. He hasn't been able to make more than three 3's in a game yet this season, but he has been more consistent on the offensive end. Seeing how he will be starting and that Boban Marjanovic's length is the only thing that can keep Isaac from impacting this game, Isaac has plenty of upside, even with Nikola Vucevic getting a full-workload.
Bobby Portis - PF/C, CHI vs. BKN ($5,000)
This is another pick for the early slate, but it needs to be noted. If Bobby Portis plays, and he should, he is always a solid pick. Taking him in his returning game is risky, but it could pan out as long as he sees enough minutes. He is a nightly double-double and against the Nets I can't see them limiting him to the point where he can't exceed his price tag's projected. Realistically, his price would be much more beneficial if it were lower, but if you are looking for a mid-level forward, Portis is your guy. I wouldn't go out of your way to roster him, but if you are stuck with a weird number left in the bank, feel free to flex some other plays and take Portis as a secure option, especially since he can also be played at center.
DraftKings DFS Centers
Pascal Siakam - PF/C, TOR vs. IND ($6,500)
Although Pascal Siakam has done a great job making his case for the Most Improved Player award, coming off a 30-point game to have another massive outing is bold. With Kawhi Leonard out and free usage to go around. I can't see what is going to keep Siakam from having a more all-around game. Seeing how barely rebounded against the Bucks, look for him to slide into a more basic role with eye-popping numbers. Instead of scoring another 30, look for double-digit rebounds with 15 or so points. He hit multiple times from deep last night although that's a rarity for him, I expect that to be enough to give enough confidence to keep shooting from deep, putting him way over the top of his initial projected, even after a price hike last night.
More Fantasy Basketball Analysis