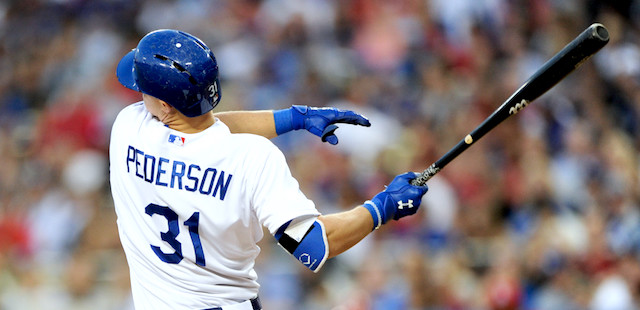 Saturdays bring an afternoon dominated schedule, with only five games on the evening slate. However, with nearly equal money on that slate, there are some great opportunities to look to exploit, and therefore, is the focus of this article.
The biggest favorite on this slate is obviously the Dodgers and Ryu. However, that also opens some situations to try and exploit Rockies hitters against left-handed pitching at a cheap price. In terms of totals, there are double-digit numbers in Washington and Texas. The Washington one is a little surprising, but the weather in Texas makes that a fascinating place to try and exploit some hitting value.
In this article, I will be providing you with my daily fantasy baseball lineup picks for DraftKings on 6/22/19. The lineup picks will range from some of the elite players to mid-priced options and value plays. You can also read more DFS advice and lineup picks for sites like FanDuel, and other sports too. If you have any questions or comments, feel free to hit me up on Twitter @benrolfe15.
Editor's Note: Get any full-season MLB Premium Pass for 50% off, with exclusive access to our season-long articles, 15 in-season lineup tools and over 200 days of expert DFS research/tools.
Sign Up Now!
DraftKings DFS Starting Pitchers
Hyun-Jin Ryu, LAD (vs. COL) - $11,500
I was looking for a way not to use Ryu in this game, but it is tough given there are some weather affected pitchers playing elsewhere on this slate. This season Ryu has a 1.26 ERA and a 8.23 K/9. Additionally, he averages 6.64 innings per start so there is a solid floor here for Ryu. However, there is also the potential for a high ceiling, with a Rockies team, who can struggle away from Colorado.
Mike Foltynewicz, ATL (@ WSH) - $6,400
I just like the value here for Foltynewicz on this slate. His performances this season have been pretty ugly, but he is still working himself back from injury and Atlanta has been a tough place to pitch right now. On the road in Washington should be an easier start, against a lineup that has blown hot and cold at times. At this point, you are really just hoping he gives you solid innings, with little damage, so that you can get a 13-15 point return on a really small investment.
DraftKings DFS Infielders
C - Tyler Flowers, ATL (@ WAS) - $3,500
When Flowers has been on the field this season the results have been positive, especially against right-handed pitchers. In 103 PA he has hit five home runs, with a .304 batting average, .217 ISO and a .374 wOBA. If Flowers is out of the lineup then James McCann is the backup option.
1B - Edwin Encarnacion, NYY (vs. HOU) - $4,900
It has been a good start for Encarnacion in New York. In five games he has already hit two home runs, with five runs and four RBI. Additionally, he has also had success against left-handed pitchers he has a .313 ISO and a .373 wOBA.
2B - Ryan McMahon, COL (@ LAD) - $3,500
I do not like taking on Ryu, but it is the only way to get enough value with the hitting to be able to select Ryu as a pitcher. McMahon has success against left-hitters pitchers, with a home run every 20 PA, a .345 batting average, .224 ISO and .396 wOBA.
3B - Pablo Sandoval, SF (@ ARI) - $4,000
Sandoval has been successful against right-handed pitchers this season, with nine home runs, six of which have been on the road, a .305 batting average, .322 ISO and a .390 wOBA.
SS - Logan Forsythe, TEX (vs. CWS) - $3,600
This pick of Forsythe is sacrificing a little at the position to try and save that extra cash. The weather is going to be roasting in Texas, which is always conducive to runs being scored. Forsythe is due another start this weekend, having not been in the lineup since Wednesday. Against right-handed pitchers, he has a .356 wOBA, but has not hit a home run since April.
DraftKings DFS Outfielders
Ian Desmond, COL (vs. SD) - $3,900 
Again I do not love targeting Ryu, but there is solid value here with a hitter who has seven of his 10 home runs against left-handed pitchers. This season, Desmond has a .372 ISO and a .428 wOBA against lefties, interestingly his ISO on the road against lefties is sky high at .405.
Joc Pederson, LAD (vs. COL) - $4,400
Pederson versus a right-handed pitcher is always a big yes please, especially at home. Pederson's has a .379 ISO and a .394 wOBA against righties. At home, that ISO against righties climbs to .495 and his wOBA is up at .451.
Eloy Jimenez, CWS (@ TEX) - $4,200 
Jimenez has heated up in June, with six home runs and a .328 batting average. Now playing in a roasting hot Texas, hopefully, it is time to take advantage of that .245 ISO and .338 wOBA with righties on the mound.
MLB DFS News and Injury Alerts