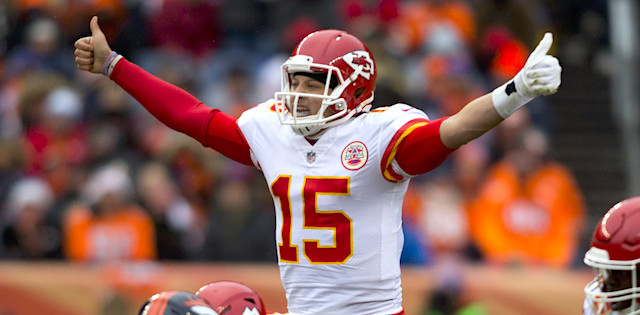 This week's Conference Championship games offer intriguing matchups, perhaps most notably because of the age differences between the quarterbacks. New England's Tom Brady and New Orleans' Drew Brees are two of the all-time greats. Brady, 41, threw for 4,355 yards this season, but his average of 272.2 passing yards per game was his lowest since 2014. 2011 was the last time that Brady threw more than the 11 interceptions that he's thrown this year.
Does this mean that he's finally on the decline and ready to be overtaken by 23-year-old Patrick Mahomes who, in his first year as a starter, passed for 50 touchdowns and more than 5,000 yards? In the NFC, Drew Brees is only 39-years-old, and has been the league's most accurate passer in the past two seasons, but he was also held under 4,000 passing yards for the first time since 2005. He will go against the Rams' Jared Goff, a 24-year-old who threw for 4,688 yards and 32 touchdowns.
The safe play for years has been to bank on these veteran star quarterbacks, and they have won a lot of games but, at some point, the next generation will take over. Will that start in the championship games on Sunday? Here are some angles to consider when making your picks this week on Monkey Knife Fight. Click here to learn more about how Monkey Knife Fight works.
Editor's Note: Our friends at Monkey Knife Fight have released the best, most fun, fastest growing DFS props game in the entire galaxy! It's super simple to play and win real money. Just choose your NFL game, and make your picks! Get a 100% Instant Deposit Bonus up to $100 using promo code: BALLER.
New England Patriots @ Kansas City Chiefs
OVER/UNDERS
Patrick Mahomes UNDER 318.5 PASSING YARDS – Kansas City's star quarterback has been held under 300 yards in four straight games and went for 391 or more in six of 17 games. That tilts it towards the under, even if Mahomes passed for 342 yards at New England in Week Six.
Tom Brady OVER 272.5 PASSING YARDS – This season hasn't been Brady's best, but he's still thrown for more than 275 yards in five of the past seven games and passed for 340 yards against the Chiefs this season. Some might consider this a passing of the torch game, but who really thinks Brady is ready to go quietly?
RECEPTION COLLECTION
Pick three receivers to combine for at least 21.5 catches in the game.
Start with Chiefs tight end Travis Kelce, averaging 7.6 catches per game over the past seven, then turn to Patriots WR Julian Edelman, who has double-digit targets in four of the past five games, and is averaging 7.2 receptions per game in that span. Finish it off with Patriots RB James White, who went off for 15 catches last week and had at least seven catches seven times this season.
RAPID FIRE
Hit all five for a 17 x payout.
Tom Brady +46.5 passing yards vs. Patrick Mahomes – This reflects the over/under selections. Basically, I expect the yardage to be closer between the two quarterbacks.
Tyreek Hill -8.5 receiving yards vs. Travis Kelce – A close call, but the potential for Hill to bust a big play makes him the pick.
Julian Edelman -0.5 receptions vs. James White – Let's assume that White doesn't go for 15 receptions again this week and then it's more reasonable to take Edelman, who is Brady's favorite target.
Damien Williams +20.5 rushing yards vs. Sony Michel – Michel's ceiling is higher, but he has had five 100-yard rushing games and the rest aren't so difficult to match. Both ran for 129 yards last week.
Rex Burkhead -8.5 rushing yards vs. Cordarrelle Patterson – This is taking the safe side based on usage. Burkhead can count on a certain number of carries as the change-of-pace in the Patriots' backfield. While Patterson can bust a big play, he isn't consistently part of the game plan.

Los Angeles Rams @ New Orleans Saints
OVER/UNDERS
Jared Goff UNDER 293.5 PASSING YARDS – Early in the season, the Rams quarterback was much more productive, and he's been held under 220 passing yards in five of the past six games. Maybe the Rams will have to open up to keep pace with the Saints, but it's also possible that they focus on the running game and leave Goff in more of a game manager's role.
RAPID FIRE
Todd Gurley -30.5 rushing yards vs. Alvin Kamara – This line is right on, with Gurley averaging 30.5 more rushing yards per game, because a significant part of Kamara's appeal is that he contributes a bunch in the passing game too. But, looking at the Rams against the Cowboys last week, it sure seems like the Rams' path to success at New Orleans would include Gurley churning out yards on the ground.
Michael Thomas -11.5 receiving yards vs. Robert Woods – While Woods may be a tad more consistent, with a somewhat higher floor, and averaged 75.5 yards per road game this year, Thomas has been a beast at home with 102.8 receiving yards per game.