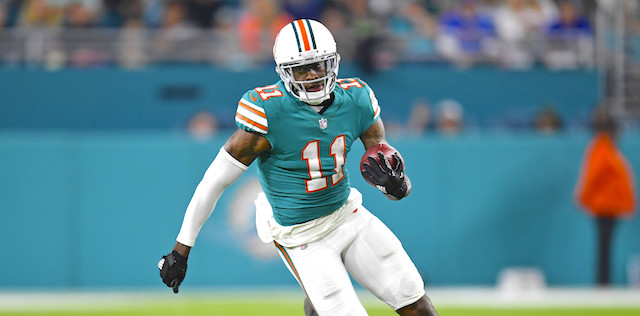 BALLER MOVE: Add in 12+ Team Leagues
OWNED IN: 13% of Leagues
ANALYSIS: So, Devante Parker caught another touchdown in Week 7, the third game in a row that the Dolphins wideout has found the end zone. And yet, he's owned in just 13 percent of fantasy leagues right now.
Why?
Well, the easy answer is to just say "the Miami Dolphins." You don't want to trust a Dolphins player in fantasy. This is the team that can't decide if Ryan Fitzpatrick or Josh Rosen should be their starting quarterback; why would you want to have a player on that team?
And then, also, there's this secondary question: If we've seen Parker struggle across his whole career, why should we suddenly trust him now?
Those are valid concerns. But also of note is that bad teams throw the football. They play from behind and have to throw to try to catch up. That leaves Parker with a lot of opportunities, and over the last few weeks he's consistently shown that he can take advantage of those opportunities. He's Miami's best end zone threat. His one terrible, no-catch game still saw him get seven targets. He's on the field for over 80 percent of Miami's plays. I've personally started Parker a couple of times this year and I've been happy with the results. At this point, why not grab him and play him in a deep league like I've done?
Check out RotoBaller's famous fantasy football draft sleepers and waiver wire pickups list, updated regularly!