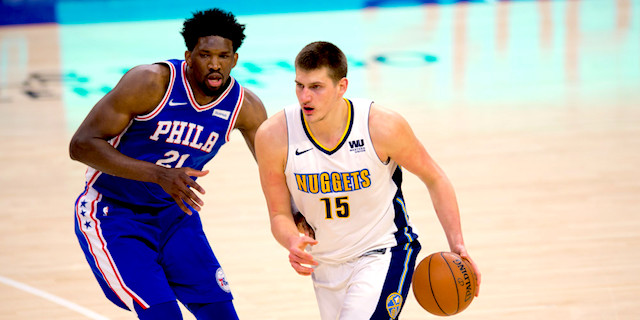 Sell your guy while his high, buy that bro while he's low. Forgive my poor poem writing, but those are some words to live by when it comes to Fantasy NBA.
Getting a trade done is rarely easy. Especially one that will give your team additional value. But if you use players' forms to your advantage and float the right kind of offer to your league rival, he just might bite.
Today we will be taking a look at a player who you should be looking to sell while he is at his peak, and a guy who is playing poorly and is expected to take a turn for the better. Welcome to our Sell High and Buy Low candidates for Week 7 of the NBA season, right here at RotoBaller.
Editor's Note: Get any full-season NBA and DFS Premium Pass for 50% off. Our exclusive DFS tools, Lineup Optimizer and daily Premium DFS Research.
Sign Up Now!
Buy Low, Sell High Advice for Week 7
VanVleet has been one of the nicest surprises of the NBA season so far. He is a top-25 player on the year and is being rewarded for his form by getting over 37 minutes per game - the highest of any NBA player this season. Even Fred's biggest fans and believers couldn't have expected him to be this good this fast!
But, unfortunately, there is a but... Even though Vleet has been great playing together with Kyle Lowry, his best games have come since Lowry's injury. In 11 games Lowry has missed, VanVleet has averaged 21.2 PTS with 3.0 3PM on 44.4 FG% and 84.0 FT%, 3.8 REB, 7.5 AST, 2.4 STL, 0.1 BLK, and 2.7 TO in almost 38 minutes per game. That is top-15 value for the period.
Fred is a great player and has improved significantly over the last year or two, even the last month or two, but it's really difficult to imagine him having this big a role once the starting PG and five-time NBA All-Star returns. Lowry is not back yet but is going through practices and although VanVleet will still have decent value throughout the season, the sell high window is fast approaching.
If you can obtain the services of a top-30 player in exchange for Fred, I would recommend you do so, as I don't see him getting much higher than top-50 by the end of the year. Be sure to watch out for team fit, but I can see players like Ben Simmons, Donovan Mitchell, and Buddy Hield having more value long term.
Baller Move: Sell high
Jokic was voted into the All-NBA First Team last season and rightfully so, with averages of 20.1 points with 1.0 threes on 51.1% from the field and 82.1% from the line, 10.8 boards, 7.3 dimes, 1.4 steals, 0.7 blocks, and 3.1 turnovers in 31 minutes per game over 80 regular-season games. This had him ranked in the top-6 fantasy players.
This year, he's started slowly (again) and is sitting in the #36 spot with averages of 15.6 PTS with 0.9 3PM on 45.8 FG% and 76.7 FT%, 10.4 REB, 6.0 AST, 1.1 STL, 0.5 BLK, and 2.6 TO in just under 31 minutes per game. So every single category is down (even the turnovers, which, thankfully, is a good thing) and there's no wonder he has fallen from grace.
Nevertheless, Denver is winning. And we heard Nikola say over and over that he doesn't really care about his stats as long as the team is winning. He proved that to be true this season. But Jokic is a notoriously slow starter, and he usually picks it up later on in the season. Furthermore, he is the best when it is the most important, and the start of the season is not too important to most teams, is it?
And while you will never see the Joker go out of his way to get a triple-double, or to crush a record on a given night, one of the best centers in the league and one the best point-forwards that has ever played the game of basketball definitely doesn't belong outside the top-30. I doubt it will be long before he's back to his dominating ways and into the top-10 again. So, if you have an offer of a top-20 player accepted by Jokic's owner, run, don't walk! Jimmy Butler, Trae Young, Bradley Beal are all players I would give up for the opportunity to have Jokic on my team when he starts turning heads again.
Baller Move: Hold or buy low
More Fantasy Basketball Analysis