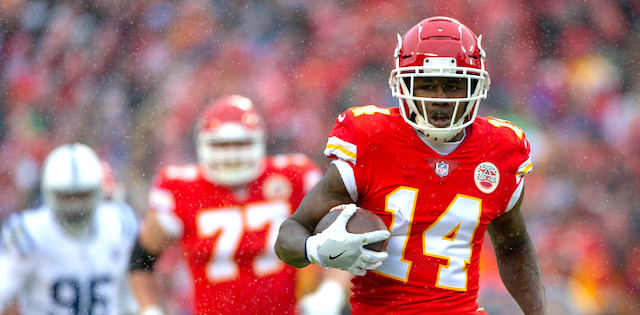 It has been a very busy week on the fantasy trade market. A major reason for the flurry of trade talks is there just weren't a lot of significant impact players on free agency this week. If you really want to improve your team heading into Week 5, you have to make a deal before Sunday kickoff.
Of the Top Five adds on Fleaflicker this week, only one was a skill position player, and that was WR Auden Tate, a fantasy WR4 type. Matt Gay was the most added player, as he was one of two kickers in that Top Five, and the two others besides Tate were defenses.
On another note, here is a dose of reality about trade offer reactions. If someone tells you "I'll get back to you" or "I will look into it", they are highly unlikely to move on your current offer or structure of one you have indicated. They are simply telling you no, they are not interested. If someone really wants to accept your offer or make a deal with you, there will be no hesitation to accept it. They may come back with a counteroffer, but don't get excited and think they are reviewing your offer and will actually accept it. It's not completely impossible, but don't expect it to happen.
Editor's Note: Get any full-season NFL Premium Pass for 50% off. Our exclusive In-Season Lineup Tools, Lineup Optimizer and over 150 days of Premium DFS Research.
Sign Up Now!
Buy 'Em
Mark Ingram, RB, BAL: He is coming off a game with 71 yards and no score, and Ingram is not widely regarded as a top fantasy RB. Maybe few people know this, but he has been the sixth most productive running back in fantasy football after four weeks. He has totally seized a long-awaited opportunity to be a featured back.
Joe Mixon, RB, CIN: Cincinnati's best player on offense has not rushed for more than 65 yards in a game and has only one TD from scrimmage. Mixon is looking like a downright bust on a very bad NFL team. So you may not have to part with a player that is contributing heavily for you to land him. Trade one disappointment for another. Building a deal around JuJu Smith-Schuster for Mixon, for instance, could help both sides try to fill a need with notable players that have the potential to bounce back soon.
Saquon Barkley, RB, NYG: He seems unlikely to return from an ankle injury this week, and if his current owner has a losing record, be a "kind soul" and step in and offer to help him. Give the Barkley owner a player that will help him win this week. Reach out and assist your fellow man.
Larry Fitzgerald, WR, ARI: The future Hall of Fame lock has not topped 50 receiving yards in his past two games. Make sure you remind his current owner of that. But the Cardinals have a friendly matchup with the Bengals coming up and Kyler Murray is going to have to throw to Fitzgerald frequently because of injuries and unreliability among the rest of his receiving corps.
D.J. Chark, WR, JAC: He did not get in the end zone for the first time last week, and finished with just 44 receiving yards. Time to swoop in before he possibly starts to score again. Chark has emerged as a regular fantasy starter because Gardner Minshew has identified him as his favorite downfield and TD target.
Odell Beckham Jr., WR, CLE:  The play of Baker Mayfield has dragged him down, as Beckham has 76 receiving yards in his past two games and one TD reception overall. He is WR25 in fantasy football, not even producing WR2 numbers. His value may never be lower than it is now.
Jacoby Brissett, QB, IND: He has thrown eight TD passes in his past three games with 575 passing yards in his past two outings. Brissett has a great matchup with the Chiefs in Week 5 and he has not gained a lot of fantasy respect yet, so it won't take too much to pry him away from his current owner.
George Kittle, TE, SF: He has not reached 60 receiving yards in a game yet and has no TD receptions. While he may not be quite as productive as last season when we are finished, better performances must be ahead and this may be the best time all year to try and get him for a lesser haul.
Sell 'Em
Leonard Fournette, RB, JAC: The Jaguars featured back is coming off a 225-yard outing and some other owners certainly continue to believe he can produce regularly strong numbers if he stays healthy. But before Week 4, Fournette had not reached the 70-yard mark in rushing and he still does not have a TD run. Plus, we all know his injury history. Shop him today if you have not been doing so yet.
Jordan Howard, RB, PHI: If you landed him on waivers, or have a surplus at RB, now is the time to sell Howard! He is coming off a monster flashback game to his rookie year, but he is still part of a true committee and you simply must see what you can get for him from a RB-needy owner.
Stefon Diggs, WR, MIN: There are perceptions that he will get the old cliched squeaky wheel treatment this week, and he is coming off a 108-yard outing as he heads into an enticing matchup wit the Giants. The reality is he is not even a Top 55 WR in fantasy football right now. You may be able to swap him straight up for another fantasy WR2 that may be more reliable. Diggs should perform well in Week 5, but his unhappiness in Minnesota could lead to an uncertain near future, and the overall production may continue to be erratic.
Sammy Watkins, WR, KC: He wears a label as a top target for the best offense in the game, when the reality is he is coasting based on a big opening week. Watkins has not topped 65 receiving yards in the past three games and has no TD catches during that span. His reputation as a big-play guy in a great offense is undeserved and you may get more than you should in return. Tyreek Hill is on the verge of returning, and Watkins has been historically unreliable and often injury-prone.
Aaron Rodgers, QB, GB: He threw for 422 yards against Philadelphia, but that was his first game this season over 250 yards and he has not thrown more than two TD passes in a game. The name outweighs the production under a new coaching regime in Green Bay.
Delanie Walker, TE, TEN: Another case of where the name appeal outweighs the production.  Walker has 107 receiving yards and no scores in his past three games.
More Fantasy Football Analysis