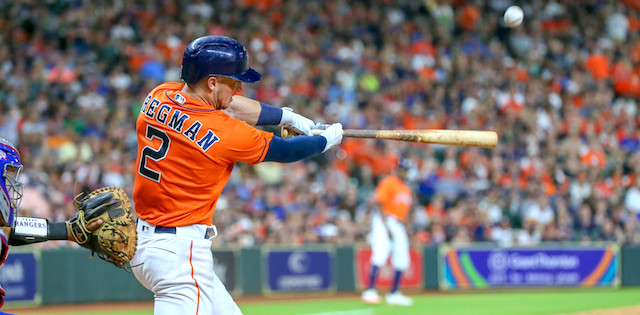 What Appears In This Article?
hide
The Houston Astros finished the 2021 season with a record 95-67, which was good enough to walk away with the AL West division crown. They also steamrolled through the American League playoffs and into the World Series where they eventually met their demise against the Atlanta Braves. The season was seen as a success by many outside of Houston as the Astros were really not the talk of the league after Justin Verlander was set to miss the season.
The Astros were able to persevere in 2021 despite having down years from some of their biggest stars. One star, Alex Bregman, struggled to get into gear all season long and finished well below his expectations considering he was being drafted in the top-30 overall for ADP.
The question for Bregman heading into 2022 is whether or not he can rebound from a lackluster 2021 season and return value on his current ADP of 65 overall. In order to determine if he will be able to achieve this, we must take a deeper look into some of his advanced metrics as well as some of the current circumstances that surround his situation in Houston.
Featured Promo: Get your 2023 MLB Premium Pass for 50% off. Exclusive access to our preseason Draft Kit, #1 accuracy rankings, #1 ATC projections, Team Sync platform, Live Draft Assistant, 15 in-season lineup tools, customized rankings and much more!
Sign Up Now!
Another Down Season in Store?
As aforementioned, Alex Bregman had a lackluster 2021 campaign in which he slashed .270/.355/.422 with just 12 home runs, 55 RBI, 54 runs scored, and one stolen base across 400 plate appearances. He missed a huge chunk of the season between the middle of June and the end of August due to a hamstring injury, which cost him roughly 60 games and is a partial factor in his down season. Taking a strong look at his advanced metrics might give us the other side to that story.
In 2021, Bregman only totaled 12 home runs, which was his lowest output in any full professional season. This is fresh off the 2018 and 2019 seasons in which he combined for a total of 72 bombs. A big reason for his power is the fact that he was able to post sweet spot percentages in 2018 and 2019 of 37.9% and 35.5%, respectively. This number took a drastic dip in 2021 as he finished with a rate of just 33.8%, which was the lowest of his career. He also ranked in the bottom 33% of the league in terms of hard-hit rate as well as the bottom 29% of the league in terms of barrel rate.

A portion of these stats dips certainly could have come from him not being fully healthy with the hamstring injury, but there is no guarantee he returns to form in 2022. Aside from the hamstring injury, Bregman also underwent wrist surgery after the postseason and was restricted from baseball activities until recently.
There are some positives to draw from Bregman's 2021 campaign and those directly relate to his ability to make contact. He ranked in the top five percent of the league in terms of K rate, so there was not a lot of swing in miss in his game, which has come to be expected from Bregman over the years. That being said, he also posted his highest weak contact percent (2.7%) since 2017. This is also an Astros lineup that will likely be losing Carlos Correa in the heart of the order and could negatively affect Bregman's counting stats in 2022.
Conclusion
Overall, Alex Bregman had a down year by his standards thanks in large part to sub-standard advanced metrics and injury concerns in 2022. He failed to reach league averages in terms of hard-hit rate, barrel rate, and outs above average. We could see a bounceback from Bregman if he is able to return to full health in 2022, but hamstrings are not the easiest injury to rehab and he has since undergone wrist surgery over the offseason.
He is currently being selected with an ADP of 67, which means he is being selected in the middle of the fifth round in 12-team mixed leagues. In this range, fantasy managers may be better off selecting a corner infielder such as Jose Abreu at a similar ADP.
More Fantasy Baseball Analysis